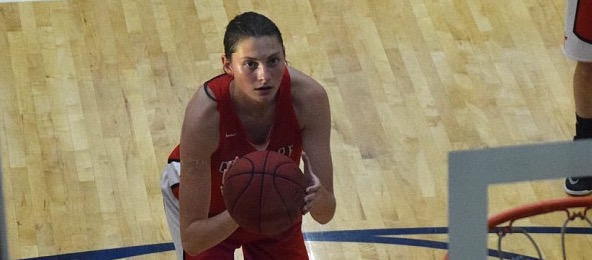 ---
With over 20,000 collective followers on our team's social media outlets, we're in a unique position to assist with both creating awareness of a prospect's skill set and recent on-floor performance. From crisp recruiting updates to updated in-season stats to a potential last-minute change in schedule that needs to be conveyed socially, this package allows the player to control the information available to the public about their game.
Become an #SMPMember: Click the Logo Below

---
Class of 2019 prospect Kallie Theisen of Plymouth, Minn., has established herself as a must track front court option in the class regionally. She made a good impression on the BrandonClayScouting.com staff with her play at the CheckMeOutShowcase in October 2014. Director of International Scouting, Keil Moore, saw Theisen play at the Summer Jam in June 2016.
Moore's takeaway (June 2016): "Theisen showed that she is a team player making multiple positive things happen when the opportunity presented itself. She found ways to be effective and highly engaged despite a tough game shooting from the field. In that way, she's a multi-tooled prospect."
Name: Kallie Theisen
Height: 6'2″
HS Grad Year: 2019
Position: PF
School / Hometown: Wayzata (Plymouth, Minn.)
Club Team: North Tartan
College Choice: South Dakota State
---
BrandonClayScouting.com Video Evaluation October 2016
---
Social Media Updates:
#CommitmentCentral via #BrandonClayScouting🍑 Report

South Dakota St made Kallie Theisen a priority two years ago. It paid off with a pledge from an Elite 100 '19 nationally.

IND. SHOWCASE INFO: https://t.co/vTyxJdYHmA

CLUB TOURNAMENT INFO: https://t.co/vTyxJdYHmA #SMPMember pic.twitter.com/cwUoYmMxQh

— Brandon Clay (@BrandonClayPSB) May 29, 2018
#SMPMember🍑 College Recruiting
Fueled by @SMPMemberPSB

Need Exposure? We're here to help.

Chuck Thompson of @FiveStateHoops has three of our members ranked in his '19 Top Seven.

McKenna Hofschild@DestineeOberg
Kallie Theisen

JOIN SMP: https://t.co/8GnB3G0viZ pic.twitter.com/HkRfIFlgbU

— Brandon Clay (@BrandonClayPSB) May 12, 2018
#SMPMember🍑 College Recruiting
Fueled by @SMPMemberPSB

Need Exposure? We're here to help.

'19 F Kallie Theisen (MN) of @wayzataghoops was named First Team All-Metro.

SMP PAGE: https://t.co/bv1M8rgL5s

JOIN SMP: https://t.co/8GnB3G0viZ

INSTAGRAM https://t.co/jSr8AvCdZB pic.twitter.com/vpq55vHilu

— Brandon Clay (@BrandonClayPSB) April 3, 2018
#SMPMember🍑 College Recruiting
Fueled by @SMPMemberPSB

Need Exposure? We're here to help.

Available '19 Kallie Theisen (MN) ended her season on a new wave.

Her SMP PAGE: https://t.co/bv1M8rgL5s

BECOME AN SMPMEMBER: https://t.co/8GnB3G0viZ

INSTAGRAM: https://t.co/jSr8AvCdZB pic.twitter.com/WgMvMKSFTf

— Brandon Clay (@BrandonClayPSB) March 9, 2018
#SMPMember🍑 Program News
Powered by @SMPMemberPSB

'19 F Kallie Theisen (@KallieTheisen) has Wayzata (@wayzataghoops) on a roll.

DePaul, Illinois & NC State have all been in lately.

Her #BrandonClayScouting Page: https://t.co/bv1M8rgL5s @WolfpackWes @coachpizzotti @coachfahey https://t.co/2VkVeSqKeJ

— Brandon Clay (@BrandonClayPSB) January 8, 2018
#SMPMember🍑 Program News

'19 prospects Kallie Theisen and Lexie Hultman from Minnesota earned mentions in the @StarTribune with their play @BreakdownUSA's Showcase.@KallieTheisen's Page: https://t.co/bv1M8rgL5s@HultmanLexie's Page: https://t.co/mNFm4l1X00 @ross_hultman pic.twitter.com/I7i2gWVpgd

— Brandon Clay (@BrandonClayPSB) December 17, 2017
#SMPMember🍑 Program News

'19 F Kallie Theisen (MN) averaged 20 ppg per in two Wayzata W's last week.

She's a @ProspectsNation Elite 100 prep nationally.@ChrisHansenPSB said Theisen is an @ELITEisEARNED standout annually.

Her #BrandonClayScouting Page https://t.co/bv1M8rgL5s pic.twitter.com/AuJLlkmyGb

— Brandon Clay (@BrandonClayPSB) December 6, 2017
#SMPMember🍑 Recruiting

'19 F Kallie Theisen (MN) was named @NorthstarGH's Player of the Summer.

LEARN MORE: https://t.co/bv1M8rgL5s pic.twitter.com/QTJZzXZoVn

— Brandon Clay (@BrandonClayPSB) August 28, 2017
#SMPMember Recruiting Exposure

Kallie Theisen visits Iowa State today.

No. 11 ranked '19 F nationally.

LEARN MORE https://t.co/bv1M8rgL5s pic.twitter.com/qposHI7UnB

— Brandon Clay (@BrandonClayPSB) June 20, 2017
#SMPMember Recruiting

'19 F Kallie Theisen (MN) will attend camp at Nebraska & North Carolina in June.

MORE INFO: https://t.co/bv1M8rgL5s pic.twitter.com/hDdfLDlipv

— Brandon Clay (@BrandonClayPSB) June 5, 2017
#SMPMember Recruiting Exposure

'19 F Kallie Theisen (MN) has @ChrisHansenPSB's full attention at #USABWU16.

PAGE: https://t.co/bv1M8rgL5s pic.twitter.com/3oMeRG5M7Z

— Brandon Clay (@BrandonClayPSB) May 26, 2017
#SMPMember Exposure Program

'19 F Kallie Theisen (MN) was named First Team All-State in Class AAAA.

LEARN MORE: https://t.co/bv1M8rgL5s pic.twitter.com/yccgvn3s7I

— Brandon Clay (@BrandonClayPSB) March 29, 2017
#SMPMember Exposure Program@ProspectsNation Elite 60 '19 F Kallie Theisen has a new Illinois offer.

LEARN MORE: https://t.co/bv1M8rgL5s pic.twitter.com/uWJIeCKRwK

— Brandon Clay (@BrandonClayPSB) February 14, 2017
'19 F Kallie Theisen (MN) recorded a triple double in a W.

Stats: 20 pts, 12 rbs, 10 blks

LEARN MORE: https://t.co/bv1M8rgL5s pic.twitter.com/iu1uy7dhdn

— Brandon Clay (@BrandonClayPSB) January 5, 2017
BREAKING:

'19 F Kallie Theisen (MN) adds a Marquette scholarship offer after visiting campus.#SMPMember PAGE: https://t.co/bv1M8rgL5s pic.twitter.com/C8FUgcMaUf

— Brandon Clay (@BrandonClayPSB) December 27, 2016
'19 F Kallie Theisen (MN) visited Creighton, Illinois & Nebraska. She's an Elite 60 prospect.

HER PAGE: https://t.co/bv1M8rgL5s pic.twitter.com/TGr8zS6qNC

— Brandon Clay (@BrandonClayPSB) November 23, 2016
'19 Kallie Theisen (MN) impacts the game on both ends

Watch @BrandonClayPSB breakdown of her game ⬇️https://t.co/4JADo92cGJ pic.twitter.com/Ml4jIlEGrK

— Kris Watkins (@KrisWatkinsPSB) November 4, 2016
'19 Kallie Theisen has a Brand New Video Eval!

Watch what @BrandonClayPSB says about her game here:https://t.co/4JADo92cGJ pic.twitter.com/BokAPbLUQN

— Kris Watkins (@KrisWatkinsPSB) October 25, 2016
#SMPMember@KrisWatkinsPSB video on '19 Kallie Theisen (MN) on in The Lab.

Scorer, shot blocker & versatile.

PAGE https://t.co/bv1M8qZ9GS pic.twitter.com/JDVjcF6Zkt

— Brandon Clay (@BrandonClayPSB) October 24, 2016
Another accolade for '19 F @KallieTheisen of @CrossfireGHoops compliments of @NorthstarGH.

Her #SMPMember Page: https://t.co/rhGE1zsw3w https://t.co/k5H73l7O5T

— #SMPMember Program (@SMPMemberPSB) September 27, 2016
'19 Kallie Theisen (MN) is rolling. She added a North Dakota St. offer.

PAGE: https://t.co/bv1M8rgL5s pic.twitter.com/yjjUFYIcCf

— Brandon Clay (@BrandonClayPSB) August 19, 2016
"After evaluating her in June, @KallieTheisen of @CrossfireGHoops is a MUST track '19 for colleges." – @KeilMoorePSB https://t.co/q3yunxisZM

— #SMPMember Program (@SMPMemberPSB) August 11, 2016
'19 F Kallie Theisen (MN) has a scholarship offer South Dakota St.

HER PAGE: https://t.co/bv1M8rgL5s pic.twitter.com/dQdIIaJDQi

— Brandon Clay (@BrandonClayPSB) August 8, 2016
Kallie Theisen showed @KeilMoorePSB she's a multi-tooled '19 prospect.

EVAL: https://t.co/bv1M8qZ9GS pic.twitter.com/FY1i8Gxo7j

— Brandon Clay (@BrandonClayPSB) June 22, 2016
Welcome '19 Kallie Theisen (MN)

Crossfire | Wayzata Central

HER PAGE: https://t.co/bv1M8qZ9GS pic.twitter.com/D2Y4bCy5O9

— Brandon Clay (@BrandonClayPSB) June 20, 2016
Great post matchup between Destinee Oberg and Kallie Theisen in this first game is session 2 #CheckMeOutMidwest

— Chris Hansen (@ChrisHansenPSB) October 11, 2014
Kallie Theisen of MN Crossfire is in for #CheckMeOutMidest Oct. 11-12. Will work with @KeilMoorePSB and @ChrisHyppa http://t.co/249AulTkK0

— ChrisHansenBBall (@CHansenBBall) August 28, 2014
---

Brandon Clay is the owner of the JumpOffPlus.com International Report, Peach State Basketball, Inc., and ProspectsNation.com. The JumpOffPlus.com is picked up by more than 200 colleges and universities nationwide. In addition to serving as ProspectsNation.com WNBA Director of Scouting, Clay serves as the Executive Camp Director for the Elite Basketball Academy Camps. He is a McDonald's All-American Game Selection Committee member. Clay serves on the Naismith Trophy Men's / Women's College Player of the Year Academy and is the National Coordinator of Voting for the Boys / Girls All-American Teams. He has been involved in the community since 2001. You can reach Clay at [email protected]