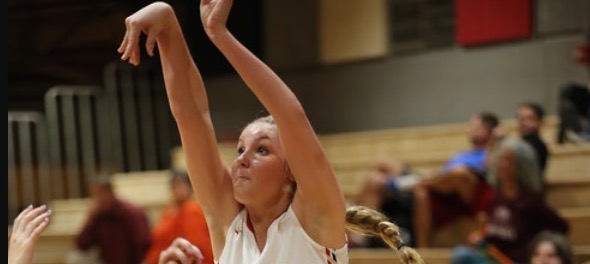 With over 40,000 collective followers on our team's social media outlets, we're in a unique position to assist with both creating awareness of a prospect's skill set and recent on-floor performance. From crisp recruiting updates to updated in-season stats to a potential last-minute change in schedule that needs to be conveyed socially, this package allows the player to control the information available to the public about their game.
Become an #SMPMember: Click the Logo Below

Class of 2018 guard Jordan Ott of Austin, Texas is one of the premier sharp shooters from the perimeter inside of the Lone Star State. She showed at the Check Me Out NorCal that she is capable of making shots from the outside. Ott is also getting the job done in the classroom as well taking pre-advanced placement courses. She is already a member of the National Junior Honor Society.
Chris Hansen's takeaway – Fall 2015: It doesn't take long to notice that Ott is a shooter. Her range extends out past the 3-point line and she has a quick release. Two things that help her get that shot off are moving with the basketball into open space and having adequate size. She is good with the ball and showed the ability to drive and dish as well. She plays with good energy and competes. Adding strength and polishing her left hand would be areas to improve over the next year.
Name: Jordan Ott
Height: 5'9″
HS Grad Year: 2018
Position: SG
School / Hometown: Cedar Park HS (Austin, Texas)
Club Team: Cy-Fair Premier
College Choice: Kansas Wesleyan
BrandonClayScouting.com: #SMPFilmRoom Breakdown – April 2016
Social Media Updates:
#SMPMember🍑 Program News
Powered by @SMPMemberPSB

'18 G Jordan Ott (@JordantottOtt) of @CPLadyWolves & @coachcjbball is having a quality campaign consistently hitting double figures in wins.

She's signed to Kansas Wesleyan.

JOIN SMP TODAY: https://t.co/Ce14zyFeOz @Bleff40 https://t.co/OOk5QZytcA

— Brandon Clay (@BrandonClayPSB) January 8, 2018
#SMPMember🍑 Program News

'18 G Jordan Ott (@JordantottOtt) of @coachcjbball & @skilledupelite has transferred to Cedar Park HS @CPLadyWolves for her senior season. She's signed with Kansas Wesleyan @kwuwbb.

Her #BrandonClayScouting PAGE: https://t.co/cUWAF3BwjQ @nicoleott https://t.co/ZByhduQ8aC

— SMP Recruit Exposure (@SMPMemberPSB) November 22, 2017
THIS JUST IN#CommitmentCentral

'18 Jordan Ott (TX) to KS Wesleyan#BrandonClayScouting https://t.co/Ce14zyFeOz @CoachBaylee pic.twitter.com/y2wONNCBxA

— Brandon Clay (@BrandonClayPSB) October 17, 2017
#SMPMember Recruiting

'18 G @JordantottOtt (TX) of @coachcjbball & @LadyCavsBB caught @girlzprepreport's eye.

PAGE https://t.co/Ce14zyFeOz https://t.co/2IGCDQXSqR

— Brandon Clay (@BrandonClayPSB) June 28, 2017
#SMPMember Recruiting Exposure

'18 G Jordan Ott (TX) visited Midwestern State.

LEARN MORE ON OTT: https://t.co/Ce14zyFeOz @nicoleott pic.twitter.com/UmlR81xA3z

— Brandon Clay (@BrandonClayPSB) June 27, 2017
#SMPMember Exposure Program

'18 G Jordan Ott (TX) of @LadyCavsBB & @coachcjbball visited UT-Arlington.

MORE ON OTT https://t.co/Ce14zyFeOz pic.twitter.com/6UratDhhZ0

— Brandon Clay (@BrandonClayPSB) March 8, 2017
#SMPMember Exposure Program

'18 Jordan Ott (TX) of @LadyCavsBB named 2nd Team All-District

MORE ON OTT: https://t.co/Ce14zyFeOz @nicoleott pic.twitter.com/i2acRhKfwe

— Brandon Clay (@BrandonClayPSB) March 1, 2017
'18 G Jordan Ott is averaging 7.2 ppg, 2.6 rpg for Lake Travis HS (TX)

HER #SMPFilmRoom Breakdown 📽🎥: https://t.co/Ce14zyFeOz pic.twitter.com/aM3DlAPCR5

— Brandon Clay (@BrandonClayPSB) December 27, 2016
'18 Jordan Ott (TX)@JordantottOtt consistently makes shots. Reps Lake Travis HS & Cy Fair Premier

WATCH:https://t.co/1FDxCdUXNB pic.twitter.com/TenOoviowu

— Rebecca Dyer (@RebeccaDyerPSB) October 28, 2016
'18 Jordan Ott is an offensive threat w/ her shooting & passing ability.

READ: https://t.co/cUWAF3T7bo pic.twitter.com/ABP6nkBhRl

— #SMPMember Program (@SMPMemberPSB) October 24, 2016
'18 Jordan Ott @JordantottOtt is a perimeter threat you can't leave open or its 💡out

Her Page:https://t.co/GEEpA9Gxpf
⬇️🎥⬇️ pic.twitter.com/6GmcqZKbFe

— Kris Watkins (@KrisWatkinsPSB) September 24, 2016
'18 Jordan Ott is a pure shooter that continues to get better.@nicoleott

PAGE: https://t.co/Ce14zyFeOz pic.twitter.com/6hroyrX5tz

— Brandon Clay (@BrandonClayPSB) September 14, 2016
'18 Jordan Ott is a sharp-shooter out of Texas. Check out her video eval

VIDEO:https://t.co/1FDxCdUXNB pic.twitter.com/OzSgEJvjxY

— Rebecca Dyer (@RebeccaDyerPSB) August 10, 2016
COLLEGE COACHES:

Jordan Ott will rep Cy-Fair Premier at #PSBPower48 July 26th.

HER PAGE: https://t.co/cUWAF3BwjQ pic.twitter.com/Z44M3CeQig

— #SMPMember Program (@SMPMemberPSB) July 21, 2016
'18 Jordan Ott is a consistent perimeter shooter. Check her video eval

LINK:https://t.co/1FDxCdUXNB pic.twitter.com/HeKbrHON6Z

— Rebecca Dyer (@RebeccaDyerPSB) July 14, 2016
#SMPMember Central:

Emily Beard
Kristen Mayo
Jordan Ott
Megan Veneman
Angeni Worley

READ: https://t.co/V3yZZGWmKV pic.twitter.com/IiDafexB5w

— Brandon Clay (@BrandonClayPSB) June 28, 2016
'18 Jordan Ott got some work in w/@ChrisHansenPSB at #CheckMeOut this week
https://t.co/1FDxCdUXNB pic.twitter.com/j6dpJKrkaa

— Rebecca Dyer (@RebeccaDyerPSB) June 10, 2016
'18 Jordan Ott (TX) is ready to work w/@ChrisHansenPSB & @ChrisHyppa

HER PAGE: https://t.co/Ce14zyFeOz pic.twitter.com/ZD5TiFGODz

— Brandon Clay (@BrandonClayPSB) June 7, 2016
18′ Jordan Ott scored 7pts in last minute of a game to secure a win this weekendhttps://t.co/GEEpA9Gxpf pic.twitter.com/p0arg40dYU

— Kris Watkins (@KrisWatkinsPSB) May 22, 2016
We said '18 Jordan Ott can let it fly. @KrisWatkinsPSB w/video evidence

WATCH: https://t.co/Ce14zyFeOz pic.twitter.com/fDWhcQrgmG

— Brandon Clay (@BrandonClayPSB) April 20, 2016
Keep an eye out for '18 G Jordan Ott of Cy-Fair Premier. Can make shots.

PAGE: https://t.co/Ce14zyFeOz pic.twitter.com/zrvor26uSn

— Brandon Clay (@BrandonClayPSB) April 9, 2016
'18 G Jordan Ott has a program membership & Maya Moore Camp invite.

HER PAGE: https://t.co/Ce14zyFeOz pic.twitter.com/nTxomj8QLt

— Brandon Clay (@BrandonClayPSB) February 16, 2016

Brandon Clay is the owner of the JumpOffPlus.com International Report, Peach State Basketball, Inc., and ProspectsNation.com. The JumpOffPlus.com is picked up by more than 200 colleges and universities nationwide. In addition to serving as ProspectsNation.com WNBA Director of Scouting, Clay serves as the Executive Camp Director for the Elite Basketball Academy Camps. He is a McDonald's All-American Game Selection Committee member. Clay serves on the Naismith Trophy Men's / Women's College Player of the Year Academy and is the National Coordinator of Voting for the Boys / Girls All-American Teams. He has been involved in the community since 2001. You can reach Clay at [email protected]