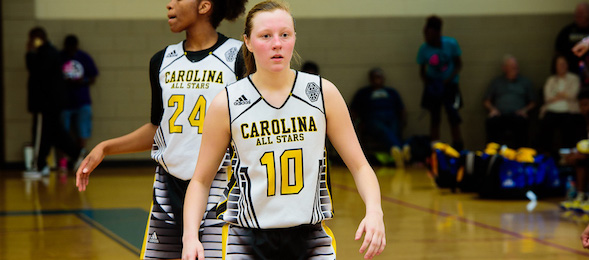 ---
With over 20,000 collective followers on our team's social media outlets, we're in a unique position to assist with both creating awareness of a prospect's skill set and recent on-floor performance. From crisp recruiting updates to updated in-season stats to a potential last-minute change in schedule that needs to be conveyed socially, this package allows the player to control the information available to the public about their game.
Become an #SMPMember: Click the Logo Below

Social Media Updates: Use #SMPMember and follow @SMPMemberPSB
---
Class of 2018 wing Izzy Strigel of Durham, N.C., has emerged as a must track for schools needing a wing with size. Our staff will work with her for two days at the #EBAAllAmerican Camp in September 2016. Strigel averaged 15.3 points per game during the 2015-16 school season.
Brandon Clay's takeaway – EBAAllAmerican Camp (Sept. 2016): Strigel came out blazing at her first Elite Basketball Academy event. The Class of 2018 wing showed a penchant for the long range shot here. She has multiple unofficial visits planned over the course of the fall and will play with #PSBFamily member Carolina All Stars next club season.
Name: Izzy Strigel
Height: 5'10"
HS Grad Year: 2018
Position: SF
School / Hometown: Durham Academy (Durham, N.C.)
Club Team: Carolina All Stars
College Choice: Colorado College
---
BrandonClayScouting.com Video Evaluation November 2016
---
Social Media Updates:
#SMPMember🍑 College Recruiting
Powered by @SMPMemberPSB#CommitmentCentral

THIS JUST IN

'18 W Izzy Strigel (@izzzbreezy) picked Colorado College (@cc_wbb / @menendez_k)

NEED EXPOSURE?! JOIN SMP TODAY: https://t.co/8GnB3G0viZ

Her @ProspectsNation Card https://t.co/XIXoQbFSAg pic.twitter.com/FJyJP1BH5G

— Brandon Clay (@BrandonClayPSB) February 10, 2018
#BrandonClayScouting🍑 Coverage
Fueled by @PeachStateBBall

Available '18 W Izzy Strigel (@izzzbreezy) of @carolinallstars is a sharpshooter still on the board.@JLHemingwayPSB & I drop the latest on her recruitment: https://t.co/fqTDrkYJJI #SMPMember pic.twitter.com/Z81KbMEGGs

— Brandon Clay (@BrandonClayPSB) January 27, 2018
#SMPMember🍑 Program News
Powered by @SMPMemberPSB

Available '18 W Izzy Strigel (@izzzbreezy) of @daathletics has been on a tear lately.

She is slated to visit Colorado College. (@cc_wbb, @menendez_k)

Her #BrandonClayScouting Page: https://t.co/8xmEgMXSH5 @cphillips_21 https://t.co/ZgQg5y57rU

— Brandon Clay (@BrandonClayPSB) January 19, 2018
#SMPMember🍑 Program News
Powered by @SMPMemberPSB

NCAA DI Schools

Keep an eye on Available '18 G Izzy Strigel (@izzzbreezy) of @daathletics & @carolinallstars. High academic shooter eyeing a preferred walk on spot.

Her #BrandonClayScouting Page: https://t.co/8xmEgMXSH5 https://t.co/YPyIZ6loWH

— Brandon Clay (@BrandonClayPSB) January 4, 2018
#SMPMember🍑 Program News

THIS JUST IN

'18 SG Izzy Strigel (NC) is reopening her recruitment from NYU.

A sharpshooter from the outside, @izzzbreezy has dropped 29 points in a game this year already.

Her #BrandonClayScouting Page: https://t.co/8xmEgMXSH5 pic.twitter.com/D7AMX9jfNF

— Brandon Clay (@BrandonClayPSB) December 17, 2017
#SMPMember🍑 Recruiting Program

THIS JUST IN#CommitmentCentral

'18 W Izzy Strigel (NC) to NYU.

PAGE: https://t.co/8xmEgMGhiv @izzzbreezy pic.twitter.com/CHzjLHrqAF

— Brandon Clay (@BrandonClayPSB) August 17, 2017
Make sure to see @carolinallstars & @CoachBNorwood's group.

Available #SMPMember '18 Izzy Strigel @izzzbreezy is ready. https://t.co/ODk24I8SXs

— PSB Events (@PeachStateBBall) July 23, 2017
'18 G Izzy Strigel of @carolinallstars Cox Jr. #PSBFamily are at:#PSBSummerInvite#PSBPower48

INFO: https://t.co/vTyxJdYHmA pic.twitter.com/jRAEXE8dgr

— Brandon Clay (@BrandonClayPSB) July 18, 2017
#PSBNationals #SMPMember Exposure members Izzy Strigel of @carolinallstars & Taylor Stelley of @FL_Lightning play at 7:20 pm. @izzzbreezy pic.twitter.com/dryIxvcbrB

— Brandon Clay (@BrandonClayPSB) July 10, 2017
#SMPMember
'18 Izzy Strigel can shoot it, but she is developing even more skills than that#EBASuper64 EVAL https://t.co/kvoPkwphNK pic.twitter.com/ZSAwAja7GA

— Jonathan Hemingway (@JLHemingwayPSB) June 9, 2017
'18 #SMPMember Izzy Strigel is in & ready to work. She also has #EBAAllAmerican Sep 2-3 invite.

JOIN: https://t.co/BLf8mXUUtG pic.twitter.com/vT7lxO2Tui

— PSB Events (@PeachStateBBall) June 3, 2017
'18 Izzy Strigel grew her game today & displayed her outstanding shooting ability @izzzbreezy
Her Pagehttps://t.co/EhbjGRfqKG https://t.co/lSvrTiEK7m

— Kris Watkins (@KrisWatkinsPSB) June 4, 2017
#SMPMember
Loved @izzzbreezy focus at #PSBMayDay

She's a contributor at the next level w/ shot making & leadership https://t.co/MZ9S8y84PW

— Jonathan Hemingway (@CoachHemi) May 16, 2017
#SMPMember Recruiting

Before she shines at #EBASuper64, '18 Izzy Strigel (NC) to visit Dartmouth.

PAGE https://t.co/GLMPexCK61 @izzzbreezy pic.twitter.com/nqntnp1tlY

— Brandon Clay (@BrandonClayPSB) May 15, 2017
'18 #SMPMember Izzy Strigel has accepted her invite to #EBASuper64 National Showcase June 3-4

JOIN HER: https://t.co/DDz2clHd7i pic.twitter.com/TwiplS6kns

— PSB Events (@PeachStateBBall) May 14, 2017
#SMPMember Exposure

'18 W Izzy Strigel (NC) was named HS All-State. Plays club w/Carolina All-Stars.https://t.co/8xmEgMXSH5@izzzbreezy pic.twitter.com/q81prdwM70

— Brandon Clay (@BrandonClayPSB) April 27, 2017
#SMPMember Exposure Program

After 26 pts on Fri., '18 Izzy Strigel (NC) visited Columbia on Sat.

MORE: https://t.co/8xmEgMXSH5 @izzzbreezy pic.twitter.com/cfqHhmsnCM

— Brandon Clay (@BrandonClayPSB) February 12, 2017
Congrats to '18 Izzy Strigel @izzzbreezy scoring her 1000th point last night

Her #SMPMember Page w 🎥 Breakdown:https://t.co/EhbjGRfqKG pic.twitter.com/7hlaIjA5Co

— Kris Watkins (@KrisWatkinsPSB) January 28, 2017
#SMPMember of the Day:

'18 W Izzy Strigel (NC) is a scorer's scorer.

31 pts in a W vs Ravenscroft.

Averages: 20.3 ppg, 4 stls & 2.6 blks pic.twitter.com/2EcLcOJ49R

— Brandon Clay (@BrandonClayPSB) January 13, 2017
'18 Izzy Strigel @izzzbreezy went off for 31pts (8 3's) last night@daathletics @carolinallstars
Her #SMPMember Pagehttps://t.co/EhbjGRfqKG https://t.co/1vLCJZhByR

— Kris Watkins (@KrisWatkinsPSB) January 12, 2017
'18 W Izzy Strigel (NC) has @Detroit_WBB's attention. @CoachMolly_UDM

LEARN MORE ON IZZY: https://t.co/Xd6Fe6q8ly @izzzbreezy https://t.co/Jnk7d0P7v7

— #SMPMember Program (@SMPMemberPSB) January 5, 2017
'18 Izzy Strigel @izzzbreezy is an elite shooter

Her #SMPMember Pagehttps://t.co/EhbjGRfqKG#SMPFilmRoom Breakdown from @BrandonClayPSB ⬇ pic.twitter.com/UwyByT2ZWf

— Kris Watkins (@KrisWatkinsPSB) January 3, 2017
'18 W Izzy Strigel (NC) visited Southern California last weekend; averaging 21 ppg, 4 stls per.

PAGE: https://t.co/8xmEgMXSH5 pic.twitter.com/fBVoUSGhhy

— Brandon Clay (@BrandonClayPSB) December 1, 2016
'18 SF Izzy Strigel (@izzzbreezy) visited Northeastern & Penn in October.

READ: https://t.co/8xmEgMXSH5 pic.twitter.com/KyKqz5GKIl

— Brandon Clay (@BrandonClayPSB) November 11, 2016
#SMPMember of the Day: '18 W Izzy Strigel (NC) @izzzbreezy

Plays for @CoachBNorwood's @carolinallstars.@KrisWatkinsPSB & @SUVtv VIDEO: pic.twitter.com/QAOXp4LJFh

— #SMPMember Program (@SMPMemberPSB) November 7, 2016
Check out '18 Izzy Strigel (NC)

Carolina All Stars | Durham Academy | @izzzbreezy

PAGE: https://t.co/1HSTxJvCb6 pic.twitter.com/HkeUiL133l

— Rebecca Dyer (@RebeccaDyerPSB) October 25, 2016
'18 W Izzy Strigel visited Penn. She's a high academic prep.

PAGE: https://t.co/8xmEgMGhiv @izzzbreezy pic.twitter.com/CiKLlb5Efq

— Brandon Clay (@BrandonClayPSB) August 19, 2016
We welcome '18 Izzy Strigel.

She'll attend #EBAAllAmerican.

PAGE: https://t.co/8xmEgMGhiv @izzzbreezy pic.twitter.com/43jmsfZ9A1

— Brandon Clay (@BrandonClayPSB) August 3, 2016
---

Brandon Clay is the owner of the JumpOffPlus.com International Report, Peach State Basketball, Inc., and ProspectsNation.com. The JumpOffPlus.com is picked up by more than 200 colleges and universities nationwide. In addition to serving as ProspectsNation.com WNBA Director of Scouting, Clay serves as the Executive Camp Director for the Elite Basketball Academy Camps. He is a McDonald's All-American Game Selection Committee member. Clay serves on the Naismith Trophy Men's / Women's College Player of the Year Academy and is the National Coordinator of Voting for the Boys / Girls All-American Teams. He has been involved in the community since 2001. You can reach Clay at [email protected]