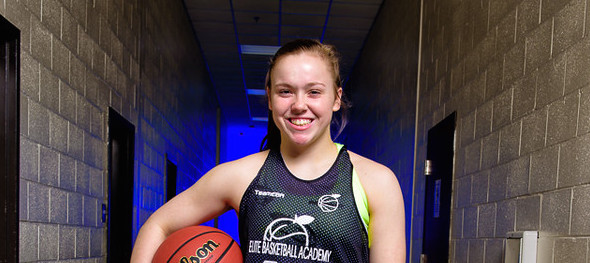 ---
With over 20,000 collective followers on our team's social media outlets, we're in a unique position to assist with both creating awareness of a prospect's skill set and recent on-floor performance. From crisp recruiting updates to updated in-season stats to a potential last-minute change in schedule that needs to be conveyed socially, this package allows the player to control the information available to the public about their game.
Become an #SMPMember: Click the Logo Below

---
Class of 2018 point guard Hannah Barber of Homewood, Ala., has shown herself as a premier option at the position nationally. She shined bright with her performances at the CoachHemi.com Workout and #EBASuper64 Camp coming off a stellar 2015-16 high school season. Barber was named First Team HS All-State as a sophomore. BrandonClayScouting.com Director of Domestic Scouting, Jonathan Hemingway says that "From the outset of both events, she set the tone with her energy and vocal leadership in drills. She went 100 percent and pushed herself and others to go harder and be better. In competition play, Barber raised eyebrows with her ability to create plays with the dribble. She has the utmost confidence in her ability to shoot and score."
Brandon Clay's takeaway – EBASuper64 Camp (Sept. 2016): Barber plays the game with both a chip and confidence. Specifically, she plays with a real confidence in her ability to create a shot for herself or a teammate. Her vocal energy was infectious throughout the camp. With that, Barber is a point guard option who can shoot very well.
Name: Hannah Barber
Height: 5'6″
HS Grad Year: 2018
Position: PG
School / Hometown: Homewood HS (Homewood, Ala.)
Club Team: Alabama Southern Starz
Committed College: Alabama
---
BrandonClayScouting.com Video Evaluation: June 2016
Social Media Updates:
#SMPMember🍑 Program News
In Partnership with @BClayScouting

"2018 PG Hannah Barber (@hdebarber) will add even more depth to an Alabama roster next fall that is as deep as they've been in @CoachCurry's time in Tuscaloosa." – @BrandonClayPSB

Her Page: https://t.co/ZkZpa7K4qM https://t.co/Ja0gg1wvSy

— SMP Recruit Exposure (@SMPMemberPSB) January 10, 2018
All Love Hannah Barber. Keep getting better. @sherekagirl is waiting. Hope to see you at #EBAFallFinale Sep. 23-24! #AnyGymIsHome #SMPMember

— Brandon Clay (@BrandonClayPSB) August 25, 2017
'18 Alabama Commit & #SMPMember Hannah Barber (@hdebarber) grew her game at #EBASuper64 Camp

Her Pagehttps://t.co/c2FItSRJD6

Watch ⬇️ pic.twitter.com/gFYcsd6EqD

— Kris Watkins (@KrisWatkinsPSB) June 18, 2017
#SMPMember
"IN FOCUS" w/ Hannah Barber

TOPICS
☑️Off-Season Plans
☑️Commitment to Alabama
☑️HS Goals

🏀https://t.co/zMqq0jUtnk @hdebarber pic.twitter.com/rvrTzasyaj

— Jonathan Hemingway (@JLHemingwayPSB) June 12, 2017
2019 #SMPMember Hannah Barber (@hdebarber) giving a preview of what she'll offer Alabama. @ALSoStarz @BrandonClayPSB pic.twitter.com/BGbLQYetBj

— PSB Events (@PeachStateBBall) June 3, 2017
'18 Alabama Commit & #SMPMember Hannah Barber (@hdebarber) holds a #EBAAllAmerican Sep 2-3 invite

JOIN:https://t.co/BLf8mXUUtG pic.twitter.com/CM1jKB7Arr

— PSB Events (@PeachStateBBall) June 4, 2017
#SMPMember
Hannah Barber checks in at No. 106 in @ProspectsNation rankings#CoachHemiShowcase Standouthttps://t.co/8ObVtu5qUi @hdebarber pic.twitter.com/AKVREUI8k3

— Jonathan Hemingway (@JLHemingwayPSB) May 19, 2017
#SMPMember Recruiting Exposure

What does Alabama add in '18 PG Hannah Barber?

Floor general with a slick handle.

My Take on @hdebarber ⬇️ pic.twitter.com/SnpDNKYZAI

— Brandon Clay (@BrandonClayPSB) May 16, 2017
Barber is a favorite of mine to watch
Skill, motor, leadership #SMPMember @hdebarber https://t.co/yGk0qNfK7e

— Jonathan Hemingway (@CoachHemi) April 10, 2017
#EBASuper64 Showcase

June 3-4

Alabama commit Hannah Barber is always ready to work.

JOIN @hdebarber: https://t.co/tJAgOJkP5h #SMPMember pic.twitter.com/NkrqetIsfo

— Brandon Clay (@BrandonClayPSB) April 10, 2017
@BrandonClayPSB @hdebarber @CoachCurry @BamaHoopsNews @ProspectsNation @SMPMemberPSB @Crimson3Pointer @VinceSmithPSB @primetidesports @EliteBama @lphoopsquadd #SMPMember:

'18 Hannah Barber (AL) was named to the Super All-State team

More info on @hdebarber https://t.co/c2FItSRJD6

Watch Her 🎥⬇️ pic.twitter.com/7r4zWrAIs3

— Kris Watkins (@KrisWatkinsPSB) April 6, 2017
#SMPMember Exposure Program

'18 PG Hannah Barber (AL) was named to the Super All-State team.

MORE ON @hdebarber: https://t.co/bDnMO3jadD pic.twitter.com/EmwZCqqwtM

— Brandon Clay (@BrandonClayPSB) April 6, 2017
#SMPMember Exposure Program

'18 PG Hannah Barber (AL) has Homewood in the state title game Sat.

MORE: https://t.co/bDnMO3jadD @hdebarber pic.twitter.com/YRgJ9OuNX3

— Brandon Clay (@BrandonClayPSB) March 2, 2017
#SMPMember of the Day

'18 PG Hannah Barber (AL) has Homewood at 16-1

Averages: 13 pts; 5 asts, 3 stls

LEARN MORE: https://t.co/bDnMO3jadD pic.twitter.com/ejV6TzTZON

— Brandon Clay (@BrandonClayPSB) January 12, 2017
BREAKING:

Another #SMPMember hits 1,000 career points as '18 Hannah Barber (Alabama verbal) does.

PAGE: https://t.co/bDnMO3jadD @hdebarber pic.twitter.com/kpaiFOMPuQ

— Brandon Clay (@BrandonClayPSB) December 17, 2016
Congrats to Hannah Barber @hdebarber. She chose @AlabamaWBB.

Our first '18 to pick a college.

PAGE: https://t.co/ZkZpa7K4qM https://t.co/zQKI5hi3dv

— #SMPMember Program (@SMPMemberPSB) October 17, 2016
'18 PG Hannah Barber says Roll Tide. Huge in-state get for Bama. An Elite 100 prep nationally.

STORY: https://t.co/xgvSAstjNO pic.twitter.com/6pAZsbtinA

— Brandon Clay (@BrandonClayPSB) October 17, 2016
'18 PG Hannah Barber hosted Alabama for a home visit. The Crimson Tide have offered.#SMPMember Central: https://t.co/hgJ4xJ0zIH @hdebarber pic.twitter.com/tvXsAJisI6

— Brandon Clay (@BrandonClayPSB) October 11, 2016
Hannah Barber (@hdebarber) & AL Southern Starz are at #PSBEndOfTheRoad.

PAGE: https://t.co/ZkZpa7K4qM pic.twitter.com/XqsqgQsgU3

— #SMPMember Program (@SMPMemberPSB) September 22, 2016
Excited to see '18 Hannah Barber @hdebarber lace em' up this weekend at #PSBEndOfTheRoad

PAGE:https://t.co/AjSsTpr836 pic.twitter.com/0DtEfSjmgL

— Rebecca Dyer (@RebeccaDyerPSB) September 20, 2016
#PSBEndOfTheRoad:#SMPMember: '18 Hannah Barber @hdebarber will be w/ @ALSoStarz Sept 23-25https://t.co/qASOlcUXTi pic.twitter.com/j7YJRHXP65

— Kris Watkins (@KrisWatkinsPSB) September 10, 2016
'18 PG Hannah Barber (AL) visited Dayton Sat/Sun. Has an offer.#SMPMember PAGE: https://t.co/bDnMO3AL5b @hdebarber pic.twitter.com/cwpLYpIJ4u

— Brandon Clay (@BrandonClayPSB) August 29, 2016
Hannah Barber (.@hdebarber) has an updated page following her July play.

HERE: https://t.co/bDnMO3AL5b pic.twitter.com/53brQ6orcJ

— Brandon Clay (@BrandonClayPSB) August 10, 2016
#SMPMember '18 Hannah Barber @hdebarber shooting it well today @ #PSBSummerInvite
Her Pagehttps://t.co/c2FItSRJD6 https://t.co/Nj6mikk0pZ

— Kris Watkins (@KrisWatkinsPSB) July 24, 2016
Hannah Barber & @ALSoStarz got to the bucket strong today which got them easy free throws as well. pic.twitter.com/6V3ugLxxs2

— ProspectsNation.com (@ProspectsNation) July 23, 2016
#SMPMember
'18 Hannah Barber @hdebarber taking full advantage of the exposure @ #PSBRealDealhttps://t.co/c2FItSRJD6 https://t.co/GsTZdBlChl

— Kris Watkins (@KrisWatkinsPSB) July 10, 2016
Hannah Barber (@hdebarber) comes down and drains a 3 and then comes down again for the clean assist! Starz up 17-9.

— ProspectsNation.com (@ProspectsNation) July 10, 2016
#SMPMember Watch:

'18 Hannah Barber (@hdebarber) will attend #PSBRealDeal Session II

PAGE: https://t.co/ZkZpa7K4qM pic.twitter.com/xZlLvu1aWX

— #SMPMember Program (@SMPMemberPSB) July 5, 2016
#SMPMember Central:

Hannah Barber
McKenna Hofschild
Kaley Shipman

FULL STORY: https://t.co/V3yZZGWmKV @hdebarber pic.twitter.com/QV7w09Wq9w

— Brandon Clay (@BrandonClayPSB) June 29, 2016
'18 Hannah Barber's on-floor success is no accident.

BREAKDOWN 🎥📽: https://t.co/bDnMO3AL5b @hdebarber pic.twitter.com/bsC0flD9Ce

— Brandon Clay (@BrandonClayPSB) June 26, 2016
'18 Hannah Barber has a @JLHemingwayPSB eval from #EBASuper64

CARD: https://t.co/4Gk6xkCI9L @hdebarber pic.twitter.com/NwJRbHFswF

— Brandon Clay (@BrandonClayPSB) June 14, 2016
Welcome '18 PG Hannah Barber

Already has an Alabama offer.

PAGE: https://t.co/bDnMO3AL5b @hdebarber pic.twitter.com/6HALEaOFK4

— Brandon Clay (@BrandonClayPSB) June 9, 2016
New family members

Hannah Barber
McKenna Hofschild@AbiHall_

INFO: https://t.co/8GnB3FITUp @hdebarber pic.twitter.com/81eAaQG1yX

— Brandon Clay (@BrandonClayPSB) June 8, 2016
#EBASuper64 🌟@hdebarber @Bruhh_naee
Sydney Parrish
Kayla King@ShaileenWoods
Jada Guinn
Mya Giusto
Jordan Isaacs pic.twitter.com/hb0DfoBXcc

— Jonathan Hemingway (@JLHemingwayPSB) June 6, 2016
'18 Hannah Barber (AL) @hdebarber is fun to watch. Floor general for her team on both ends

— Rebecca Dyer (@RebeccaDyerPSB) June 5, 2016
#EBASuper64@BrandonClayPSB was impressed w/ the energy of this group led by @hdebarber & @Bruhh_naee pic.twitter.com/8MzIrQ881F

— Jonathan Hemingway (@CoachHemi) June 5, 2016
Even between sessions @BrandonClayPSB & staff work w/ players, fine-tuning their game. @hdebarber #EBASuper64 pic.twitter.com/VQbWewFQbH

— ProspectsNation.com (@ProspectsNation) June 4, 2016
#EBASuper64 @hdebarber is impressive with the ball. Strong and direct movements, while also plenty of control. pic.twitter.com/8GiyKvvkVZ

— ProspectsNation.com (@ProspectsNation) June 5, 2016
#CoachHemiShowcase '18 Hannah Barber @hdebarber goes up strong and finishes a contested layup during the 5v5 session pic.twitter.com/xknrlckOWP

— Jonathan Hemingway (@CoachHemi) March 13, 2016
#CoachHemiShowcase Pick & Pop action with @hdebarber & @cameronswartz for 3 pic.twitter.com/XMoAAsXsOP

— Jonathan Hemingway (@CoachHemi) March 13, 2016
---

Brandon Clay is the owner of the JumpOffPlus.com International Report, Peach State Basketball, Inc., and ProspectsNation.com. The JumpOffPlus.com is picked up by more than 200 colleges and universities nationwide. In addition to serving as ProspectsNation.com WNBA Director of Scouting, Clay serves as the Executive Camp Director for the Elite Basketball Academy Camps. He is a McDonald's All-American Game Selection Committee member. Clay serves on the Naismith Trophy Men's / Women's College Player of the Year Academy and is the National Coordinator of Voting for the Boys / Girls All-American Teams. He has been involved in the community since 2001. You can reach Clay at [email protected]