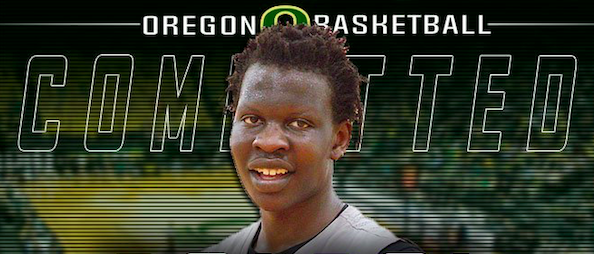 Oregon has made a splash in the past four recruiting classes landing potential pros in Dillon Brooks, Payton Pritchard, Troy Brown Jr., and now Bol Bol. If Bol's name sounds familiar, it should. His father, Manute, is one of the best shot blockers in NBA history. His son, Bol, has taken it a step further adding an offensive arsenal to his ability to alter shots. In doing so, Bol has become one of the nation's elite players and a five-star prospect. He'll give the Ducks their first consensus Top Five recruit in program history.
OUR LATEST EVALUATIONS:
9/22/17 -USA Mini Camp (Colorado Springs, CO) – Brandon Clay
Bol's length and ability to move at his size were arguably the two biggest takeaways from the weekend. When he adds more strength to his frame, Bol is going to be a real challenge for opposing post players to handle. The game is changing and going away from traditional cog in the middle centers but he stepped out and hit a 3-pointer with clean mechanics in this eval.
5/12/17 Nike EYBL Circuit Session III (Cartersville, Ga.) – Jonathan Hemingway
Bol is unique of a prospect as we could see in a decade or more. He is a finesse center who can hit shots from anywhere. Obviously his incredible length allows him to score at will over players shorter than him. But he has hands to catch balls out of his area, he can hit fadeaways a step or two outside the block and he even has range to the arc at a very high rate. His is averaging 24 points, 10 rebounds and 4.5 blocks per game. He is even shooting 49% from 3pt range.
6/18/16 – NBPA Top 100 Evals – (Charlottesville, VA) – Brandon Clay
Bol showed the length and athleticism to make plays in the middle. I like his size and willingness to run the floor. Bol is still developing his offensive game.

Brandon Clay is the owner of the JumpOffPlus.com International Report, Peach State Basketball, Inc., and ProspectsNation.com. The JumpOffPlus.com is picked up by more than 200 colleges and universities nationwide. In addition to serving as ProspectsNation.com WNBA Director of Scouting, Clay serves as the Executive Camp Director for the Elite Basketball Academy Camps. He is a McDonald's All-American Game Selection Committee member. Clay serves on the Naismith Trophy Men's / Women's College Player of the Year Academy and is the National Coordinator of Voting for the Boys / Girls All-American Teams. He has been involved in the community since 2001. You can reach Clay at [email protected]