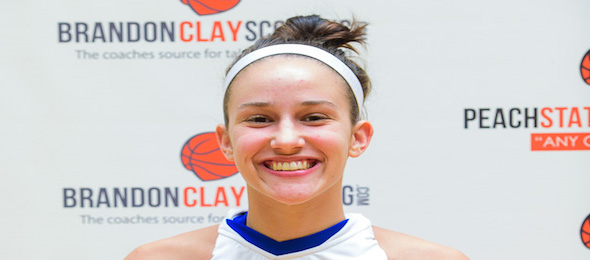 ---
With over 20,000 collective followers on our team's social media outlets, we're in a unique position to assist with both creating awareness of a prospect's skill set and recent on-floor performance. From crisp recruiting updates to updated in-season stats to a potential last-minute change in schedule that needs to be conveyed socially, this package allows the player to control the information available to the public about their game.
Become an #SMPMember: Click the Logo Below

---
Class of 2017 guard Angeni Worley of Orlando, Fla., is ready to emerge as a must watch prospect from the Sunshine State this spring / summer. Worley averaged 10.4 points, 3.3 assists and 3.4 rebounds per game during the 2015-16 high school season.
Brandon Clay's takeaway – PSBElite32 Summer Jam (July 2015): Worley can score in multiple ways. The class of 2017 off guard shoots the ball well from the perimeter and also has the creative ability to get to the rim with her solid ball handling skills. The Florida Lightning utilizes her at both guard positions where the combination of her strong build and height give her an edge over a lot of players a her position.
Name: Angeni Worley
Height: 5'9"
HS Grad Year: 2017
Position: SG
School / Hometown: Boone HS (Orlando, Fla.)
Club Team: Florida Lightning
Social Media Updates:
#SMPMember Exposure Program

Growing the game one scholarship at a time

'17 G Angeni Worley (FL) to Eastern FL St.https://t.co/ONPh4q7lgG pic.twitter.com/u55cGWyHkD

— Brandon Clay (@BrandonClayPSB) March 1, 2017
Available '17 G Angeni Worley has Boone HS (FL) at 11-6.

Averages: 8 pts, 5 rebs, 4 asts

LEARN MORE: https://t.co/ONPh4q7lgG pic.twitter.com/hQXyhTu8F0

— Brandon Clay (@BrandonClayPSB) January 6, 2017
Available '17 G Angeni Worley (FL) impressed @RebeccaDyerPSB.

She's got the eye of Augusta Univ. too.https://t.co/ONPh4q7lgG pic.twitter.com/KqbvWV4awo

— Brandon Clay (@BrandonClayPSB) December 13, 2016
You can't leave '17 Angeni Worley (FL) open. Hardly missed in tonight's Fall league action

PAGE:https://t.co/DaMKwRjRsC pic.twitter.com/7Xp0qg1TSV

— Rebecca Dyer (@RebeccaDyerPSB) October 14, 2016
'17 Angeni Worley was great in July & looking to have a big HS season

PAGE:https://t.co/DaMKwRjRsC pic.twitter.com/MNl49HAjYA

— Rebecca Dyer (@RebeccaDyerPSB) September 16, 2016
'17 Angeni Worley can heat up at any moment when she's on the court.

HER PAGE: https://t.co/ONPh4q7lgG pic.twitter.com/4cGPhkx8eV

— Brandon Clay (@BrandonClayPSB) August 28, 2016
Angeni Worley's page has been updated after a stellar July performance.

READ: https://t.co/ONPh4pPJS6 pic.twitter.com/g6W6gtT7EK

— Brandon Clay (@BrandonClayPSB) August 10, 2016
'17 Angeni Worley is a tough-minded sharp shooter out of FL

PAGE:https://t.co/DaMKwRBsRc pic.twitter.com/T4OnQDOT1D

— Rebecca Dyer (@RebeccaDyerPSB) August 9, 2016
Angeni Worley hits a much needed 3 going into the half to put Florida Lightning down by only 8. @SeasonNeverEnd

— ProspectsNation.com (@ProspectsNation) July 11, 2016
Keep up with '17 Angeni Worley's recruiting at @SMPMemberPSB

PAGE:https://t.co/DaMKwRBsRc pic.twitter.com/3u5hdQvEFp

— Rebecca Dyer (@RebeccaDyerPSB) July 7, 2016
Angeni Worley took the floor at #PSBSummerKickoff & immediately hit a 3. #SMPMember

INFOhttps://t.co/1XaB9vEruZ pic.twitter.com/Pne4hU4C1N

— Jonathan Hemingway (@JLHemingwayPSB) July 6, 2016
#SMPMember Watch:

Angeni Worley of #PSBFamily FL Lightning is at #PSBSummerKickoff.

PAGE: https://t.co/NHO1OAdSpC pic.twitter.com/500Xnb8M9v

— #SMPMember Program (@SMPMemberPSB) July 4, 2016
#SMPMember Central:

Emily Beard
Kristen Mayo
Jordan Ott
Megan Veneman
Angeni Worley

READ: https://t.co/V3yZZGWmKV pic.twitter.com/IiDafexB5w

— Brandon Clay (@BrandonClayPSB) June 28, 2016
Sharpshooting '17 G Angeni Worley (FL) will visit Davidson this month.

PAGE: https://t.co/ONPh4pPJS6 pic.twitter.com/WunV92iXXp

— Brandon Clay (@BrandonClayPSB) June 21, 2016
'17 Angeni Worley (FL) averaged 10.4 pts for Boone HS during 15-16 season

PAGE:https://t.co/DaMKwRBsRc pic.twitter.com/pbhPM37dQ8

— Rebecca Dyer (@RebeccaDyerPSB) May 16, 2016
'17 Angeni Worley can flat out shoot it. Hoops w/ FL Lightning

PAGE:https://t.co/DaMKwRBsRc pic.twitter.com/dUGMvw0WDo

— Rebecca Dyer (@RebeccaDyerPSB) April 12, 2016
'17 G Angeni Worley (FL) | Boone HS | Florida Lightning | #PSBFamily

HER PAGE: https://t.co/ONPh4q7lgG pic.twitter.com/jlmc13qpUO

— Brandon Clay (@BrandonClayPSB) March 25, 2016

Brandon Clay is the owner of the JumpOffPlus.com International Report, Peach State Basketball, Inc., and ProspectsNation.com. The JumpOffPlus.com is picked up by more than 200 colleges and universities nationwide. In addition to serving as ProspectsNation.com WNBA Director of Scouting, Clay serves as the Executive Camp Director for the Elite Basketball Academy Camps. He is a McDonald's All-American Game Selection Committee member. Clay serves on the Naismith Trophy Men's / Women's College Player of the Year Academy and is the National Coordinator of Voting for the Boys / Girls All-American Teams. He has been involved in the community since 2001. You can reach Clay at [email protected]