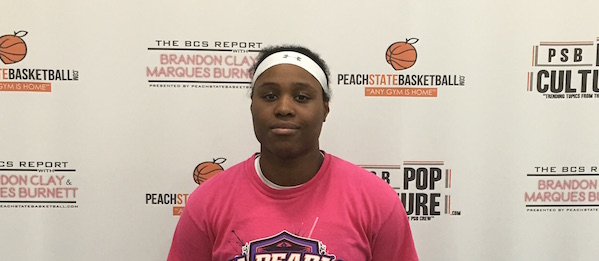 ---
With over 20,000 collective followers on our team's social media outlets, we're in a unique position to assist with both creating awareness of a prospect's skill set and recent on-floor performance. From crisp recruiting updates to updated in-season stats to a potential last-minute change in schedule that needs to be conveyed socially, this package allows the player to control the information available to the public about their game.
Become an #SMPMember: Click the Logo Below

---
Class of 2017 prospect Abi Hall of Alpharetta, Ga., has been getting ready for her final club season. She's a talented option who can play multiple positions on the hardwood. Hall also gets in done in the classroom, will be a full qualifier and has already taken both the ACT and SAT.
Brandon Clay's takeaway – PSBEndOfTheRoad (Sept. 2016): Hall is a frontcourt option who plays with energy and effort. She has good size in the lane. Keep an eye on Hall as she is a high level academic prospect as well.
Name: Abigail Hall
Height: 5'10"
HS Grad Year: 2017
Position: SF / PF
School / Hometown: Milton HS (Alpharetta, Ga.)
Club Team: Georgia Pearls
GPA / Test Score: 3.9 / SAT: 1530 / ACT: 26
---
Social Media Updates:
'17 @abihall_ is a high academic frontcourt option from the @GA_pearls. They are #PSBFamily.

HER PAGE: https://t.co/bnsrL7fguS https://t.co/QkRPpVRtND

— #SMPMember Program (@SMPMemberPSB) October 27, 2016
Abi Hall (@abihall_) was impressive at #PSBEndOfTheRoad. @BrandonClayPSB Eval: https://t.co/bnsrL7wRmq pic.twitter.com/Vx77N4y2hB

— #SMPMember Program (@SMPMemberPSB) October 23, 2016
.@BrandonClayPSB watched Abi Hall of @GA_pearls play vs AL Southern Starz. Impressed w/ her progress. pic.twitter.com/kFoCbDy5GN

— #SMPMember Program (@SMPMemberPSB) September 24, 2016
Abi Hall | 2017 | Georgia | 3.9 GPA @abihall_ https://t.co/5BiXt2YruN pic.twitter.com/W269KI7jqT

— Rebecca Dyer (@RebeccaDyerPSB) September 2, 2016
#SMPMember Central: '17 @AbiHall_ visited Howard. She's w/#PSBFamily GA Pearls in July

READ https://t.co/WIfFe7S80W pic.twitter.com/Kbc1vS4Stk

— Brandon Clay (@BrandonClayPSB) June 28, 2016
New family members

Hannah Barber
McKenna Hofschild@AbiHall_

INFO: https://t.co/8GnB3FITUp @hdebarber pic.twitter.com/81eAaQG1yX

— Brandon Clay (@BrandonClayPSB) June 8, 2016
---

Brandon Clay is the owner of the JumpOffPlus.com International Report, Peach State Basketball, Inc., and ProspectsNation.com. The JumpOffPlus.com is picked up by more than 200 colleges and universities nationwide. In addition to serving as ProspectsNation.com WNBA Director of Scouting, Clay serves as the Executive Camp Director for the Elite Basketball Academy Camps. He is a McDonald's All-American Game Selection Committee member. Clay serves on the Naismith Trophy Men's / Women's College Player of the Year Academy and is the National Coordinator of Voting for the Boys / Girls All-American Teams. He has been involved in the community since 2001. You can reach Clay at [email protected]