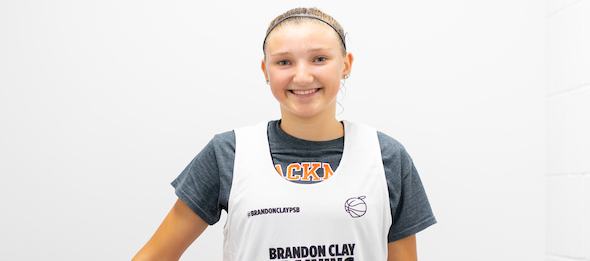 Vitals:
Name: Emily Monson
Height: 6'1″
HS Grad Year: 2023
Position: SF / SG
School / Hometown: Blackman HS (Murfreesboro, TN)
Club Team: Southeast All Stars
Committed College: Purdue
BrandonClayTV Video Evaluations:
Player Evaluations:
Date: August 22, 2021
Location: Brandon Clay Training Academy (Atlanta, Georgia)
Evaluator: Brandon Clay
Monson has emerged as one of my favorite prospects in the country at the hybrid forward position. In a literal sense, she does some of everything on the floor. Monson's game has evolved to the point where she is a capable three level scorer by finishing consistently at the rim then hitting midrange jumpers and 3-pointers. Ball handling is the next point of emphasis.
Date: September 12, 2021
Location: Brandon Clay Training Academy (Indianapolis, Indiana)
Evaluator: Brandon Clay
Monson has been in the gym with us two times in the last three weeks. There was noticeable progression from the Atlanta Academy to the stop here in Indy. We envision Monson's progression as high level forward capable of making plays in the middle third of the floor. At her best, she is both a shot maker and facilitator.
Date: Dec. 13, 2020
Location: Brandon Clay Training Academy (Knoxville, Tennessee)
Evaluator: Brandon Clay
Class of 2023 wing Emily Monson made the trip from Murfreesboro over to train for the fourth time this calendar year. The difference in her game is starting to show. Her jump shot looked much cleaner here mechanically than it did earlier in the summer. In that regard, Monson's athleticism and feel for the game jump off the page while her jumper is starting to really make strides to match.
Date: September 20, 2020
Location: Check Me Out Midwest
Evaluator: Brandon Clay
Monson's game literally progresses with each evaluation. Concept wise, she is in a special place to be a sophomore in high school. She gets it. Monson is learning to show the confidence in her outside shot that the consistent shooters in the upper echelon levels due. Monson's so dialed in to her improvement right now that she took part in a school obligation on Friday night then flew into Iowa on Saturday in time to work on her game with us.
Social Media Updates: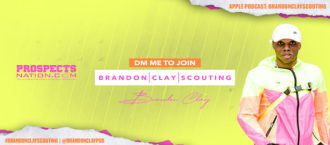 Brandon Clay is the owner of the BrandonClayScouting.com Report, Peach State Basketball, Inc., and ProspectsNation.com. BrandonClayScouting.com is utilized by more than 200 colleges and universities nationwide. Clay serves as the Executive Camp Director for the BrandonClayScouting.com National Training Academies. He is a McDonald's All-American Game Selection Committee member. Clay serves on the Naismith Trophy Men's / Women's College Player of the Year Academy and is the National Coordinator of Voting for the Boys / Girls All-American Teams. He has been involved in the community since 2001. You can reach Clay at [email protected]