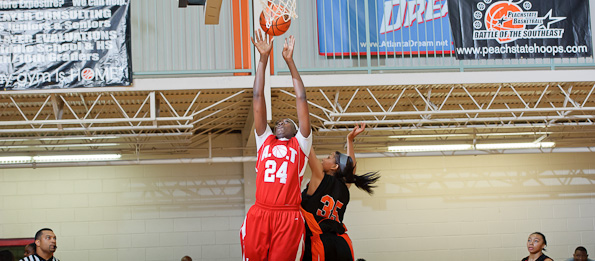 MARIETTA, Ga. – Peach State Basketball will provide the stage for players to get a chance to perform in front of college coaches in the Summer Kickoff. In this preview we will take a look at some of the teams and players who will be in the building at the start of July.
By: Jonathan Hemingway
Big Names and Big Dreams
The A.O.T. Lady Rebels have quickly established themselves as one of the nation's premier travel teams within the past twelve months. They are signed on to be at All Tournament to start off the July viewing period. Waiting on them will be an FBC Georgia team has made a resurgence onto the travel team scene as of late. Their restocked roster has made them a team that has made an impact prison overcrowding research paper in the 2012 calendar year.
Name Recognition
The Summer Kickoff will feature several players who have already given their verbal commitment to play at BCS level schools. Peyton Whitted (Suwanee, Ga./North Gwinnett) made her verbal commitment to Penn State this past week. Along with Whitted, her club teammate, Lexie Brown (Suwanee, Ga./North Gwinnett), has given her commitment to Maryland. Shanae Armbrister (Dania Beach, Fla/Calvary Christian) is headed to Florida State.  However, there are still many others who are playing to secure a which essay writing service is the best scholarship offer.  Mone Jones (Durham, N.C.) is a legit prospect in the class of 2015 and will be one of the more talented uncommitted players playing this weekend. Moses Johnson (Lithonia, Ga/Green Forest), who is fresh off a solid showing at EBA Super 64 camp, will be in Marietta ready to show that she can compete against some of the nation's best. And one name that will be sure to show up on everyone's list after this summer is Caliya Robinson make a summary of an article for me (Marietta, Ga./Kell). She is a legit post that has true upside at the next level.
Jonathan Hemingway is the Assistant Director of Scouting for the JumpOffPlus.com. The service is used by more than 150 colleges and universities nationwide. He also serves on the selection committee for the EBA All-American, Fab Five and Super 64 Camps. He has been involved in the community since 2002 as a coach, camp director and evaluator. You can reach him via email at JonathanHemingway@PeachStateBasketball.com and follow him on twitter @JLHemingway