Basketball is an international sport at every level. The amount of talent that floods into the United States college game increase by the year. The young women from British Columbia are a prime example of the growing number of talented international players in the game of women's basketball today.
By: @JLHemingwayPSB
Program Director
Frank Konig / Tanya Johnson
Program Headquarters
Surrey, British Columbia, Canada – Established 2013
PeachStateBasketball.com Tournaments Attended:
#PSBTipOffClassic
#PSBSummerInvite
#PSBPower48
#PSBEndoftheRoad
Alumnae on College Rosters
Lauren Bondi – Smith College
Jessie Brown – Trinity Western University
Ana Evans – University of Auburn-Montgomery
Tayla Jackson – UC Irvine
Penielle M'Bikata – Fairleigh Dickinson
Alicia Roufosse – San Francisco
Cierra Roufosse – San Francisco
Committed Prospects
Aislinn Konig – North Carolina State
#PSBTipOffClassic: BC Finest Jr. Mixtape
Program Notes from Frank Konig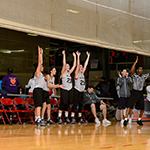 When BC's Finest started in 2013, Konig and his coaches envisioned forming multiple teams at various levels to compete on a national travel circuit. The ultimate end to this endeavor is to help players earn college scholarships. As he explained further, "Our goal by 2018 is to help 12 girls a year play US college basketball. We also want to ensure 100% college placement for all seniors."
BC's Finest operates six total teams, two at the U13, U15 and U17 levels. Konig also talked about the importance of the developmental and educational portion of their program. "We run camps and clinics for girls throughout British Columbia. We aim to be an unbiased source for parental information in the pursuit of collegiate options for girls basketball" says Konig.
Season Highlights
Konig called 2015 a successful travel season. In addition to playing well in the #TeamPSB events, Konig noted "We won the Best in the West Open Division in Yakima. We also won the OC Elite Memorial Day Tournament."
On top of the team successes, BC's Finest boasted one of the premier prospects to be found either in Canada or in the United States with Aislinn Konig. The 4.5 star guard would be ranked as an ELITE 25 prospect if she were from the United States. She was recruited by many of the top programs nationally including Stanford and the University of Washington before choosing coach Wes Moore's program at North Carolina State. (Read more on Konig's commitment by reading Keil Moore's ProspectsNation.com article.)
Coach Konig also mentions class of 2016 prospect Emily Pearson of Surrey, BC, as a standout performer from this season. The 6-foot wing is an available prospect heading into the winter season.
Next Up
Although Konig will graduate and move on from the program, do not expect this to be the end of the pipeline of talent to come from BC's Finest. Savannah Dhaliwal of Surrey, BC, is a prospect that has already gained national attention while competing with BC's Finest.  She also gained praise at Chris Hansen's #CheckMeOutShowcase. The 6-foot forward showed versatility and hustle all year long and even earned recogntion at the #PSBSummerInvite, which was the nation's most competitive tournament in the month of July.
Also Louise Forsyth of Langley, BC., is poised to make a positive reputation for herself in the upcoming year. The 5-11 wing was a part of U16 Team Canada while also playing for BC's Finest during the evaluation periods. With her length and ability to shoot, she should garner plenty of attention from college coaches.
Future
Looking further down the roster of the BC's Finest, Konig mentions two class of 2018 guards that are sure to make noise on the circuit. Shelvin Grewal of Surrey, BC., is a 5-7 point guard who demonstrated her skills this year at the #CheckMeOutShowcase in Los Angeles, Calif. While 5-6 Lyric Custodio of Surrey, BC, joined Grewal on the BC Finest's top team this year. She made an impact with quality minutes all year long.
ProspectsNationTV BC's Finest vs. Sky Diggs Elite Huffman from #PSBTipOffClassic
Media Exposure / Showcase Opportunities 



Jonathan Hemingway is the Assistant Director of Scouting for the JumpOffPlus.com International Scouting Report, is on the Naismith Trophy Board of Selectors and owns CoachHemi.com, the go-to source for coaches for X's and O's.  He is the floor director of #TeamEBA camps, a site director for #TeamPSB tournaments and can be reached at [email protected].