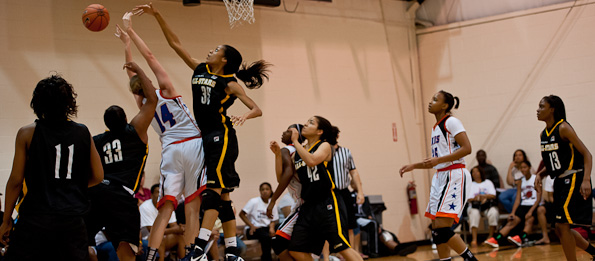 Marietta, Ga. – The PeachStateBasketball.com Pre-Season Shootout is an annual staple on the spring circuit for teams from all over the country. This year was no different as 60 of the country's top travel teams gathered to compete at All-Tournament Players Park.
By: Stephen Peck
Follow @SCPeck2

Feature Player
Briana Day, Carolina All-Stars (Raleigh, N.C.)

High energy and intense passion are just a couple of terms to describe the game of North Carolina commit Briana Day. The 6-foot-4 class of 2013 center has great length and a motor that is unmatched with centers her size. Her ability the shift to high gear is truly amazing. Day is a tenacious defender in the post and is psychology coursework help quick enough to defend on the perimeter. Her long, lean frame may deceive you but don't be fooled. She can hold her own in the paint. Becoming stronger and polishing her touch around the rim will make her a true asset at the college level.
Spotlight Players
Kaliyah Mitchell, Georgia Hoopstars Black (Stone Mountain, Ga.)
It's been steady as she goes for Mitchell in the progress that we have seen her make over the past year. The 6-2 forward has elevated her game in more ways than one by playing on a team full of college prospects in the summer. Our staff has an appreciation for the way that she plays her role and always seems to perform at a high level. Along with her great build and basketball maturity, Mitchell has write my essay for me free a demeanor that coaches really appreciate. The future is bright for the top 100 caliber power forward.
Mone Jones, Carolina All-Stars 2015 (Durham, N.C.)
The way that Jones runs the floor and her ability to stretch defenses to the perimeter are assets that set her apart from most forwards in the 2015 class. She showed signs that her perimeter shooting is improving and her range has slightly increased. With Jones turning the corner, I would like to see her play up, which would give her the opportunity to develop her face up game. If you like watching young talent develop, Jones is most definitely a talent to watch.
Parting Thoughts
You have to give credit to the Georgia Pistols teams for their performances at the Pre-Season Shootout winning three different division titles.
Tierra Wilson i want to write an essay and Madison Zaferatos are a couple of young guards that played well this weekend. Both players handle the ball well and possess good basketball I.Q.
Paige Pruett has that "swag" and has the makings of a true scorer. We took note of the way that she wanted the ball in her hands during a tightly contested game.
One of the most notable performances for the weekend was given by SF Brielle Blaire. The 2014 SF is the real deal.
Stephen Peck is a National Evaluator for the JumpOffPlus.com. He also serves on the selection committee for the EBA All-American, Fab Five and Super 64 Camps. He has been involved in the community since 2009 as a national evaluator. You can reach him via email at [email protected] and follow him on twitter @scpeck2