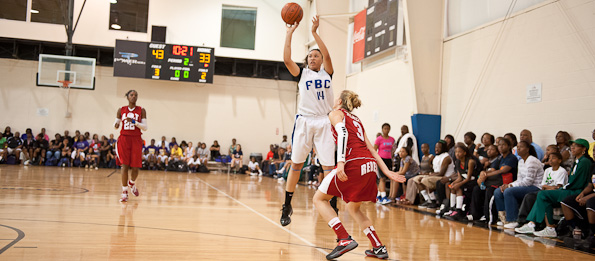 Marietta, Ga. – The PeachStateBasketball.com Pre-Season Shootout featured 60 of the region's top teams facing off as a tune-up for the April Evaluation period. Many of the teams were getting their final test before heading to Suwanee Sports Academy for our sold out 140-team TipOff Classic starting the following Friday.
By: Brandon Clay
Follow @BrandonClayPSB


Featured Player

Brielle Blaire, FBC Georgia Black (Salisbury, N.C.)
Through two viewings so far this spring/summer, Blaire's game has been impressive. The versatile 6-foot forward likes to handle the basketball and score facing the basket. Her size gives her the option to play in the mid-post on offense then defend the 4 read college essay spot on the other end as well. She's crafty with a knack for making plays. Here's footage of her from the event:
Spotlight Players
Mia Cooper, A.O.T. Juniors (Powder Springs, Ga.)
Cooper is a talented off ball guard who chose South Carolina as her future destination in 2011. Her confidence and jump-shooting range lets her take and make shots from seemingly Columbia, S.C. to All-Tournament Players Park. She was a key piece to a McEachern HS team that finished the season undefeated and ranked No. 2 in the country by ESPNHS.
Cosette Mahre, Georgia Pistols Waldrop (Alpharetta, Ga.)
Sticking to the theme long-range write my essay 4 me reviews threats, Mahre has already emerged as one of the better sharpshooters in the Peach State. At 5-8, she has the size to be effective off the ball and the release to get her shot off against quality competition. Adding a one bounce pull-up jumper to her arsenal will only help make her that much tougher to defend.
Parting Thoughts
It's fun to watch players grow and develop their games over time. That's what Breanna Richardson has done over the past year. There is a marked improvement in her play now and this time last year.
Tierra Wilson is a TeamEBA kid and for good reason. Smooth handle, real poise for a younger guard.
Jada Byrd and Brea Elmore really feed off each other in master thesis service the backcourt. Nice 1-2 punch for the Atlanta Celtics.
Mone Jones lined up versus Caliya Robinson was one of the weekend's best individual matchups. Both kids competing! We'll call it a draw.
Brandon Clay is the publisher of the JumpOffPlus.com and the owner of Peach State Basketball, Inc. The service is picked up by more than 150 colleges and universities nationwide. He serves as the Executive Camp Director for the EBA All-American, Fab Five and Super 64 Camps. In addition, he serves as a national recruiting analyst for ESPNHoopgurlz and a contributor to SLAM Magazine. Clay has been involved in the community since 2001 as an evaluator, event operator and trainer. You can reach him at [email protected] or follow him on Twitter @BrandonClayPSB