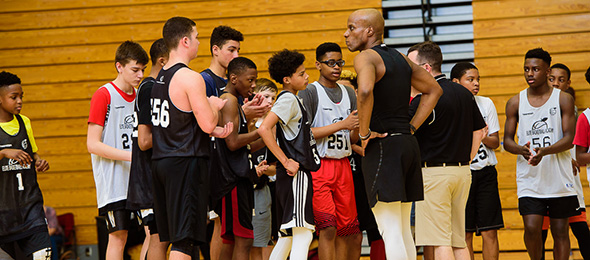 LAWRENCEVILLE, Georgia, – The Elite Basketball Academy has hosted some of Atlanta's most talented male players in recent years. Alums such as D'Marcus Simonds (Georgia State), Jared Harper (Auburn) and Devin Mitchell (Georgia State) all starred for their respective teams in this year's NCAA Tournament. This year's showcase highlighted some of the area's up and coming prospects in the middle school age group. Here is first a look back at this year's camp.
#1 Cameron Flowers – Huntington Middle School (GA) – 2024
Flowers came to work and grow his game at the Fab 5 Camp. Although young and still years away from physical maturation, Flowers has a love for the game that is evident. His ability to handle the basketball and play solid defense should be his calling card in the future.
#2 Malachi Jackson – Feagin Mill Middle School (GA) – 2024
Jackson held his own as a sixth grader in a camp full of talent. Although he is still years away from physically maturing, he has a great base of skills. He has a high release on his jumper and is also a quick defender on the ball.
#50 Camryn Perkins – Mossy Creek Middle School (GA) – 2024
Perkins is a high energy guard who brought his best to camp. He was coachable and vocal during camp drills and games. His willingness to compete and get better should lead to future success.
#51 Jeremiah Sanders – Richmond Hill Middle School (GA) – 2023
Sanders has a bright future in front of him. He has an athletic frame and a willingness to be coached. Those are factors point future success for the shooting guard. He handled the ball well in the drills and picked up on game concepts as well.
#52 Khalil Quinn – Feagin Mill Middle School (GA) – 2023
Quin is a talented point guard who has a number of tools in his back pocket. He hit jumpers from range. He set up his teammates with passes in the half court. It was his vision as a lead handler that had the most impact.
#57 Terrique Webb – Seneca Middle School (SC) – 2022
Webb is a hard-working guard who is just now beginning his journey on the court. He mastered the drills and skills that were taught to him with ease. His skill and fundamentals were only enhance as he matures physically.
#54 Ricardo Jones – Northside Middle School (GA) – 2022
Jones has the most coveted skill in today's game: shooting. He hit several shots from the perimeter in game play. He is the perfect complement to a slashing point guard who can draw double teams.
#55 Dejuan Allen – North Cobb Christian (GA) – 2023
Allen is a guard full of promise. He showed the ability to slash to the hole with efficiency. He hit the gaps hard with the ball in his right hand. Just a seventh grader, expect him to add pieces to his skill set in upcoming years.
#56 Caleb Blackwell – Buford Middle School (GA) – 2022
Blackwell is a strong lead guard who can get downhill to the bucket in a hurry and with force. Blackwell was one of the quickest, most athletic guards in the building at the Fab  Camp.
#58 Riley Holliman
Burnett came into the camp ready to work and hit shots from the outset. He hit jumpers off the catch and even a few off the step-back move. He has a smooth skill set and can navigate the floor with his handle.

Jonathan Hemingway is the Assistant Director of Scouting for the JumpOffPlus.com International Scouting Report, is on the Naismith Trophy Board of Selectors and owns CoachHemi.com, the go-to source for coaches for X's and O's.  He is the floor director of #TeamEBA camps, a site director for #TeamPSB tournaments and can be reached at [email protected].