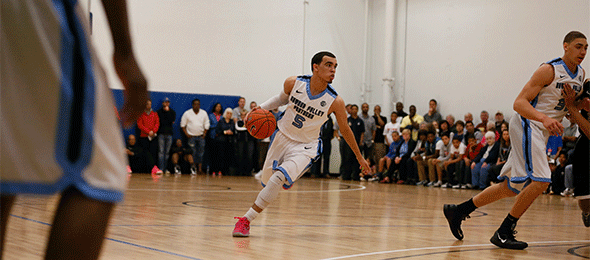 Photo credit – Jon Lopez Nike
ethics and social responsibility research papers The Brandon Clay Scouting Report offers up Prospect Evals from the top male basketball players in the class of 2014.
Tyus Jones – (Apple Valley, Minn.), – Apple Valley – 2014
Height: 6′
Position: Point Guard
Committed College: Duke
Evaluation:
Date: December 5, 2013
Location: Breakdown Classic (Minneapolis, Minn.)
Jones' ability to take contact and finish is elite level stuff. His skill to finish with his left hand or right is uncanny. The five-star prep sees the floor with the best of them. He hit a 17 foot jumper here off of the pin down screen. He's also not afraid literature review of research paper to take the 3-pointer off of the bounce.

Evaluation:
Date: October 5, 2013
Location: USA Basketball Developmental Mini-Camp (Colorado Springs, Colo.)
Jones' desire to win every time out extended to this setting as Jones finished first in sprints, led every drill and pushed the 2015 and 2016 perimeter players to compete with his play. Under pressure, Jones is a cool customer with the basketball in his hands. The five-star floor general might lack the length of a Rajon Rondo or the explosiveness of a Derrick Rose but Jones showed here that he belongs at the head of essay on my favourite movie harry potter his class. He has a nice understanding of pace and change of speeds to score. Jones willingness to distribute the basketball, especially to the post players, made him a popular guy to have manning the point guard position.
Highlights of Jones compliments of Iowa Elites:
Elite Basketball Academy Series
***Designed for evaluation purposes, these are great opportunities for upperclassmen and underclassmen alike to get valuable game broadcasts that can be sent to college essay writing online class coaches with a single email message. For underclassmen, it also serves as the gateway for prospects with remaining high school eligibility to play in front of our National Evaluators.
September – Elite Basketball Academy All-American Camp
October – Elite Basketball Academy Top 40 Fall Workout
CoachHemi.com Showcase Series
 October – CoachHemi.com Workout

Brandon Clay is the owner of the JumpOffPlus.com International Report, Peach State Basketball, Inc., and ProspectsNation.com. The JumpOffPlus.com is picked up by more than 200 colleges and universities nationwide. He serves as the Executive Camp Director for the Elite Basketball Academy Camps. Clay has been involved in the community since 2001. You can reach him at [email protected]