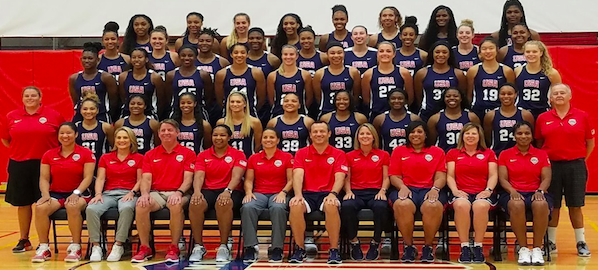 COLORADO SPRINGS, Colo. – The USA Basketball U23 Trials feature 40 of the nation's premier returning college players. The training facility is full of potential 2017-18 Naismith Trophy Player of the Year candidates. Here's a look at my thoughts from the Wednesday night and Thursday morning round of scrimmages:
---
With over 40,000 collective followers on our team's social media outlets, we're in a unique position to assist with both creating awareness of a prospect's skill set and recent on-floor performance. From crisp recruiting updates to updated in-season stats to a potential last-minute change in schedule that needs to be conveyed socially, this package allows the player to control the information available to the public about their game.
Become an #SMPMember for maximum Recruiting Exposure: Click the Logo Below

---
Ohio St. is ready for a deep NCAA run. Kelsey Mitchell is dynamic with the ball & Linnae Harper produces on both ends. pic.twitter.com/qk6dhRLDMY

— Brandon Clay (@BrandonClayPSB) August 3, 2017
In Columbus, the Ohio State faithful have good reason to be excited based on the performance of Rising So. Guard Kelsey Mitchell here in Colorado Springs. Mitchell is one of the most prolific scoring options on hand for the Trials. Her classmate, Linnae Harper is once again showcasing herself as a do-it-all option for the Buckeyes in 2017-18. Harper's ability to play multiple roles inside the same game is translating well in this setting.
Oregon fans will love Sabrina Ionescu & Erin Boley teaming up in green. Explosive 1-2 punch especially in transition. pic.twitter.com/kxk5UZXrj5

— Brandon Clay (@BrandonClayPSB) August 3, 2017
Rising So. Guard Sabrina Ionescu of Oregon picked up where she left off last season after leading the Ducks deep into the NCAA Tournament. She's a capable scorer who is even better with the ball in her hands making plays for teammates.
Ionescu will be joined in Eugune by rising So. Forward Erin Boley. Like Ionescu, Boley helped her team get into the second weekend of the 2017 NCAA Tournament though Boley was wearing a Notre Dame jersey at the time. She made the move this offseason and has already been through a session of summer classes out west. Boley's offensive game looked as crisp as ever in this setting.
Monique Billings: High motor, worker

Tyra Buss: Tempo setter, shot maker

Asia Durr: Versatile perimeter scorer pic.twitter.com/cebtIivhxv

— Brandon Clay (@BrandonClayPSB) August 3, 2017
Rising Sr. Post Monique Billings of UCLA is one of the most active post players that I've seen in the college game over the past three seasons. With her Bruins coach Cori Close looking on, Billings made a solid impression on both ends of the hardwood during the evening game.
Rising Sr. Guard Tyra Buss of Indiana has met all expectations and then some. The talented perimeter threat is a shot maker during the college season. This elite setting proved to be no different.
Rising Jr. Guard Asia Durr of Louisville is in the best shape that I've seen her dating back to our early high school evaluations. Durr scored the ball early and often here.
Today's Home: Colorado for @usabasketball U23 Trials.

The gym is full of 2017-18 @NaismithTrophy POY candidates. pic.twitter.com/h6S0wEbUTg

— Brandon Clay (@BrandonClayPSB) August 2, 2017

Brandon Clay is the owner of the JumpOffPlus.com International Report, Peach State Basketball, Inc., and ProspectsNation.com. The JumpOffPlus.com is picked up by more than 200 colleges and universities nationwide. In addition to serving as ProspectsNation.com WNBA Director of Scouting, Clay serves as the Executive Camp Director for the Elite Basketball Academy Camps. He is a McDonald's All-American Game Selection Committee member. Clay serves on the Naismith Trophy Men's / Women's College Player of the Year Academy and is the National Coordinator of Voting for the Boys / Girls All-American Teams. He has been involved in the community since 2001. You can reach Clay at BrandonClay@PeachStateBasketball.com