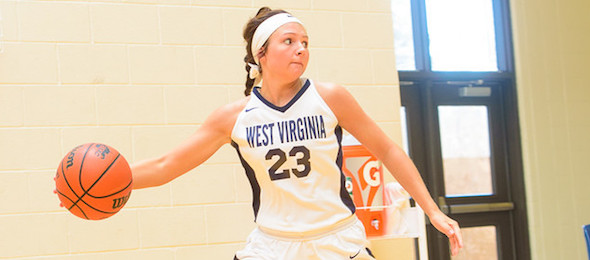 ---
With over 20,000 collective followers on our team's social media outlets, we're in a unique position to assist with both creating awareness of a prospect's skill set and recent on-floor performance. From crisp recruiting updates to updated in-season stats to a potential last-minute change in schedule that needs to be conveyed socially, this package allows the player to control the information available to the public about their game.
Become an #SMPMember: Click the Logo Below

Social Media Updates: Use #SMPMember and follow @SMPMemberPSB
---
Class of 2019 guard Sydney Mallory of South Charleston, W. Va., is a shooter with real range. She made a positive impression on our staff at the #PSBTipOffClassic and again at the #EBASuper64 Camp.
Brandon Clay's takeaway: The Midwest Showdown (May 2017)
Mallory is a shooter by specialist but has really worked to develop her strength / frame over the past twelve months. She is rounding into a consistent option at the off guard spot capable of stretching the defense.
Brandon Clay's takeaway: (Cartersville, Ga. – September 2016) Mallory's impact immediately jumps to another level when she displays the confidence, willingness to take and make the open jumper. In that way, she is a prospect who coaches have to allow to take 7-10 shots a night whether she makes 1 or makes all 7. She is a solid player with the ability to handle well enough to reverse the ball. Mallory's unique value to the game is serving as an elite shooting specialist.
Brandon Clay's takeaway – EBASuper64 Camp (June 2016):Mallory of South Charleston, W. Va., put herself on the map during the #PSBTipOffClassic in April. Like she did in that setting with #PSBFamily member West Virginia Thunder, Mallory showed that she has the ability to handle the ball well. That said, her calling card right now is her skill set to shoot the basketball well from the perimeter.
Name: Sydney Mallory
Height: 5'9″
HS Grad Year: 2019
Position: SG
School / Hometown: George Washington (South Charleston, W. Va.)
Club Team: West Virginia Thunder
---
Social Media Updates:
#SMPMember Recruiting Exposure

'19 G Sydney Mallory (WV) showed physical growth at @THEMWS4.

NEW EVAL ALERT: https://t.co/MYY1lv2xZt pic.twitter.com/Po5hR8rc6R

— Brandon Clay (@BrandonClayPSB) June 16, 2017
#SMPMember Recruiting

'19 G Sydney Mallory showed her offensive game in front of:

Campbell
Charleston
UNF
Woffordhttps://t.co/MYY1lv2xZt pic.twitter.com/UHuINinZqW

— Brandon Clay (@BrandonClayPSB) April 28, 2017
#SMPMember Exposure Program

'19 Sydney Mallory keeps getting better.

2016-17 HS Averages

8 ppg
5 rpg
3 apg

MORE: https://t.co/MYY1lv2xZt pic.twitter.com/olNmT0qN0T

— Brandon Clay (@BrandonClayPSB) April 5, 2017
#SMPMember Exposure Program

'19 G Sydney Mallory (WV) had 17 pts, 5 rebs & 4 stls in a W.

Made 9 of last 16 3FGPhttps://t.co/MYY1lv2xZt pic.twitter.com/zmUTiDNBYe

— Brandon Clay (@BrandonClayPSB) February 10, 2017
'19 G Sydney Mallory (WV) w/a full statline in a W vs Western Branch.

15 pts, 4 rbs, 3 asts, 2 stlshttps://t.co/MYY1lv2xZt pic.twitter.com/39oDuowQK3

— Brandon Clay (@BrandonClayPSB) December 31, 2016
New @BrandonClayPSB eval on @sydmallory23's game drops soon. #SMPMember Page: https://t.co/d9mC85CoNX @Brian_Mallory https://t.co/M7mqMivJVg

— #SMPMember Program (@SMPMemberPSB) October 4, 2016
'19 Sydney Mallory played well at #PSBEndOfTheRoad w/ WV Thunder Gold

HERPAGE:https://t.co/MW2kLDFKBa pic.twitter.com/PH4rq4LMGU

— Rebecca Dyer (@RebeccaDyerPSB) October 3, 2016
Sydney Mallory impressed @KeilMoorePSB w/ her play at #PSBEndOfTheRoad

HER PAGE:https://t.co/d9mC85kNWp pic.twitter.com/GqUY8KdSCB

— #SMPMember Program (@SMPMemberPSB) September 27, 2016
#PSBEndOfTheRoad – 2019 G Sydney Mallory of WV Thunder Gold has a smooth stroke from the perimeter.

— Keil Moore (@KeilMoorePSB) September 24, 2016
Sydney Mallory really helping her team all around here at #PSBEndOfTheRoad. Good scoring & off ball movement. @sydmallory23

— #SMPMember Program (@SMPMemberPSB) September 24, 2016
#SMPMember Central:

Ashtyn Baker
Alayna Ford
Sydney Mallory
Rachel McLimore

FULL STORY: https://t.co/OMnO8IlpSb pic.twitter.com/RckIjtZAMJ

— #SMPMember Program (@SMPMemberPSB) June 30, 2016
Sydney Mallory having a big June w/ WV Thunder. Has invite to #EBAAllAmerican camp!

JOIN: https://t.co/HDjwafUwW8 pic.twitter.com/jeqOjZ01JZ

— ProspectsNation.com (@ProspectsNation) June 25, 2016
#SMPMember:@StephenPeckPSB says '19 G Sydney Mallory lets it fly! @CoachHemi agrees

CARD: https://t.co/sQPLdmAB5E pic.twitter.com/gyO4SMBGsx

— Brandon Clay (@BrandonClayPSB) June 14, 2016
Welcome '19 SG Sydney Mallory (WV).

She visited Furman on Monday.

HER PAGE: https://t.co/MYY1luKWAT pic.twitter.com/GaaF5vCtqI

— Brandon Clay (@BrandonClayPSB) June 10, 2016
#EBASuper64 National Camp:

'19 Sydney Mallory (WV) is locked & loaded for June 4-5.

JOIN: https://t.co/XWZyztfh1w pic.twitter.com/9AgL2NRFHV

— Brandon Clay (@BrandonClayPSB) May 11, 2016
Invite Earned.@sydmallory23 on point for @brian_mallory & @Scottejohnson12's West VA Thunder. https://t.co/vJXpi48OTY

— #TeamEBA (@TeamEBA) April 25, 2016
---

Brandon Clay is the owner of the JumpOffPlus.com International Report, Peach State Basketball, Inc., and ProspectsNation.com. The JumpOffPlus.com is picked up by more than 200 colleges and universities nationwide. In addition to serving as ProspectsNation.com WNBA Director of Scouting, Clay serves as the Executive Camp Director for the Elite Basketball Academy Camps. He is a McDonald's All-American Game Selection Committee member. Clay serves on the Naismith Trophy Men's / Women's College Player of the Year Academy and is the National Coordinator of Voting for the Boys / Girls All-American Teams. He has been involved in the community since 2001. You can reach Clay at [email protected]