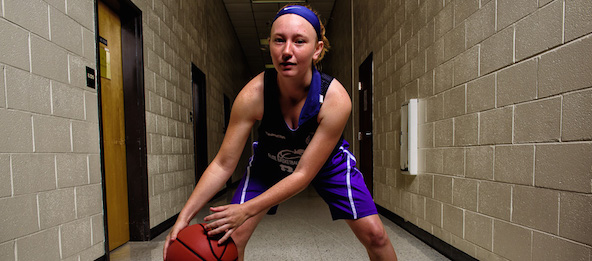 ---
With over 20,000 collective followers on our team's social media outlets, we're in a unique position to assist with both creating awareness of a prospect's skill set and recent on-floor performance. From crisp recruiting updates to updated in-season stats to a potential last-minute change in schedule that needs to be conveyed socially, this package allows the player to control the information available to the public about their game.
Become an #SMPMember: Click the Logo Below

---
Class of 2018 guard Courtney Baker of Melbourne, Fla., is a prospect who caught our eye with her skill and work ethic. She's off to a good start in her development with her most recent showing at the #EBASuper64 Camp in June 2016.
Brandon Clay's takeaway – EBASuper64 Camp (Sept. 2016): Baker came in guns blazing this weekend showing that she is capable of making plays off of the bounce. Inside of drill work, Baker showed a commitment to improving the consistency on her outside jump shot.
Name: Courtney Baker
Height: 5'7″
HS Grad Year: 2018
Position: SG
School / Hometown: Covenant Christian (Melbourne, Fla.)
Club Team: East Coast United
College Choice: North Central University
---
ProspectsNation.com Video Evaluation: Coming Soon
Social Media Updates:
#SMPMember🍑 Program News
Presented by @ProspectsNation

Even after signing to North Central, '18 G Courtney Baker (@court10page) of @ECunitedbball continues to make plays during HS season.

JOIN SMP TODAY: https://t.co/PrIMH9VAjj @CoachDeuel @VinceSmithPSB @BrandonClayPSB https://t.co/n9pCkKMKRF

— SMP Recruit Exposure (@SMPMemberPSB) January 10, 2018
#SMPMember🍑 Program News

'18 SG Courtney Baker (FL) has chosen & signed with North Central University.

Her #BrandonClayScouting Page: https://t.co/SUfLhnKcVU

Join SMP Today: https://t.co/8GnB3G0viZ pic.twitter.com/4SnORFIeyg

— Brandon Clay (@BrandonClayPSB) December 17, 2017
#SMPMember🍑 Recruiting Program

'18 G Courtney Baker (FL) visited Trinity College.#BrandonClayScouting Profile: https://t.co/SUfLhnKcVU pic.twitter.com/FTFXz3rUua

— Brandon Clay (@BrandonClayPSB) October 9, 2017
#SMPMember Recruiting

Available '18 SG @court10page (FL) earned words w/@ECunitedbball at @CDInvitational.

PAGE: https://t.co/SUfLhnKcVU https://t.co/kDmNt1RXaD

— Brandon Clay (@BrandonClayPSB) June 20, 2017
#CDI17#SMPMember '18 Courtney Baker suiting up with @ECunitedbball

She can light it up from outside🔥🔥🔥 pic.twitter.com/NMeokFbO51

— Rebecca Dyer (@RebeccaDyerPSB) May 14, 2017
Praise for '18 G @court10page from @RebeccaDyerPSB.#EBASuper64 Showcase June 3-4 Invite for the #SMPMember https://t.co/74gU7AQ4qF pic.twitter.com/SE7olEUVkD

— SMP Recruit Exposure (@SMPMemberPSB) May 13, 2017
'18 G Courtney Baker (FL) had 12 pts in a W vs Sebastian River.

LEARN MORE ON THE #EBASUPER64 ALUM: https://t.co/SUfLhnKcVU pic.twitter.com/x0a0e6IzuV

— Brandon Clay (@BrandonClayPSB) January 13, 2017
'18 Courtney Baker is looking to have a big season for Covenant Christian (FL)

PAGE:https://t.co/ZOTKasO0nh pic.twitter.com/JOqOaPPHeS

— Rebecca Dyer (@RebeccaDyerPSB) October 21, 2016
'18 Courtney Baker brings a blue collar work ethic & toughness to the courthttps://t.co/ZOTKasO0nh pic.twitter.com/CE9BdHAKUn

— Rebecca Dyer (@RebeccaDyerPSB) September 16, 2016
Courtney Baker has shown constant improvement at every PSB showing.

HER PAGE: https://t.co/SUfLhnKcVU pic.twitter.com/sqX4f2hu23

— Brandon Clay (@BrandonClayPSB) August 27, 2016
'18 Courtney Baker (FL) showcasing some crafty finishes at #EBASuper64

HERPAGE:https://t.co/ZOTKat5BLR https://t.co/v1R7iPzqfr

— Rebecca Dyer (@RebeccaDyerPSB) August 9, 2016
Welcome '18 G Courtney Baker (FL)

Covenant Christian | FL Lightning

HER PAGE: https://t.co/SUfLhnsBxk pic.twitter.com/pxAjym4fmG

— Brandon Clay (@BrandonClayPSB) June 8, 2016
#EBASuper64#SMPMember '18 Courtney Baker @court10page working on finishing through defenders w/ @AP_BBall pic.twitter.com/6EvR3WMiAc

— Kris Watkins (@KrisWatkinsPSB) June 5, 2016
#EBASuper64 Stars:

Courtney Baker
Mya Giusto
Cayln Richardson
Paige Shy@gkwardeberg

READ: https://t.co/va6RUD6AEt pic.twitter.com/LYy3DWbCoj

— Brandon Clay (@BrandonClayPSB) June 5, 2016
---

Brandon Clay is the owner of the JumpOffPlus.com International Report, Peach State Basketball, Inc., and ProspectsNation.com. The JumpOffPlus.com is picked up by more than 200 colleges and universities nationwide. In addition to serving as ProspectsNation.com WNBA Director of Scouting, Clay serves as the Executive Camp Director for the Elite Basketball Academy Camps. He is a McDonald's All-American Game Selection Committee member. Clay serves on the Naismith Trophy Men's / Women's College Player of the Year Academy and is the National Coordinator of Voting for the Boys / Girls All-American Teams. He has been involved in the community since 2001. You can reach Clay at [email protected]