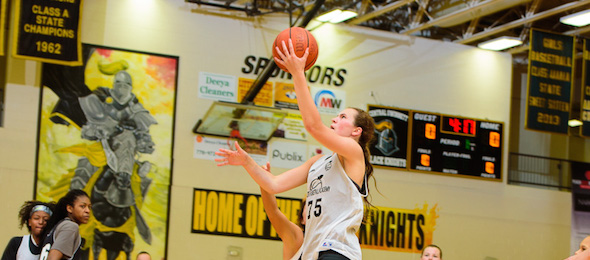 ---
With over 20,000 collective followers on our team's social media outlets, we're in a unique position to assist with both creating awareness of a prospect's skill set and recent on-floor performance. From crisp recruiting updates to updated in-season stats to a potential last-minute change in schedule that needs to be conveyed socially, this package allows the player to control the information available to the public about their game.
Become an #SMPMember: Click the Logo Below

Social Media Updates: Use #SMPMember and follow @SMPMemberPSB
---
Class of 2019 guard Cayla King of Greensboro, N.C., wowed the BrandonClayScouting.com staff Elite Basketball Academy Super 64 Camp in June 2016. Director of Domestic Scouting Jonathan Hemingway says that King is one of the premier backcourt prospects on the East Coast in the class.
Brandon Clay's takeaway – PSBTipOffClassic (Apr. 2017)
King is emerging as one of the premier guards in the 2019 class regionally. She is a big guard capable of handling, passing and shooting the ball. King'a ability to make a play when need be offensively is a special gift at the elite level.
Brandon Clay's takeaway – She Got Game Classic (Washington, D.C.): (Dec. 2016)King's play here was on another level. Against a talented St. Frances team, she ran the point and served as the primary perimeter scorer as well. She attacked the rim, hit the open 3-pointer and distributed the ball with several nice passes. King looks more and more like a high level combo guard with each showing. This viewing reminded me of Sydney Wiese (Oregon State senior) at the same age.
Jonathan Hemingway's takeaway: (June 2016)
"King is a point guard with terrific size and skill in the back court. She has poise and a floor game that is unique for an underclassman. She uses her body well to weave through traffic and get to spots to score or dish to her teammates. In this way she reminds us of Kristen Mayo (KY-17), a 4-star prospect. King has a bit more size and more fluid motion as an athlete. The key for King reaching her potential before her senior year will be how much she embraces the leadership position as a point guard. Becoming more vocal on the court and spreading her confidence to her teammates, even in a camp setting, is important."
Name: Cayla King
Height: 5'9″
HS Grad Year: 2019
Position: PG / SG
School / Hometown: Northwest Guilford (Greensboro, N.C.)
Club Team: Greensboro Lady Gaters
College Choice: Virginia Tech
---
Social Media Updates:
Our latest Instagram TV recap features:

Macey Gregg
Cayla King
Toledo Thunder
West MI Drive

📽🎥 by @shotbylarry WATCH HERE: https://t.co/OqoRhrhgys

FULL SCHEDULE: https://t.co/RERUhXdckx

📷 INSTAGRAM: https://t.co/falGPcyrx3 #SMPMember pic.twitter.com/ucO7o8TD8j

— Brandon Clay (@BrandonClayPSB) July 10, 2018
#SMPMember🍑 College Recruiting
Fueled by @SMPMemberPSB

Need Exposure? We're here to help.

'19 G Cayla King (@caylanicole22) came back for the 🏆 like she never left.

JOIN: https://t.co/8GnB3G0viZ

INSTAGRAM https://t.co/jSr8AvCdZB @LadyGatersBB https://t.co/hiN7RiNm7p

— Brandon Clay (@BrandonClayPSB) May 14, 2018
#SMPMember🍑 Program News
Powered by @SMPMemberPSB

Ran into Virginia Tech '19 G commit Cayla King at @SheGotGame7.

She's making progress towards her return to the court.

Fantastic prospect, even better kid.

King's #BrandonClayScouting Page: https://t.co/84O9w31ia5 @k_schott3 pic.twitter.com/cv3qMZf9xB

— Brandon Clay (@BrandonClayPSB) January 6, 2018
#SMPMember🍑 Recruiting

'19 G Cayla King (NC) visited VA Tech last weekend.

She's already committed to the Hokies: https://t.co/84O9w31ia5 pic.twitter.com/BVwdRtnGHw

— Brandon Clay (@BrandonClayPSB) October 7, 2017
#SMPMember🍑 Recruiting

Elite 60 '19 PG Cayla King (NC) made news by choosing Virginia Tech@ProspectsNation STORY: https://t.co/urLzgdVZyM pic.twitter.com/W0ONjb2cyP

— Brandon Clay (@BrandonClayPSB) August 18, 2017
#SMPMember Platinum Status@caylanicole22 gives @CoachBrooksVT an Elite 50 G in '19.@KeilMoorePSB goes in-depth: https://t.co/XgctXx5doi https://t.co/yIsveOPOxG

— SMP Recruit Exposure (@SMPMemberPSB) August 10, 2017
#SMPMember Recruiting

THIS JUST IN#CommitmentCentral

'19 G Cayla King (NC) to Virginia Tech.

Bigtime add for Kenny Brooks and Company. pic.twitter.com/NnnAqmeox7

— Brandon Clay (@BrandonClayPSB) August 9, 2017
#SMPMember Recruiting

'19 Cayla King (NC) is one of the nation's elite guards.

She'll visit UNC on June 4.

PAGE: https://t.co/84O9w31ia5 pic.twitter.com/jRhHRyvLmX

— Brandon Clay (@BrandonClayPSB) May 16, 2017
#SMPMember Recruiting

'19 G Cayla King (NC) showed size & skill in front of:

Charlotte
Georgia
NC State
Texas A&Mhttps://t.co/84O9w31ia5 pic.twitter.com/kLC96RsyOm

— Brandon Clay (@BrandonClayPSB) April 28, 2017
'19 G Cayla King put on a show @SheGotGame7.

She's comparable to Sydney Wiese at the same stage.

EVAL: https://t.co/84O9w31ia5 pic.twitter.com/0CKb3hE2Bx

— Brandon Clay (@BrandonClayPSB) January 2, 2017
'19 @caylanicole22 of @LadyGatersBB has the full attention of @GTWbb's @coachkmorrison & @GT_Coach_Jo.https://t.co/3K64KX0vAv https://t.co/0a3sRPEesk

— #SMPMember Program (@SMPMemberPSB) December 11, 2016
I'm courtside & '19 Cayla King is playing well.

Maryland, NC State, West VA & VA Tech here too.

PAGE: https://t.co/84O9w31ia5 pic.twitter.com/oOqpu93A5u

— Brandon Clay (@BrandonClayPSB) December 10, 2016
Check out @JLHemingwayPSB's take on '19 Cayla King (22) out of Greensboro, NC

READ: https://t.co/xU0MyyydIu pic.twitter.com/MebhZVCL9B

— Rebecca Dyer (@RebeccaDyerPSB) November 2, 2016
Cayla King's (@caylanicole22) game demanded to be noticed this summer.

READ: https://t.co/3K64KX0vAv pic.twitter.com/tUitE8yRSZ

— #SMPMember Program (@SMPMemberPSB) October 24, 2016
'19 Cayla King had a BIG summer & looks to continue this season for NW Guilford (NC) @caylanicole22 https://t.co/xU0MyygCQW pic.twitter.com/6SlcQRap6Z

— Rebecca Dyer (@RebeccaDyerPSB) September 30, 2016
#SMPMember@caylanicole22 is TOUGH to guard, from her handling to her scoring ability

PAGE:https://t.co/84O9w31ia5 pic.twitter.com/BQEPqjqxED

— Brandon Clay (@BrandonClayPSB) September 12, 2016
BREAKING:

'19 #SMPMember Cayla King saw Wake, has a scholarship offer

PAGE: https://t.co/7W9oPDQzOn @caylanicole22 pic.twitter.com/JXwKNmDwEh

— Brandon Clay (@BrandonClayPSB) August 4, 2016
#SMPMember 2019 Cayla King of @LadyGatersBB now has a brand new page!

READ: https://t.co/84O9w31ia5 pic.twitter.com/WptmGM4aBr

— Brandon Clay (@BrandonClayPSB) July 8, 2016
Sitting with @RebeccaDyerPSB who likes 2019 G Cayla King @caylanicole22 and I completely agree. Kid has a bright future ahead.

— Keil Moore (@KeilMoorePSB) June 5, 2016
In the Lab w/ @caylanicole22 of @LadyGatersBB & @sydney_parrish of @diggssky. @stephenpeckpsb is too. pic.twitter.com/sNxOcMhbsw

— Brandon Clay (@BrandonClayPSB) June 5, 2016
A few players getting extra work in after camp here at #EBASuper64.@PaigeShy @caylanicole22 @sydney_parrish pic.twitter.com/S7O1dFs2pK

— ProspectsNation.com (@ProspectsNation) June 4, 2016
Cayla King definitely a player to watch in 2019 class. Can do a lot with just a few moves. Efficient game. @caylanicole22

— ProspectsNation.com (@ProspectsNation) June 4, 2016
#EBASuper64 Camp:

Cayla King's stock rose at #PSBTipOffClassic. She's in June 4/5.

JOIN: https://t.co/XWZyztfh1w pic.twitter.com/mg7rkAV4XN

— Brandon Clay (@BrandonClayPSB) April 28, 2016
#PSBTipOffClassic@Ladygatersbb get a HUGE stop and @caylanicole22 drops a dime to win the @KrisWatkinsPSB division in sudden death

— Rebecca Dyer (@RebeccaDyerPSB) April 17, 2016
'19 Cayla King dribbles off a ball screen and knocks down a 3-ball for @LadyGatersBB. High IQ player

— Rebecca Dyer (@RebeccaDyerPSB) April 16, 2016
---

Brandon Clay is the owner of the JumpOffPlus.com International Report, Peach State Basketball, Inc., and ProspectsNation.com. The JumpOffPlus.com is picked up by more than 200 colleges and universities nationwide. In addition to serving as ProspectsNation.com WNBA Director of Scouting, Clay serves as the Executive Camp Director for the Elite Basketball Academy Camps. He is a McDonald's All-American Game Selection Committee member. Clay serves on the Naismith Trophy Men's / Women's College Player of the Year Academy and is the National Coordinator of Voting for the Boys / Girls All-American Teams. He has been involved in the community since 2001. You can reach Clay at [email protected]