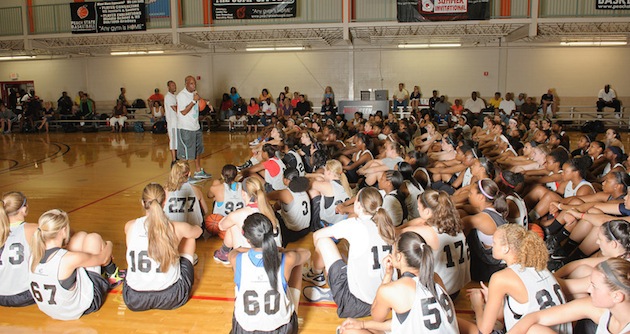 SUWANEE, Ga. – The 2nd Annual Elite Basketball Academy Super 64 camp featured 200 of the nation's top female high school prospects from around the country. The unique structure of the camp provided skill session workouts, game play and voluntary Individual Skill Development sessions before and after camp. Here is a look back at a few of the top performers from the camp.
By: Jonathan Hemingway
Follow @JLHemingway

Spotlight Player
Aaliyah Lewis (Staten Island, N.Y.), Ring City Elite – 2013
Lewis was impressive this weekend. She embraces the role of the point guard and a vocal leader on the court. On the court she runs the show and controls tempo as well as anyone in the nation. Perhaps her greatest attribute on and off the court is her willingness to lead. Even in this camp setting she could me as a writer essay be heard encouraging her teammates. It is this leadership that makes her a feature player of the Super 64 Camp.
Featured Players
Faith Woodard (Brandon, Fla.), Essence – 2013
The forward out of Florida is a player who has put it all together over the past twelve months. She showed why she is on the radar of many BCS programs at the EBA Super 64 camp. Woodard who can play in the pivot uses her length to score over smaller defenders. However, Woodard's game has elevated with improved aggressiveness and skill in the face up area. A natural long strider, she can take up a lot of ground and get to the rim with just a few dribbles. Look for this dynamic player to be a player of note as the month of July approaches.
Faith Suggs (Plainfield, Ill.), Dream Team – 2015
A new face this weekend for i didn do my homework yahoo many at Suwanee Sports Academy was a versatile forward from the Midwest. Suggs, who is listed as a post on the roster, showed that she is a gifted forward who can play multiple positions on the floor. She has a tight handle and can run the ball from end to end in transition or can slash past a rushing defender in the half court. Overall, she has a very polished skill set at a young age. Her combination of skill and athleticism will make Suggs a top prospect in the 2015 class for years to come.
Parting Thoughts
The New Jersey Connect – Briana Logan, Jada Matthews, Dominique Ward and Alexis Sears fit right in with the southeastern competition this weekend.
Combo Guards – Markeema Crawford and Mikayla Reese showed they can man ball handling responsibilities while offering a scoring punch at the same time.
Heart and Energy Award – Jasmine Cincore literary analysis essay on a song offers up everything that is intangible in game play. She is a joy to coach.
The Stars were in the Building – USA U17 National Team member Diamond Deshields played her normal spectacular style. The uber-talented forward seems poised to take Chapel Hill by storm in the fall of 2013.
Youth Movement – These kids really stood out in a voluntary Individual Skill Development (ISD) at 8:30am on Sunday morning: Sarah Price, Jordan Stallworth and Daly Sullivan.

Jonathan Hemingway is the Assistant Director of Scouting for the JumpOffPlus.com. The service is used by more than 150 colleges and universities nationwide. He also serves on the selection committee for the EBA All-American, Fab Five and Super 64 Camps. He has been involved in the community since 2002 as a coach, camp director and evaluator. You can reach him via email at [email protected] and follow him on twitter @ JLHemingway