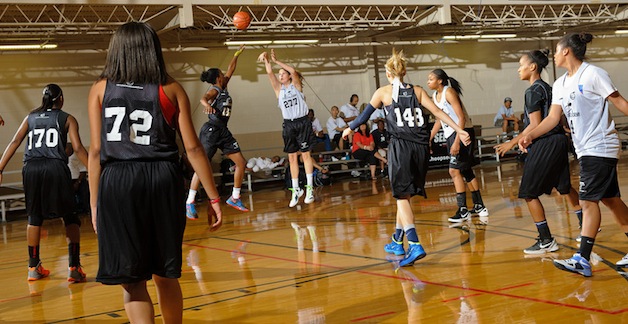 SUWANEE, Ga. – The Elite Basketball Academy Super 64 camp was a two-day event that offered skill work and game play for some of the nation's top female prospects around the country. The camp was an invitation only event for high school and middle school aged prospects. Here is a second look at the top performers from the camp.
By: Stephen Peck
Feature Player
Stephanie Watts (Monroe. N.C.), Charlotte Rivals – 2015
As a coach, you have to appreciate a player with a good motor and one that plays with consistent energy. That is exactly what you get from Stephanie Watts, a 5-9 wing who made a quality impression at the camp this weekend. We were impressed with how quickly she can get to 3rd gear and finish at the rim, often times from very difficult angles. Her ability to writing an essay paper score from the perimeter, forces defenses to play her face up, which plays right into her hands with her quickness off the bounce. Watts is amazingly fast and efficient in the open court and will blow by most defenders. She is the type of player that keeps you on the edge of your seat with her "controlled reckless abandoned" style of play on offense.
Spotlight Players
Victoria Lewis (Olive Branch, Miss.), Tennessee Glory – 2015
As the old saying goes, "you will get out what you put in". This is definitely obvious each time we see Lewis step on the floor. The 5-10 combo guard is a true student of the game and is always seeking ways to get better. Lewis has good basketball I.Q. and good court vision. Her shot making capabilities make her a threat from the perimeter and has the knack for finding the open player. As her basketball game develops, we see Lewis being a true leader on the floor how to write a good assignment and a versatile asset on both offense and defense.
Kelsi Mahoney (Concord, N.C.), Charlotte Rivals – 2015
Great size and a solid skill set are just two of the characteristics that Mahoney possesses. The 6-1 wing player showed her versatility with a solid face up game and the ability to knock down shots from beyond the arc. We were really impressed with how adaptable she is moving from the wing to playing strong down in the post. You can look for Mahoney to be an asset to her team at the next level as she brings the option of playing minutes at the 3, 4 and 5 positions.
Parting Thoughts
I cannot say enough about the quality of young players at the Super 64 East Camp. A couple of names that you are sure to hear a lot in the near future are, Autumn Newby, Raven James, Erica Cassell, Crystal Dangerfield, Taryn McCutcheon and Alexis Barrier just to name a few. how to write an essay to get into college The list goes on and the future of girls' basketball is in good hands.
Meg Morningstar caught our attention with her length and basic skill set. At 6-2 with very long arms, she has a good upside which will be enhanced as she gets stronger and develops a little fire. The foundation is there and we look forward to seeing her build upon it.
Asia Durr continues to do her thing in impressive style. The left handed combo guard is turning the corner and adjusting her rear view mirror. As one of the top prospect in the class of 2015, Durr is a true competitor.
Stephen Peck is a National Evaluator for the JumpOffPlus.com. He also serves on the selection committee for the EBA All-American, Fab Five and Super 64 Camps. He has been involved in the community since 2009 as a national evaluator. You can reach him via email at [email protected] and follow him on twitter @scpeck2