In 1998 Shane Gerald wanted to help his daughter play the game of basketball. He did that by creating a city youth team called the New Jersey Sparks. The Sparks would remain a local and then later a state travel team for over a decade. In 2011 the Sparks burst upon the national travel scene at the PSB Real Deal in the 'Ville. Since then, New Jersey based organization earned a Nike sponsorship and has helped dozens of young lades play college basketball. Here is their story from the 2015 travel season.
Program Director
Keith Gilchrist
Program Headquarters

Paterson, N.J.
Official Website
Official Twitter
PeachStateBasketball.com Tournaments Attended:
#PSBRealDeal
#PSBSummerInvite
#PSBPower48
#PSBElite32
Notable Alumnae


Erika Brown (2013) Delaware
Ashunae Durant (2014) Hofstra
Jakelle King-Gilchrist (2012) Hofstra
Samantha Fuehring (2015) Louisville
Myisha Hines-Allen (2014) Louisville
Laurin Mincy (2010) Maryland
Teana Muldrow (2013) West Virginia
Imani Tilford (2014) Georgia Tech
Committed 2016 Players


Kate Hill – Rutgers
Naomi Jimenez – Santa Clara
Kelly O'Reilly – Manhattan
Megan Swords – Holy Cross
Notable Uncommitted Players
Blessing Ejiofor
Milan Johnson
Highlights of Myisha Hines-Allen courtesy of @KrisWatkinsPSB

Program Vision from Keith Gilchrist
From a local recreation team to a Nike sponsored team, coach Gilchrist has not lost the focus of why the organization was started. He says, "Our goal is to help kids, regardless of level, pursue their dreams. We want them to use basketball as a way to further their education and go where they want to go."
The Sparks are now considered one of the premier travel teams nationally after helping develop McDonald's All-Americans such as Myisha Hines-Allen and Samantha Fuehring. Coach Gilchrist keeps it all in perspective, "We have teams at every grade level. From 3rd grade to 11th, we are helping girls achieve their goals."
Season Highlights
The long grind of July travel basketball can often wear down even the best of competitor on the basketball court. Nevertheless, coach Gilchrist points to two moments in the middle of the Georgia heat that sticks in his mind as memorable. He explains, "Our championship game versus the Carolina Flames EYBL at the Summer Invitational was the game of the summer. It was a high level game that went back and forth. We won that game in sudden death overtime."
Two days later at the PSB Power 48, the Sparks locked up with the Arkansas Banshees. This game featured the top two players in the class of 2018 in Honesty Scott-Grayson of the Sparks and Christyn Williams of the Banshees. With  Geno Auriemma of UConn, Nikki Caldwell of LSU and Kyra Elzy of Tennessee watching on, the two teams locked up in another game for the ages. Gilchrist adds, "I will remember that match-up with the Banshees as well. That was a good game and Christyn Williams…she is good!!"
The Sparks conclude a successful year that will finish with a total of six players signing scholarship papers to play collegiate basketball next season. Class of 2016 Blessing Ejiofor of Paterson, N.J., will be the biggest (literally and figuratively) commit in this class. The 6-foot-4 center, currently ranked No. 100 nationally, is down to Miami and Vanderbilt as her two choices
Caldwell, Elzy & Geno saw two of the best '18 go heads-up at #PSBPower48 RECAP http://t.co/JPhZ78WpvY @The_Ma3stro pic.twitter.com/hgGqMOQfXx

— Jonathan Hemingway (@JLHemingwayPSB) July 29, 2015
Look Ahead 
The class of 2017 is  shaping up to be one of Gilchrist's best classes. It is headlined by 6-4 post Raven Farley-Clark of Elizabeth, N.J. The versatile and skilled post hit critical shots to help the Sparks win their championship bracket at the Summer Invitational. She is currently ranked No. 11 in the ProspectsNation.com Elite 100. Danielle Patterson of Jamaica Estates, N.Y., is equally as talented as the aforementioned Farley-Clark. Patterson has athleticism that is rare to find in a 6-3 frame. She is currently ranked No. 40 nationally in her class. Add 5-10 guard Breyenne Bellerand of Emerson, N.J., as one of the nation's premier perimeter defenders and coach Gilchrist has talent, athleticism and production in next year's senior class.
The Future is Bright
The Sparks have plenty to be excited about in their 2017 class, however it is the budding star that they have in Honesty Scott-Grayson that truly has Gilchrist glowing. The class of 2018 point guard earned the top spot in her class after slaying the competition this year. Scott-Grayson does not appear to have a hole in her game. Standing at 5-11 with supreme ball handling skill, she is also a threat to score the ball in isolation situations. The Sparks built their team around the production of Scott-Grayson last year and will surely do the same in the future.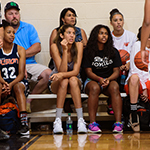 Coach Gilchrist had plenty more to say about the kids along side of his star point guard. He mentioned class of 2018 6-9 post Andrea Aquino of Paterson, N.J., as a player to track. He says, "Andrea is a gym rat. She works out twice a day and has gotten better even from the last evaluation period."
He also mentions a stable of guards in the 2019 class that are poised to burst onto the travel scene next year. Gilchrist says, "Asonah Alexander is a freshman guard who will play on our 16U team next year. She is a major talent."
Gilchrist also mentions class of 2019 prospects Kelina Menard, Jabarria Brown and Deziah Gonzalez as players who are poised to make noise on their 15U team.
New Jersey Sparks vs. Carolina Flames Instant Classic on Prospects Nation TV from the #PSBSummerInvite on the @SUVtv


Jonathan Hemingway is the Assistant Director of Scouting for the JumpOffPlus.com International Scouting Report, is on the Naismith Trophy Board of Selectors and owns CoachHemi.com, the go-to source for coaches for X's and O's.  He is the floor director of #TeamEBA camps, a site director for #TeamPSB tournaments and can be reached at [email protected].