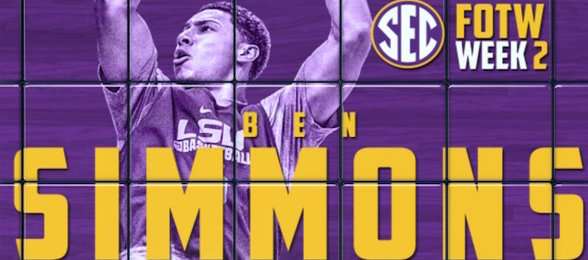 The Naismith Watch provides readers with a heads up on the nation's top collegiate players. This installment focuses on three freshman who are making a push to be featured in the initial Watch List release next month.
Jaylen Brown, 6-7, SF, California
Coming off of 2015 Naismith HS All-American First-Team selection, Brown has been a key producer for the Golden Bears early in the season. He is averaging 16.3 points, 7.3 rebounds and two assists. According to Jonathan Givony of DraftExpress.com, Brown is a projected Top-5 lottery pick in the 2016 NBA Draft.
Next Notable Matchup: December 22nd vs Virginia
Henry Ellenson, 6-10, PF, Marquette
Ellenson was a Naismith HS All-American Third-Team selection in 2015. He has jumped out of the gate averaging 15.2 points, 9.8 rebounds a game early in his freshman campaign. In a televised matchup against LSU Freshman Ben Simmons, Ellenson finished with 16 points and 11 rebounds.
Next Notable Matchup: December 12th at Wisconsin
Ben Simmons, 6-10, F, LSU
Fresh off of being named the 2015 Naismith HS Player of the Year, Simmons has been exactly what we expected. He is putting up staggering numbers with 16.2 points, 14.4 rebounds and 5.1 assists per game so far this season. Simmons is coming off of a monster performance where he had 21 points, 21 rebounds and seven assists. The former 5-star prospect could very well could be the No. 1 selection the 2016 NBA Draft.
Next Notable Matchup: December 29th vs Wake Forest

Brandon Clay is the owner of Peach State Basketball, Inc., and BrandonClayScouting.com. He serves as the Executive Camp Director for the Elite Basketball Academy Camps. Clay is a McDonald's All-American Game Selection Committee member. He also votes on the Naismith Trophy Men's / Women's College Player of the Year Academy and is the HS Boys / Girls All-American Team Board of Selectors Chairperson. He has been involved in the community since 2001. You can reach Clay at [email protected]