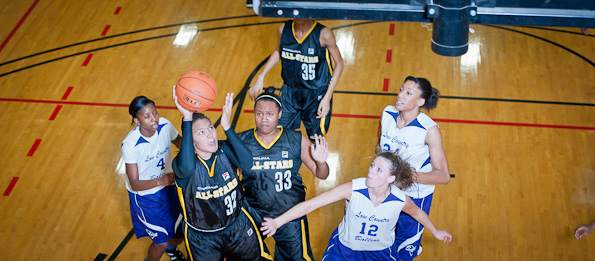 SUWANEE, Georgia – Peach State Basketball, Inc. hosted another maxed out event this past weekend with 52 teams from all around the Southeast. The most notable part was how much talent was in the gym even for a non-certified weekend. As Keil Moore, the National Director of Scouting for the JumpOffPlus.com, remarked there were seven BCS verbal commitments, five USA Basketball commitments, a USA bronze medalist and 17 top 100 caliber kids on the court in one set of games. This speaks to the quality of play that is evident at Peach State events year around these days.
As written by Jonathan Hemingway
Follow @JLHemingway

When reflecting on the individual players in this tournament, our staff became intrigued at the number of quality forwards that were in this tournament. writing services for statistical problems There were the usual suspects that the Peach State staff sees on a regular basis: Kaela Davis, Gabby Bellivard, and Peyton Whitted. We even saw some players that we hadn't seen in a while that reminded us of what they could do like Christelle Shembo (NC-12) and Alisha Jenkins (GA-12). The one thing that all of these players have in common is that they are versatile. They all can do more than one thing well on multiple places on the court. Here are three other forwards that caught our eye with their versatility.
Mylia Garner, 6'0" , Forward
Carolina All Stars/Siler, NC
Class of 2013
Garner showed what she could do both offensively and defensively this weekend. The report on her coming into the weekend was that she was a tough player in the paint who could rebound on both ends. Mylia write my essays online please certainly did that, but moreover she has expanded her offensive skills as well. At critical junctures in the opening round game vs. the Georgia Elite, Garner hit big threes to stretch the lead for her Carolina All Star team. Her ability to rebound and score in the paint coupled with her ability to hit the open three makes Mylia a contributor on whatever team she finds herself on.
Bre' McDonald, 6'2 Forward
A.O.T. / Lithonia, GA
Class of 2012
McDonald had a big weekend contributing to her A.O.T. team for a championship in the top division at the May Day Challenge. This long-armed wing has all the tools to be an elite wing at the next level. At times her athleticism is breath taking. She elevates towards the rim as only a select few players on the girls side can do. However, it was write my essay brah her defense and play making ability in the open court that spurred her team to big victories over the weekend. AOT's frenetic style fits McDonald's abilities perfectly. Again it is her versatility to make plays in the paint and on the perimeter that made her a difference-maker this weekend.
Jennifer Nwokocha, 6'0", Forward / Post
College Park Rim Rockers / Atlanta, GA
Class of 2012
Jennifer is a traditional on the block post player who is making the transition to becoming a versatile combination forward. Nwokocha is built well with thick shoulders that can play physical in the paint and rebound with physically gifted posts. What distinguished this forward the past weekend is the fact that she was attacking the lane from the wing and the top of the key area. She made several nice spin moves that set up nice bank shots. She masters essay writing has good enough body control to be able to attack the defender and then spin away from contact and be able to score. She showed aggressiveness and finesse for the Rim Rockers team. If Nwokocha continues to develop this type of versatility she will be a legitimate college prospect to keep an eye on while heading into the summer recruiting period.

Jonathan Hemingway is the Assistant Director of Scouting for the JumpOffPlus.com. The service is used by more than 150 colleges and universities nationwide. He serves on the selection committee for the EBA All-American, Fab Five and Super 64 Camps. He also is a contributor to SLAM Magazine and has been involved in the community since 2002 as a coach, camp director and evaluator. You can reach him via email at jonathanhemingway@peachstatebasketball.com and follow him on twitter @JLHemingway