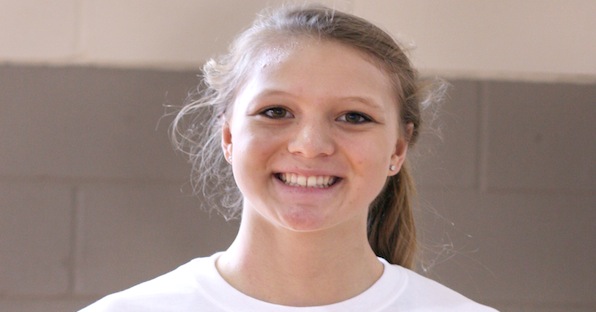 Although this was the inaugural event for the Elite Basketball Academy Super 64 Camp, it felt like a camp that had been years in the making. With roughly 60 campers who are all college scholarship bound and a format that allowed the players to learn and compete, there is not a better platform for players to get better, compete and to have exposure at a national level. The opening session on Saturday morning is undoubtedly the best session of camp that "The Factory" has ever seen. Every camper was working hard, communicating and dripping with sweat by the time the horn sounded at 10am. Here are three players that caught our eye with talent and work ethic at the EBA Super 64 Camp:
*As written by Jonathan Hemingway in June 2011
Follow @JLHemingway

Spotlight Players
Anna Hammaker, 5'8", SG
CAK / Knoxville, TN
Class of 2015
Hammaker writing essay my mom made a name for herself in game-play amongst older and more experienced players on Saturday. She played fearlessly and confidently versus players that have already committed to BCS schools. This left-handed guard shoots the ball well from the arc, but she can also put it on the floor and create for her teammates. She was particularly effective at times by feeding her future teammate at CAK, post player Cheyenne Hooper, in the post. Hammaker is a solid athlete and will only get stronger as time progresses.
Alexa Middleton, 5'8", PG/SG
Riverdale HS / Murfreesboro, TN
Class of 2014
Middleton has made a name for herself over the past year by playing for her nationally renown high school team (Riverdale HS) and by getting attending the USA U16 Trials in May. She certainly lived up to the expectations here in Buford, GA by making critical three point shots in game play. The combo guard can shoot the ball and is as fundamentally polished as anyone in the 2014 class. Her literary analysis essay on dracula steady demeanor allows her to make the right play and not necessarily try to make the spectacular play.
Tiffany Mitchell, 5'10", SG
Providence Day HS / Charlotte, NC
Class of 2012
Tiffany Mitchell has always been a slasher on the wing who could get her own shot virtually against any defender. What Mitchell has added to her game that was noticeable this weekend was her ability to post up smaller guards and score with her back to the basket. She has gotten visibly bigger and stronger. Her once wiry and thin frame is now filled out into a body that is ready to battle in the SEC.
Parting Thoughts
– We cannot say enough about Bashaara Graves, 2012 (Clarksville NE/Clarksville, TN). She does all of the little things right. Graves was going as hard as anyone during the drills and simply dominated game play each day. She had high expectations coming into this camp and she simply blew the lid off of those expectations once process of writing a research paper again.
– Briana Day, 2013 (Middlebrook HS/Durham, NC) played well this week. She is definitely becoming more aggressive around the bucket and her footwork around the bucket is solid. Day affected the game at both ends with rebounding, defense and scoring.
– Tiffany Lewis, 2013 (East Hamilton HS/Chattanooga, TN) hit several big three point shots this weekend during game play. In several games, Lewis hit big shots to keep her team competitive. If she develops consistency in this area of her game, she could put herself squarely on the radar of many colleges come July.

Jonathan Hemingway is the Assistant Director of Scouting for the JumpOffPlus.com. The service is used by more than 150 colleges and universities nationwide. He also serves on the selection committee for the EBA All-American, Fab Five and Super 64 Camps. He has been involved in the community since 2002 as a coach, camp director and evaluator. You can reach him via email at [email protected] and follow him on twitter @ JLHemingway