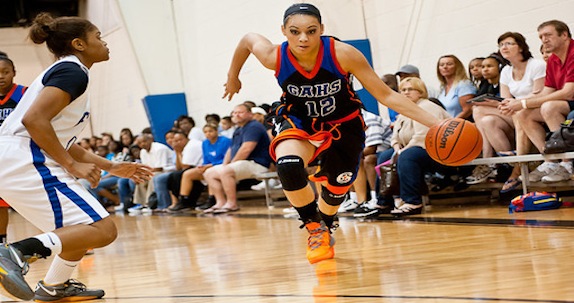 Marietta, Ga. – For the sixth straight year, the stage was set for players from all over the southeast region to come in and make an early statement for the travel world to take notice of their skill set.
By: Stephen Peck
Follow @SCPeck2

Featured Player

Kianna Holland, Georgia Hoopstars Black (Seneca, Sc.)
Can you say "killer crossover"? The 5-foot-10 point guard has one of the most efficient and effective change of direction dribbles we've seen. Holland is able to utilize that skill to create scoring opportunities by getting to the lane and most impressively, her quick release pull up jumper. The Duke commit is playing miss brill essay with more confidence after coming back from a previous knee injury. Her free flowing play helped the Hoopstars advance to the championship game in the White division.


Spotlight Players

Katie Powell, FBC Juniors (Berkeley Lake, Ga.)
Hard work pays off as was evident with Powell's performance at the Spring Showdown. The 6-3 post showed that she is developing into a versatile player by making good decisions and becoming more aggressive on defense. More impressively, she is scoring consistently around the basket and has improved her outside shooting with the ability to knock down shots beyond the arc. Opposing defenses are going to face a challenge as she continues to improve. We are looking forward to seeing her game unfold during the michael jordan research paper spring/summer travel season.

Brooksie McGraw, Central Florida Elite 2013 (Gainesville, Fla.)
Real size posts that are strong, athletic and have the ability to run the floor are a true asset to any team. The 6-3 McGraw gave her CFE 2013 team solid play at the post position, leading them to the semi finals game in the Black Division. McGraw's footwork in the paint on both offense and defense is her true gift combined with her real size and aggressiveness around the ball. McGraw is a player to keep on your radar.
Parting Thoughts
A lot of young talent caught our attention at the Spring Showdown as was the case with PG Amira Atwater. She has the makings of a true scorer with a fearless dribble drive pay for someone to write a paper and a pot up shooter. Good upside.
At 6-4, Karleigh Wike takes up a lot of space in the paint and is not afraid to mix it up. As her strength improves, so will her stock as a real size post.
The Georgia Pistols have a couple of young, athletic combo guards in Tynice Martin and Te'Erica Eason. Both of players are very active around the ball and have tremendous upside.
Stephen Peck is a National Evaluator for the JumpOffPlus.com. He also serves on the selection committee for the EBA All-American, Fab Five and Super 64 Camps. He has been involved in the community since 2009 as a national evaluator. You can reach him via email at [email protected] and follow him on twitter @scpeck2