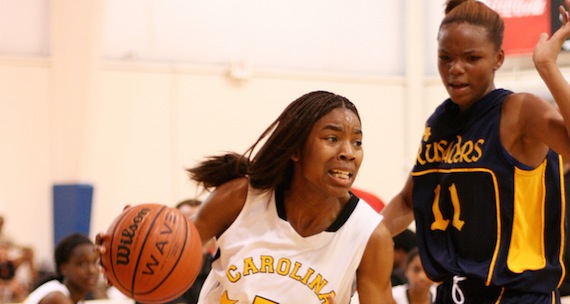 SUWANEE, Ga. – The May Day Challenge is one of the the nation's top spring events. With competition from as far away Illinois, 52 teams battled it out in an effort to continue to prepare for the July evaluation period.
By: Stephen Peck
Follow @SCPeck2

Feature Player
Mone' Jones, Carolina All Stars 2015 (Durham, N.C.)
The May Day Challenge was yet another event where our staff was impressed with the overall play of Jones. The 6-foot-3 forward continues to shows signs of coming into her own. Jones is not only maturing physically but she is recognizing her abilities as a versatile player. Her game is improving each time we see her in action and is becoming a dominant presence on the floor at both ends. Jones is definitely a prospect to online research papers keep an eye on in the class of 2015. We see Jones providing her team multiple options with her ability to play the wing position and the post as well. Here is a highlight video on Jones:
Spotlight Players
Jada Byrd, Atlanta Celtics (Lithonia, Ga.)
Byrd, at 5-9, is extremely athletic and a creative scorer. Getting to the rim and finishing strong are assets that caught our attention this weekend. Although she played predominately the PG position, Byrd is most effective as an off guard with the way she moves without the ball and her ability to force defenses to play her face up. Her capacity to beat you off the dribble is enhanced with a quick pull up jumper. We also liked how efficient she is in the open court making good decision in transition with her keen court vision. Byrd also played solid defense which, once writing help for kids again, showcased her athleticism. She is most definitely a player to watch in the years to come.
Nicole Bowers, Lady Zoom Black (Nashville, Tenn.)
There are key elements that make a good quality post player and Bowers possesses many of these. Along with her solid build, she has strong hands and good footwork in the post which was made apparent with a couple of drop step moves from both the left and right side. What she lacks in athletic ability is more than made up for in her activity and aggressiveness. These attributes come with hard work which was evident as she helped her Lady Zoom team to a good showing in a strong Yellow Division at the May Day Challenge. Bowers gets to the free throw line a lot where she capitalizes on the opportunity with great shooting form. The 6-2 post plays solid defense and is an aggressive rebounder with good touch around the rim.
Parting online person to do my project for me Thoughts

Tennessee Flight Select Navy is a team with several young prospects that performed well this weekend. Patterson, Shultz and Meadows are just a few names that will be fun to watch develop in the near future.
Kalanie Brown caught our attention again as a real size post with a good set of tools and natural ability. Good upside on the horizon.
Role players are true assets to a successful team. Joclyn Ramos is that asset with her ability to make plays when her number is called. She played well at the May Day Challenge giving quality minutes.
Stephen Peck is a National Evaluator for the JumpOffPlus.com. He also serves on the selection committee for the EBA All-American, Fab Five and Super 64 Camps. He has been involved in the community since 2009 as a national evaluator. You can reach him via email at pecstphn@comcast.net and follow him on twitter @scpeck2