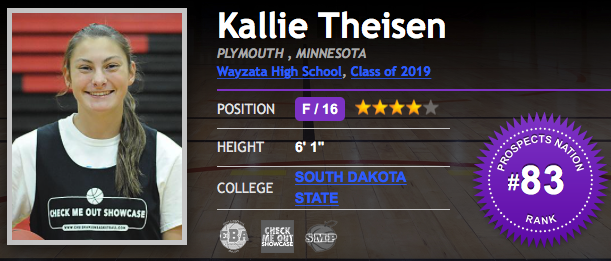 ---
With over 50,000 collective followers on our team's social media outlets, we're in a unique position to assist with both creating awareness of a prospect's skill set and recent on-floor performance. From crisp recruiting updates to updated in-season stats to a potential last-minute change in schedule that needs to be conveyed socially, this package allows the player to control the information available to the public about their game.
Become an #SMPMember for maximum Recruiting Exposure: Click the Logo Below

---
Class of 2019 forward Kallie Theisen of Wayzata Central (MN) chooses South Dakota State. The Jackrabbits made Theisen a priority in the class two years ago. It's paid off with a commitment. — Brandon Clay
#CommitmentCentral via #BrandonClayScouting🍑 Report

South Dakota St made Kallie Theisen a priority two years ago. It paid off with a pledge from an Elite 100 '19 nationally.

IND. SHOWCASE INFO: https://t.co/vTyxJdYHmA

CLUB TOURNAMENT INFO: https://t.co/vTyxJdYHmA #SMPMember pic.twitter.com/cwUoYmMxQh

— Brandon Clay (@BrandonClayPSB) May 29, 2018
CHRIS HANSEN'S TAKE: Theisen keeps getting better every season. She is quick and long at the forward position but looked as poised with the ball as well have seen. She attacked from the trail and the high post. She shot the ball well in drill work. Theisen was active on the offensive glass and has shown the skill to be one of the premier stretch 4 players in the class nationally.