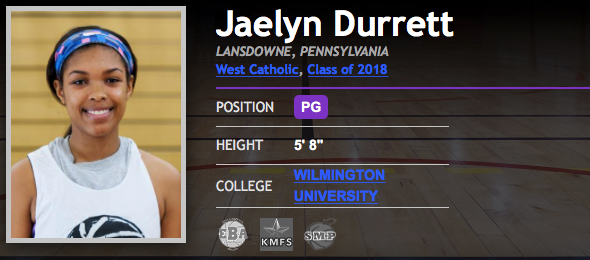 With over 50,000 collective followers on our team's social media outlets, we're in a unique position to assist with both creating awareness of a prospect's skill set and recent on-floor performance. From crisp recruiting updates to updated in-season stats to a potential last-minute change in schedule that needs to be conveyed socially, this package allows the player to control the information available to the public about their game.
Become an #SMPMember for maximum Recruiting Exposure: Click the Logo Below

---
Class of 2018 Guard Jaelyn Durrett (PA) has chosen Wilmington Univ. She was a standout at the #EBAFallFinale before making a big impact during the 2017-18 school season. — Brandon Clay
#SMPMember🍑 College Recruiting
Fueled by @SMPMemberPSB

Need Exposure? We're here to help.

THIS JUST IN#CommitmentCentral

'18 G Jaelyn Durrett (PA) of @wccoachb @LadyBurrs has chosen Wilmington Univ.

SMP PAGE: https://t.co/uqEqPgCAvt

JOIN SMP: https://t.co/8GnB3G0viZ pic.twitter.com/xl6NEgCArL

— Brandon Clay (@BrandonClayPSB) May 22, 2018
JONATHAN HEMINGWAY'S TAKE: Durrett is a solid combo guard who can handle and make plays with the ball in her hands. She showed the ability to change directions and speed with the ball to create space. Her ability to get downhill with the basketball could be a specialty in the long run. However, she will need to show more shot making abilities in the future. Both beyond the arc and off the dribble should be areas where Durrett should develop in upcoming months.
#BrandonClayScouting🍑 #EBAFallFinale Guard Stock ⬆

'18 Jaelyn Durrett
'21 Kenzie Hudgen
'19 Jasmine Lilly
'19 Shelby McDaniel

📷 @TyPhotog pic.twitter.com/nhumVuXegc

— Brandon Clay (@BrandonClayPSB) October 2, 2017