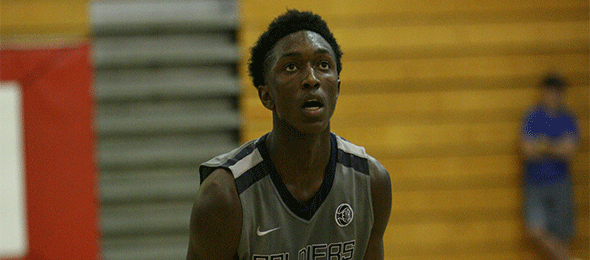 Stanley Johnson will make an immediate expository essay on decision making impact at Arizona for coach Sean Miller.
Photo credit – Jon Lopez, Nike
The Brandon Clay Scouting Report offers up Prospect Evals from the top male basketball players in the class of 2014.
Stanley Johnson – (Fullerton, Calif.) – Mater Dei (Calif.) – 2014
Height: 6-7
Position: Small Forward
Committed College: Arizona

Date: February 1, 2014
Location: Mater Dei Nike Extravaganza (Santa Ana, Calif.)
No. 1 Mater Dei (Calif.) vs. No. 18 Whitney Young (Ill.)

Evaluation:
Johnson's ability to translate athleticism into basketball skill is what separates him from many other prospects. He used his athleticism to defend Bennie Boatwright on one night and Jahlil Okafor on the marketing research paper next. When he gets going down hill in the open court, he is nearly impossible to stop. He has a good mid-range pull-up game, but his 3-point jumper could still use improvement. He already has a pro-frame entering into his freshman year of college. Watch for Johnson to be one of the elite wings next year while playing for coach Sean Miller.
10/05/13 – USA Basketball Developmental Mini-Camp (Colorado Springs, Colo.) – Brandon Clay
Johnson is a grown man with a pro frame already. Given his build, he could easily play football at a high level as well. Skill wise, Johnson's ability to knockdown the one graduate studies essay writers dribble pull up jump shot going to his strong (right) hand at 15 feet was impressive. His jump shot is a little flat from beyond the FIBA 3-point line. Because of that Johnson seemed hesitant at times to pull the trigger on his shot. He made a nice behind the back pass in the open floor to a cutter for a score.
Highlights of Johnson compliments of MaxPreps High School Sports:
Elite Basketball Academy Series
***Designed for homework help history evaluation purposes, these are great opportunities for upperclassmen and underclassmen alike to get valuable game broadcasts that can be sent to college coaches with a single email message. For underclassmen, it also serves as the gateway for prospects with remaining high school eligibility to play in front of our National Evaluators.
September – Elite Basketball Academy All-American Camp
October – Elite Basketball Academy Top 40 Fall Workout
CoachHemi.com Showcase Series
 October – CoachHemi.com Workout

Jonathan Hemingway is a National Evaluator for the OTRHoopsReport. He is also the publisher of CoachHemi.com. He has been involved in the community since 1996 as a coach, camp director and evaluator. You can reach him via email at [email protected] and follow him on twitter @JLHemingwayPSB