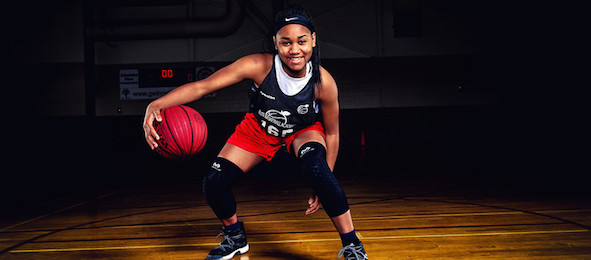 Class of 2020 guard SeanKelly Darks of Cincinnati, Ohio, is showing herself to be a must track guard in the class.
Brandon Clay's takeaway – EBASuper64 Camp (June 2017): Darks continues to get better with her overall skill set since my first evaluation as a middle school prospect. She's filling out physically while maintaining the ability to handle the ball on the perimeter. I envision Darks as a primary ball handler with the scoring ability to slide over to the off guard position at times as well based on time, score and opponent. She also showed a willingness to defend on the ball in this elite camp setting.
Brandon Clay's takeaway – EBAAllAmerican Camp (August 2018): Darks continues to level her game up with each new evaluation. She has the size, strength at the guard spot to attack the lane consistently. Her jump shot is much improved from this same stage a year ago. That combo is allowing Darks to essentially play any of the three perimeter positions based on matchups, style. In that way, she's a versatile option in the new age ear of backcourt play.
---
VITALS
Name: SeanKelly Darks
Height: 5'8″
HS Grad Year: 2020
Position: PG / SG
School / Hometown: Walnut Hills (Cincinnati, Ohio)
Club Team: All-Ohio EYBL / Phenom
College Choice: North Carolina A&T
---
Social Media Updates:
#SMPMember🍑 Recruiting
Fueled by #BrandonClayScouting🍑

"Invest in your future success today."

'20 G SeanKelly Darks (OH) grew her game in a training session with @ChrisHansenPSB.

PAGE: https://t.co/qMa5rUmKo4

JOIN: https://t.co/8GnB3G0viZ

📷 IG: https://t.co/FrgtOjFYMg pic.twitter.com/Xm9AAjOFuS

— Brandon Clay (@BrandonClayPSB) November 14, 2018
#SMPMember🍑 Recruiting
Fueled by #BrandonClayScouting🍑

"Invest in your future success today."

'20 G @SeanKellyDarks (OH) of @PhenomWBB visited @BelmontWBB last month.

PAGE: https://t.co/qMa5rUmKo4

JOIN: https://t.co/8GnB3G0viZ

FOLLOW ON 📷 IG: https://t.co/FrgtOjFYMg https://t.co/K70OUZbzGb

— Brandon Clay (@BrandonClayPSB) November 7, 2018
#BrandonClayScouting🍑 Report

Entered 30 new HS pieces of recruiting news, notes & video clips including '20 @SeanKellyDarks of @PhenomWBB adding multiple offers.

COLLEGE COACH EVALS: https://t.co/dc2OUdikQX

FOLLOW ON 📷 IG: https://t.co/w5DQSYnzvq #SMPMember @Str8OuttaOhioGH

— Brandon Clay (@BrandonClayPSB) October 9, 2018
#SMPMember🍑 College Recruiting
Fueled by #BrandonClayScouting🍑

"Growing the game one scholarship at a time."

'20 G SeanKelly Darks (OH) adds an offer from Akron.

PAGE: https://t.co/qMa5rUmKo4

JOIN: https://t.co/8GnB3G0viZ

FOLLOW 📷 IG: https://t.co/FrgtOjFYMg @CoachBri32 pic.twitter.com/RgCHXhrPbH

— Brandon Clay (@BrandonClayPSB) October 3, 2018
#SMPMember🍑 Recruiting
Fueled by #BrandonClayScouting🍑

"We make sure everyone knows your name."

'20 G SeanKelly Darks (OH) to visit Belmont this month. @CoachHemi is a fan.

PAGE: https://t.co/qMa5rUmKo4

JOIN: https://t.co/8GnB3G0viZ

FOLLOW ON 📷 IG https://t.co/FrgtOjFYMg pic.twitter.com/asyDPnsfJs

— Brandon Clay (@BrandonClayPSB) October 1, 2018
#SMPMember🍑 College Recruiting
Fueled by #BrandonClayScouting🍑

"Growing the game one scholarship at a time."

'20 SeanKelly Darks (OH) is a versatile G.

She has an Ohio offer.

PAGE: https://t.co/qMa5rUmKo4

JOIN: https://t.co/8GnB3G0viZ

📷 INSTAGRAM https://t.co/FrgtOjFYMg pic.twitter.com/Q7gAhEm0wK

— Brandon Clay (@BrandonClayPSB) September 18, 2018
#SMPMember News & Notes (@SMPMemberPSB)

'19 Shelby Case (@biggjim1965) (IN) commits to @UICWBB

'20 @seankellydarks (OH) adds offer from @PrivateersWBB

'19 @KaleyShipman (AR) commits to @ATUWBasketball

Plus my analysis on each situation⬇️https://t.co/xqnxFYkevu

— Jonathan Hemingway (@JLHemingwayPSB) September 11, 2018
#SMPMember🍑 College Recruiting
Fueled by #BrandonClayScouting🍑

"Growing the game one offer at a time."

'20 G SeanKelly Darks (OH) has a New Orleans offer.

PAGE: https://t.co/qMa5rUmKo4

JOIN SMP: https://t.co/8GnB3G0viZ

IG https://t.co/FrgtOjFYMg @Coachlazar

📷 @TyPhotog pic.twitter.com/4IHJnhcast

— Brandon Clay (@BrandonClayPSB) September 9, 2018
'20 G SeanKelly Darks (OH) had a Huge July and was a Stock Riser! I was impressed w/ her ability to score the basketball last night at #EBAAllAmerican🍑 National Showcase

Her Page:https://t.co/cx5IYYQgTm pic.twitter.com/jqNj4t1cjU

— Kris Watkins (@KrisWatkinsPSB) August 26, 2018
#BrandonClayTraining🍑 Presents EBAAllAmerican🍑 National Showcase
🗓 Aug 25-26
📍 ATL

'20 G SeanKelly Darks (OH) is coming off of a dynamite July. Multiple offers already, still traveling to grow her game.

JOIN US: https://t.co/2zO9ALNuQC

📷 INSTAGRAM: https://t.co/falGPcyrx3 pic.twitter.com/gJBEuu0D9U

— Brandon Clay (@BrandonClayPSB) August 13, 2018
#PSBSummerInvite 🍑
🗓 July 23-24

#PSBPower48 🍑
🗓 July 25-26

📍 Atlanta

'20 G SeanKelly Darks (OH) of @phenomwbb caught @shotbylarry's 📷 & had @LadyAggieBall's full attention.

📷 INSTAGRAM: https://t.co/FrgtOjFYMg #SMPMember @LadyAggiesHC pic.twitter.com/4q3hyyLj3c

— Brandon Clay (@BrandonClayPSB) July 9, 2018
#PSBRealDeal🍑 Showcase
🗓 July 8-9
📍Louisville / San Antonio

Both @seankelly_darks & @LyricHarris5 of @PhenomWBB have offers already.

Come see them in Louisville on the night of the 8th.

INFO: https://t.co/0xmrEZQDjp

📷 INSTAGRAM: https://t.co/falGPcyrx3 #SMPMember https://t.co/dVschfefju

— Brandon Clay (@BrandonClayPSB) June 22, 2018
#SMPMember🍑 Recruiting
Fueled by #BrandonClayScouting🍑

"We make sure everyone knows your name."

Coach Hemi knows '20 G @seankelly_darks (OH) of @PhenomWBB & @EaglesWh.

SMP PAGE: https://t.co/qMa5rUmKo4

📷 IG https://t.co/FrgtOjFYMg @CoachHemi https://t.co/YvZPOIFqoq

— Brandon Clay (@BrandonClayPSB) June 15, 2018
2020 #SMPMember G SeanKelly Darks is rolling so far here at #PSBTipOffClassic Louisville for Phenom. 11 first half points already in front of Illinois, Virginia Tech and Wisconsin. pic.twitter.com/eAdyL2HvjW

— Brandon Clay (@BrandonClayPSB) April 20, 2018
#PSBRealDeal🍑 Showcase
🗓 July 8-9
📍 Louisville#PSBNationals 🍑
🗓 July 10-11
📍 Louisville

Big weekend on deck for @PhenomWBB. Led by @seankelly_darks, they'll have another chance to shine in Louisville during July as well.

INFO: https://t.co/vAzBFabg1P #SMPMember https://t.co/PmQ3kyoGfk

— PSB Events (@PeachStateBBall) April 19, 2018
#PSBTipOffClassic NCAA Showcase 🍑
🗓 Apr 20-21
📍 Louisville

'20 G SeanKelly Darks (OH) of @PhenomWBB is one to watch. Multiple offers already.

10:50 am tip on Friday.

JOIN US: https://t.co/Jow0Z53ZU3

INSTAGRAM: https://t.co/jSr8AvCdZB #SMPMember @LadyAggiesHC @Cwhitaker1W pic.twitter.com/DFkJzUDQQC

— Brandon Clay (@BrandonClayPSB) April 17, 2018
#SMPMember🍑 College Recruiting
Fueled by @SMPMemberPSB

Need Exposure? We're here to help.

'20 G SeanKelly Darks (OH) named All-ECC First Team for Walnut Hills HS.

SMP PAGE https://t.co/qMa5rUmKo4

BECOME AN SMPMEMBER: https://t.co/8GnB3G0viZ

INSTAGRAM https://t.co/jSr8AvCdZB pic.twitter.com/6iHxeqfZK4

— Brandon Clay (@BrandonClayPSB) March 11, 2018
#PSBTipOffClassic🍑 #PSBJrTipOffClassic

Where: Metro Louisville
When: April 20-22
Ages: 2019 – 2025#PSBFamily Phenom will bring multiple teams.

They're led by '20 G SeanKelly Darks. She's on the front page of @ProspectsNation today. #SMPMember

STORY: https://t.co/cO1Nv02cua pic.twitter.com/aufrI9NbEG

— Brandon Clay (@BrandonClayPSB) February 13, 2018
#SMPMember🍑 Program News
Fueled by @SMPMemberPSB

Available '20 G SeanKelly Darks (OH) has @EaglesWh & @coachlazar off to a fast start. They've already won hardware & are looking for more.

Plays w/ @PhenomWBB during club.

Her #BrandonClayScouting Page: https://t.co/qMa5rUmKo4 pic.twitter.com/tB8CVLzBBt

— Brandon Clay (@BrandonClayPSB) December 20, 2017
#SMPMember🍑 Recruiting

THIS JUST IN

'20 G SeanKelly Darks (OH) adds a @LadyAggiesHC offer after #PSBEndOfTheRoadhttps://t.co/qMa5rUmKo4 pic.twitter.com/5krUwK7BR2

— Brandon Clay (@BrandonClayPSB) October 2, 2017
#SMPMember🍑 Recruiting

'20 G SeanKelly Darks (OH) worked w/@AndrayaCarter on Sat.

She's #PSBEndoftheRoad ready: https://t.co/qMa5rUmKo4 pic.twitter.com/QmuBd3cdgI

— Brandon Clay (@BrandonClayPSB) September 20, 2017
#EBAAllAmerican Showcase

Sept. 2-3#SMPMember '20 G SeanKelly Darks (OH) has South Florida's attention.

JOIN: https://t.co/2zO9ALNuQC pic.twitter.com/5GIzYOQxWi

— Brandon Clay (@BrandonClayPSB) August 10, 2017
THIS JUST IN

'20 G @seankelly_darks of @PhenomWBB & @Coachlazar has a FAMU offer.#EBAAllAmerican 9/2: https://t.co/2zO9ALNuQC https://t.co/siBPHNcv96

— Brandon Clay (@BrandonClayPSB) July 30, 2017
#SMPMember Exposure

'20 G @seankelly_darks of @PhenomWBB keeps growing her game. @BonesBallNPrep took notice.

PAGE https://t.co/qMa5rUmKo4 https://t.co/BVMfniLTcU

— Brandon Clay (@BrandonClayPSB) July 20, 2017
#SMPMember Recruiting Exposure

'20 G SeanKelly Darks (OH) is visiting Northern Kentucky this week.

MORE ON DARKS: https://t.co/qMa5rUmKo4 pic.twitter.com/p33MKn0A6X

— Brandon Clay (@BrandonClayPSB) June 27, 2017
'20 G @SeanKelly_Darks caught @JDavisPSB & @JLHemingwayPSB's attention at #EBASuper64.

PAGE: https://t.co/qMa5rUmKo4 @PhenomWBB https://t.co/tl3vHe2ucK

— Brandon Clay (@BrandonClayPSB) June 26, 2017
#SMPMember Recruiting Exposure

Welcome '20 PG SeanKelly Darks (OH)

Club: @PhenomWBB
HS: @EaglesWh

MORE ON HER: https://t.co/qMa5rU58Zu pic.twitter.com/qVtGVbQuZd

— Brandon Clay (@BrandonClayPSB) June 22, 2017
SeanKelly Darks (@seankelly_darks) does a great job of catching it ready to score & finishing at the basket. @BrandonClayPSB pic.twitter.com/OULOhi3YSE

— PSB Events (@PeachStateBBall) June 4, 2017
#EBASuper64 National Showcase@PhenomWBB is definitely in the building. @seankelly_darks rep'd the set. She had the rep the set. https://t.co/UCQ4PqJ32O

— PSB Events (@PeachStateBBall) June 3, 2017
#EBASuper64 National HS Showcase

June 3-4

'20 G Sean Kelly Darks (OH) is in the mix for a @CoachHemi eval.

JOIN: https://t.co/tJAgOJkP5h pic.twitter.com/ivwcmjaXkn

— Brandon Clay (@BrandonClayPSB) May 2, 2017

Brandon Clay is the owner of the JumpOffPlus.com International Report, Peach State Basketball, Inc., and ProspectsNation.com. The JumpOffPlus.com is picked up by more than 200 colleges and universities nationwide. In addition to serving as ProspectsNation.com WNBA Director of Scouting, Clay serves as the Executive Camp Director for the Elite Basketball Academy Camps. He is a McDonald's All-American Game Selection Committee member. Clay serves on the Naismith Trophy Men's / Women's College Player of the Year Academy and is the National Coordinator of Voting for the Boys / Girls All-American Teams. He has been involved in the community since 2001. You can reach Clay at [email protected]