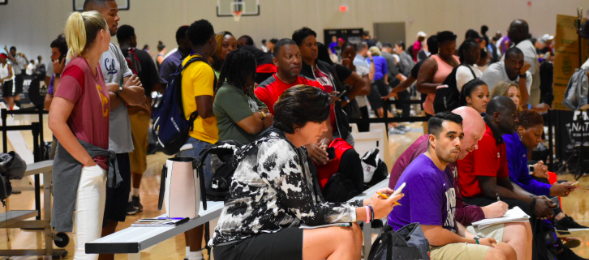 CARTERSVILLE, Ga. – The PeachStateBasketball.com Summer Invitational featured 90 of the nation's premier teams playing in front of 250 plus college coaches inside Lake Point Indoor Complex to start the second half of the July evaluation period. Here's the first of multiple takeaway pieces on this event:
---
With over 40,000 collective followers on our team's social media outlets, we're in a unique position to assist with both creating awareness of a prospect's skill set and recent on-floor performance. From crisp recruiting updates to updated in-season stats to a potential last-minute change in schedule that needs to be conveyed socially, this package allows the player to control the information available to the public about their game.
Become an #SMPMember for maximum Recruiting Exposure: Click the Logo Below

---
Sun / Mon

The Showcase Game Schedule is CRAZY!

Filled with bigtime matchups.

FULL SCHEDULE: https://t.co/GyvzuhF22d pic.twitter.com/qUvUXYXarE

— Brandon Clay (@BrandonClayPSB) July 18, 2017
From the moment we released the schedule to the public, the showcase was set for players from as far away as Seattle and Los Angeles to come shine on arguably the biggest stage in grassroots basketball during the July 23-29 period.
#PSBFamily@MWTakeover is ready for #PSBSummerInvite.

Check #SMPMember fam @devin_biesbrock & @izzyhensley3.

INFO https://t.co/TUsVZnWZVU https://t.co/IyxnwtHfth

— PSB Events (@PeachStateBBall) July 18, 2017
#PSBFamily Midwest Takeover director Charles Williams was one of the first to comment on the marquee slate of matchups including a game for his Take 1 Sophomore group against Exodus NYC EYBL #PSBFamily.
Here's what college coach row at #PSBSummerInvite looks like for the @SAFinestbball vs @HubbardCoach game. pic.twitter.com/WYzmWsc2lk

— Keil Moore (@KeilMoorePSB) July 23, 2017
The San Antonio's Finest #PSBFamily and Team Elite Hubbard EYBL #PSBFamily set the stage for the remainder of the event. ProspectsNation.com Director of International Scouting, Keil Moore, said "the college coach turnout for this game was the largest that I've seen at an independent, non-shoe company or travel team affiliated event since I started evaluating talent in 2007." The game was full of Power 5 caliber recruits with Kaila Hubbard, Nalyssa Smith, Desi Caldwell, Victoria Saxton, Nyah Green and Robyn Benton amongst the names who shined bright in this one.
"I love the way @NyahGreen3117 of @SAFinestbball creates her own shots but also never forces anything." –@BrandonClayPSB pic.twitter.com/lDka0Gg00K

— PSB Events (@PeachStateBBall) July 24, 2017
Here is video of the aforementioned Green courtesy of the good folks at Parallels Media. I view Green as one of the premier guards in the 2019 class nationally.
Blue Star Florida crawled away victorious after a tough fight with AL Southern Starz. Kennedi Rodgers led the way with 16. pic.twitter.com/96gjySLJZy

— PSB Events (@PeachStateBBall) July 23, 2017
#PSBFamily member Blue Star Florida Vega had a different look to their roster for the second half of the month. They came in guns blazing competing against some of the country's premier teams including Alabama Southern Starz #PSBFamily and All-Ohio Black EYBL #PSBFamily. Both games were packed with college coaches eyeing the talent. Their clubmate BSFL Varona came in focused as well making waves with a roster littered with talented young prospects including Elite Basketball Academy alums Brooke Birkner and Sarah Napoli. Look for Blue Star Florida to return during the fall eval period for #PSBEndOfTheRoad on September 22-24.
Miami, Kentucky, Chattanooga, Murray St, Lipscomb, South Carolina a few of the schools watching Al So Starz vs FL Future pic.twitter.com/mJUyigv0Z5

— Jonathan Hemingway (@JLHemingwayPSB) July 24, 2017
Speaking of the Southern Starz, they wasted no time showcasing why they are one of the nation's premier independent programs. From their rising senior roster to their seventh grade team, Doug Bush has assembled a plethora of the state's top talent on the various rosters. Like Blue Star Florida, look for the Starz to return for #PSBEndOfTheRoad.
"Michigan Storm is a team to watch! High energy, loves to compete, & knows how to score."
–@BrandonClayPSB pic.twitter.com/2R6jOvOYnB

— PSB Events (@PeachStateBBall) July 24, 2017
Michigan Storm returned home after a year hiatus from our circuit. Both our staff and the hardwood at Lake Point welcomed the uber-talented group with open arms. Dwayne Love and Jeff Taylor have assembled arguably the top program in the state with plenty of top prospects in the rising senior through sophomore classes on display here.
#PSBSummerInvite & #PSBPower48@Wofford_WBB is in for both. They just offered #SMPMember '18 G Alea Harris. She'll be there w/ @XpressBall. pic.twitter.com/8Fcj9zkbE0

— PSB Events (@PeachStateBBall) July 17, 2017
Class of 2018 guard Alea Harris of Cincinnati, Ohio took advantage cementing her status as an A-List recruit for the Terriers in the process. Harris, a BrandonClayScouting.com Social Media Exposure Program member, verbally committed to them just after the conclusion of the evaluation period.

Brandon Clay is the owner of the JumpOffPlus.com International Report, Peach State Basketball, Inc., and ProspectsNation.com. The JumpOffPlus.com is picked up by more than 200 colleges and universities nationwide. In addition to serving as ProspectsNation.com WNBA Director of Scouting, Clay serves as the Executive Camp Director for the Elite Basketball Academy Camps. He is a McDonald's All-American Game Selection Committee member. Clay serves on the Naismith Trophy Men's / Women's College Player of the Year Academy and is the National Coordinator of Voting for the Boys / Girls All-American Teams. He has been involved in the community since 2001. You can reach Clay at [email protected]