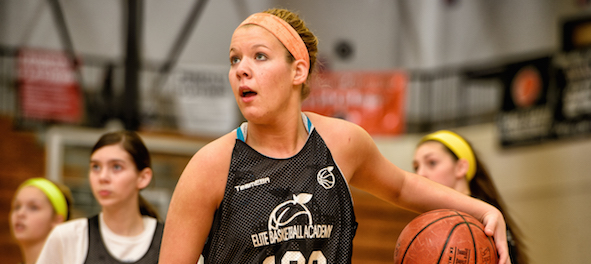 ---
With over 20,000 collective followers on our team's social media outlets, we're in a unique position to assist with both creating awareness of a prospect's skill set and recent on-floor performance. From crisp recruiting updates to updated in-season stats to a potential last-minute change in schedule that needs to be conveyed socially, this package allows the player to control the information available to the public about their game.
Become an #SMPMember: Click the Logo Below

---
Class of 2018 wing McKenna Ford of Lewis Center, Ohio, has been in the gym consistently with the aim of improving on a daily basis. She's off to a good start with her play at the #EBATop40 Camp in March 2016.
Jonathan Hemingway's takeaway – EBATop40 National Showcase (Mar. 2017): Ford is a versatile forward capable of hitting perimeter jumpers, leading the fast break or providing interior defense for her team. Her ball skill and vision allow her to act as a point-forward in the half-court. Yet her strength around the basket is evident as she is able to snatch rebounds out of the air and secure them safely. Her versatility is a strength on both ends of the court. However, working on footwork and lateral explosion will allow her to defend perimeter spots more effectively.
Brandon Clay's takeaway – Film Study Breakdown (Dec. 2016): In breaking down film on Ford, I noticed how her game continues to expand on both ends. She showed growth over the past 12 months taking charges, rebounding the ball and finding teammates with the pass as well. Our Video Coordinator, Kris Watkins, was dead on with his assessment of Ford's ability to do a little of everything.
Brandon Clay's takeaway – EBAAllAmerican Camp (Sept. 2016): Ford is a terrific shooter on the wing. She shot it with confidence and did a good job of moving without the basketball. She created scoring opportunities in game play by making back cuts and finding the open spots on the court. Her ability to maximize her lateral quickness will be important for her to defend her position moving forward.
Jonathan Hemingway's takeaway – EBATop40 Camp (March 2016): Ford showed herself to be a knockdown shooter at the EBA Top 40 Camp. Standing at 5-10, she has great size for the wing position. With her build and size, she can affect the game inside and out. That versatility should prove to be valuable in upcoming years. The area we would like to see growth is on the defensive end. Improving her footwork and anticipation should help her become more effective.
Name: McKenna Ford
Height: 5'10"
HS Grad Year: 2018
GPA / ACT: 4.2 / 27
Position: SF
School / Hometown: Olentangy Orange HS (Lewis Center, Ohio)
Club Team: All-Ohio XPress
College Choice: Lynn University
---
BrandonClayScouting.com Video Evaluation (February 2018)
BrandonClayScouting.com Video Evaluation (December 2016)
---
Social Media Updates:
#SMPMember🍑 College Recruiting
Fueled by @SMPMemberPSB

Need Exposure? We're here to help.@CoachHuddLynn landed a sniper in '18 @mckenna_forddd of @XpressBall & @pioneersGBB.

SMP PAGE: https://t.co/tS2S7pO43B

JOIN: https://t.co/8GnB3G0viZ

INSTAGRAM https://t.co/jSr8AvCdZB https://t.co/FCieQYHKvy

— Brandon Clay (@BrandonClayPSB) May 14, 2018
#SMPMember🍑 Recruiting
Fueled by @SMPMemberPSB

'18 F @mckenna_forddd of @pioneersGBB & @XpressBall had 23 pts on 7-9 from 3 in the Ohio District 11 All-Star Game.

SMP PAGE: https://t.co/VDQ4KZsejE

JOIN SMP: https://t.co/8GnB3G0viZ

INSTAGRAM https://t.co/jSr8AvCdZB @ohio50 https://t.co/vCl8xrHyZh

— Brandon Clay (@BrandonClayPSB) April 12, 2018
#SMPMember🍑 College Recruiting
Fueled by @SMPMemberPSB

Available '18 F McKenna Ford (OH) was named First Team All OCC-Buckeye.

She had a banner season. 28 ACT.

Her #BrandonClayScouting PAGE: https://t.co/VDQ4KZsejE

MORE ON SMP: https://t.co/8GnB3G0viZ {📷: @Str8OuttaOhioGH} pic.twitter.com/xbCTgmqt1u

— Brandon Clay (@BrandonClayPSB) March 5, 2018
#SMPMember
Available '18 McKenna Ford's video just came across my notifications

She recently broke her school record for most 3s in a game w/ 8!

Check out her 🎥 courtesy @KrisWatkinsPSB & @BrandonClayPSB https://t.co/hUBB3PRNzE pic.twitter.com/gGU7V7sNHN

— Jonathan Hemingway (@JLHemingwayPSB) February 9, 2018
#SMPMember🍑 News
Powered by @SMPMemberPSB

Available '18 F McKenna Ford of @pioneersGBB & @XpressBall had 21 on 5 3's in a W last night per @ThisWeekHennen.

Ford has a 28 ACT score.

Her #BrandonClayScouting PAGE: https://t.co/VDQ4KZsejE

JOIN SMP TODAY: https://t.co/8GnB3G0viZ pic.twitter.com/cycAs24q9p

— Brandon Clay (@BrandonClayPSB) January 31, 2018
#SMPMember🍑 News
Powered by @SMPMemberPSB

Available '18 F McKenna Ford (@mckenna_forddd) of @pioneersGBB & @XpressBall has been lights out. 🎥 from @eddiemcwilliam2.

"Impact shooter at her position." @KrisWatkinsPSB

Her #BrandonClayScouting Page: https://t.co/VDQ4KZsejE https://t.co/sTfJSuGMJB

— Brandon Clay (@BrandonClayPSB) January 24, 2018
New Video Dropping Soon on '18 McKenna Ford (@mckenna_forddd) of @pioneersGBB & @XpressBall @BrandonClayPSB will be breaking her game down

Her Page https://t.co/kFjZMxg5wL

— Kris Watkins (@KrisWatkinsPSB) January 23, 2018
#SMPMember🍑 Program News
In Partnership with @ProspectsNation

Available '18 F McKenna Ford (@mckenna_forddd) of @pioneersGBB & @XpressBall finished with 12 points in a big road win.

New @KrisWatkinsPSB Video Coming Soon.

Her #BrandonClayScouting Page: https://t.co/sahPfPHt3l https://t.co/UruSSEtyPv

— SMP Recruit Exposure (@SMPMemberPSB) January 12, 2018
#SMPMember🍑 Program News

Available '18 F McKenna Ford (OH) is off to a fast start.

She's averaging 14 ppg, 7 apg, 6.5 rpg and 2.5 spg so far.@KrisWatkinsPSB has 🎥 coming.

Her #BrandonClayScouting PAGE: https://t.co/VDQ4KZsejE

Become an SMPMember: https://t.co/8GnB3G0viZ pic.twitter.com/fTNaOhn1rC

— Brandon Clay (@BrandonClayPSB) December 6, 2017
#SMPMember🍑 Program News

High Academic Watch

Available '18 F McKenna Ford (OH) is ranked in the Top 5% of her class.

She's a @JLHemingwayPSB favorite.

Her @ProspectsNation Player Card: https://t.co/e1MpeRi8QH pic.twitter.com/nfMGov0nDh

— Brandon Clay (@BrandonClayPSB) November 26, 2017
#SMPMember🍑 Recruiting

Penn State Fayette's @CoachHillen is eyeing High Academic '18 F @mckenna_forddd

HERE'S WHY: https://t.co/sahPfPHt3l https://t.co/mrJElHI4yP

— SMP Recruit Exposure (@SMPMemberPSB) October 20, 2017
#SMPMember🍑 Recruiting

THIS JUST IN

Available '18 F McKenna Ford (OH) has a 28 ACT score.#BrandonClayScouting: https://t.co/VDQ4KZsejE pic.twitter.com/dinaFz24on

— Brandon Clay (@BrandonClayPSB) October 16, 2017
#SMPMember Recruiting

Available '18 F McKenna Ford's play had @KrisWatkinsPSB's & coaches eyes at #PSBPower48

MORE https://t.co/VDQ4KZsejE pic.twitter.com/coB4bWAEjo

— Brandon Clay (@BrandonClayPSB) August 2, 2017
'18 McKenna Ford (OH) really impressed with her ability to shoot the ball this week

Her Page:https://t.co/kFjZMxxGoj pic.twitter.com/36e9JATbYr

— Kris Watkins (@KrisWatkinsPSB) July 27, 2017
#SMPMember
'18 McKenna Ford has an array of tools on the court

She has a #CoachHemi513 invite

Sept. 16 https://t.co/YV215HJexQ pic.twitter.com/mGKIlnTEjp

— Jonathan Hemingway (@JLHemingwayPSB) June 29, 2017
#SMPMember Recruiting Exposure

McKenna Ford (OH) visited Columbia.

High Academic Watch List '18

HER PAGE: https://t.co/VDQ4KZsejE pic.twitter.com/D5NtpOJIzo

— Brandon Clay (@BrandonClayPSB) June 29, 2017
#SMPMember Recruiting Exposure

HIGH ACADEMIC ALERT 🚨

'18 McKenna Ford (OH) w/updated info:

4.2 GPA
27 ACT

MORE: https://t.co/VDQ4KZJPbc pic.twitter.com/JoSgaEdF8V

— Brandon Clay (@BrandonClayPSB) June 21, 2017
#SMPMember Recruiting

Friday at 9 am

Catch 2018's McKenna Ford & Alea Harris at #PSBTipOffClassic w/All OH XPresshttps://t.co/CFoA777M3T pic.twitter.com/o5SmEvknl8

— Brandon Clay (@BrandonClayPSB) April 18, 2017
Always good when 2018 #SMPMember McKenna Ford makes her way all the way from Ohio to #EBATop40.

HER PAGE: https://t.co/VDQ4KZsejE pic.twitter.com/ysmuyMOpSQ

— Brandon Clay (@BrandonClayPSB) March 11, 2017
#SMPMember Exposure Program

'18 McKenna Ford (OH) visited Oglethorpe today. She's at #EBATop40 Camp Sat/Sun.

INFO: https://t.co/VDQ4KZsejE pic.twitter.com/jWMxjst9v0

— Brandon Clay (@BrandonClayPSB) March 10, 2017
#EBATop40 Spring Camp

This Weekend

'18 #SMPMember McKenna Ford (OH) will rep @XpressBall.

JOIN HER: https://t.co/E2LhIzBges pic.twitter.com/fbPanc3B8T

— Brandon Clay (@BrandonClayPSB) March 7, 2017
#EBATop40 National Camp

Boys / Girls

Mar. 11/12

'18 #SMPMember McKenna Ford (OH) is a staff favorite.

JOIN HER: https://t.co/E2LhIzBges pic.twitter.com/4sgdnXaFiV

— Brandon Clay (@BrandonClayPSB) February 16, 2017
#SMPMember Exposure Program

'18 W McKenna Ford (OH) averages double figures, team is 3-1 in their last 4.

MORE: https://t.co/VDQ4KZsejE pic.twitter.com/nreRd433yo

— Brandon Clay (@BrandonClayPSB) February 7, 2017
'18 W McKenna Ford (OH) now has a 27 ACT score & received a 4.0 GPA this semester.

LEARN MORE ON FORD: https://t.co/VDQ4KZsejE pic.twitter.com/f1kWnzvdiM

— Brandon Clay (@BrandonClayPSB) January 15, 2017
New "Film Study Breakdown" is posted on '18 McKenna Ford (OH).

HER PAGE: https://t.co/VDQ4KZsejE pic.twitter.com/6FQ04it9Ls

— Brandon Clay (@BrandonClayPSB) December 12, 2016
I believe McKenna Ford is a top shooter in her class.

Her video confirms that: https://t.co/VDQ4KZsejE https://t.co/CLVWFzKY61

— Brandon Clay (@BrandonClayPSB) December 10, 2016
I believe Mckenna Ford is a top shooter in her class.

Her video confirms that: https://t.co/3vIZ0yBnid pic.twitter.com/LXtu21aJ3b

— Brandon Clay (@BrandonClayPSB) December 2, 2016
'18 McKenna Ford (OH) had a break out performance at #EBAAllAmerican

Watch her Brand New 🎥 Eval
Here:https://t.co/kFjZMxg5wL pic.twitter.com/TCl2NDLWSX

— Kris Watkins (@KrisWatkinsPSB) December 2, 2016
'18 McKenna Ford (OH) has improved at every PSB event. @BrandonClayPSB gives his insight…

READ: https://t.co/cVpWCKCZ6L pic.twitter.com/nZkSyQiF0l

— Rebecca Dyer (@RebeccaDyerPSB) October 24, 2016
'18 McKenna Ford (OH) has received calls from Columbia, Furman & Rider.

Latest #SMPMember Update: https://t.co/Z7UVr4YDZS pic.twitter.com/CF4lGeUBiU

— Brandon Clay (@BrandonClayPSB) September 29, 2016
2018 Mckenna Ford has an updated Prospects Nation player card.

READ HERE: https://t.co/b5zT7Ew5Rs pic.twitter.com/2PTeQaQyjB

— #SMPMember Program (@SMPMemberPSB) September 21, 2016
'18 McKenna Ford impressed at #EBAAllAmerican earlier this month. Continues to build on her game!https://t.co/cVpWCKlnIb pic.twitter.com/KLwBI91rB1

— Rebecca Dyer (@RebeccaDyerPSB) September 20, 2016
McKenna Ford impressed @JLHemingwayPSB with her play at #EBAAllAmerican.

PAGE: https://t.co/VDQ4KZsejE pic.twitter.com/ug16m0lt9B

— Brandon Clay (@BrandonClayPSB) September 10, 2016
Major Key Alert: "Pay attention to detail." – @BrandonClayPSB to @mckenna_forddd & all the #EBAAllAmerican campers. https://t.co/d4IT6XWijS

— PSB Events (@PeachStateBBall) September 6, 2016
#SMPMember @mckenna_forddd … Definitely showed and proved this weekend at the #EBAAllAmerican Camp.

HER PAGE: https://t.co/Y3zBz7COSX

— Jarrett Christian (@jarrettproPSB) September 5, 2016
Love the energy #SMPMember '18 McKenna Ford brings to the skill sessionshttps://t.co/kFjZMxg5wL pic.twitter.com/zrUXTugSki

— Kris Watkins (@KrisWatkinsPSB) September 3, 2016
#SMPMember McKenna Ford locked in at the #EBAAllAmerican ! pic.twitter.com/wHlSddQ2pR

— Jarrett Christian (@jarrettproPSB) September 3, 2016
Sept. 3-4

Evie DePetro
McKenna Ford
Alea Harris
Nicole Leff

JOIN THEM: https://t.co/JNkkUpdNDv pic.twitter.com/VF8q1TTdwE

— Brandon Clay (@BrandonClayPSB) August 23, 2016
'18 McKenna Ford (OH) is in for #EBAAllAmerican Sept. 3-4

PAGE:https://t.co/cVpWCKCZ6L pic.twitter.com/4RPCJbD7jx

— Rebecca Dyer (@RebeccaDyerPSB) August 10, 2016
After visiting San Diego, #SMPMember McKenna Ford is at #EBAAllAmerican Sep. 3-4.

HER PAGE: https://t.co/sahPfPHt3l pic.twitter.com/lGMt4md6jp

— #SMPMember Program (@SMPMemberPSB) August 2, 2016
Count McKenna Ford in for the #CoachHemiWorkout Oct 8-9. She'll rep the @Capcitystars

JOIN https://t.co/5Zje8B2G65 pic.twitter.com/RIzS94ti1W

— Jonathan Hemingway (@JLHemingwayPSB) August 1, 2016
'18 McKenna Ford attended multiple Elite Camps in June. Link below

PAGE:https://t.co/cVpWCKCZ6L pic.twitter.com/X9X8wXLTyf

— Rebecca Dyer (@RebeccaDyerPSB) July 8, 2016
'18 McKenna Ford of @Capcitystars visited San Diego.

PAGE: https://t.co/sahPfPZ3UT @mckenna_forddd https://t.co/vJKyA9pgCr

— #SMPMember Program (@SMPMemberPSB) July 2, 2016
'18 McKenna Ford (OH) visited UNC, has an updated ACT score of 25.

HER PAGE: https://t.co/VDQ4KZJPbc pic.twitter.com/dtLyhDT9Ax

— Brandon Clay (@BrandonClayPSB) June 3, 2016
'18 McKenna Ford (OH) will hoop with the Capital City Stars pic.twitter.com/VIvrWzRHcP

— Rebecca Dyer (@RebeccaDyerPSB) May 31, 2016
'18 W McKenna Ford (OH) has a 3.98 GPA & a 24 ACT.

HER PAGE: https://t.co/VDQ4KZsejE @burchfieldb15 pic.twitter.com/fnxMsY7LcV

— Brandon Clay (@BrandonClayPSB) May 5, 2016
2018 McKenna Ford now has an updated player card with an eval from #EBATop40.

HERE: https://t.co/QuKMjSCFfF pic.twitter.com/M88w6dHlwI

— ProspectsNation.com (@ProspectsNation) March 28, 2016
#EBATop40 Recap:

Jenna Brown
Avree Carpenter
Lizzie Davis
Emma Drash
McKenna Ford

LINK: https://t.co/cPVEqAepGF pic.twitter.com/Frgzyk8Vi5

— Brandon Clay (@BrandonClayPSB) March 8, 2016
#EBATop40: Was impressed w/ the play of '18 McKenna Ford @mckenna_forddd yesterday she is poised for a big day today on @SUVtv

— Kris Watkins (@KrisWatkinsPSB) March 6, 2016
---

Brandon Clay is the owner of the JumpOffPlus.com International Report, Peach State Basketball, Inc., and ProspectsNation.com. The JumpOffPlus.com is picked up by more than 200 colleges and universities nationwide. In addition to serving as ProspectsNation.com WNBA Director of Scouting, Clay serves as the Executive Camp Director for the Elite Basketball Academy Camps. He is a McDonald's All-American Game Selection Committee member. Clay serves on the Naismith Trophy Men's / Women's College Player of the Year Academy and is the National Coordinator of Voting for the Boys / Girls All-American Teams. He has been involved in the community since 2001. You can reach Clay at [email protected]