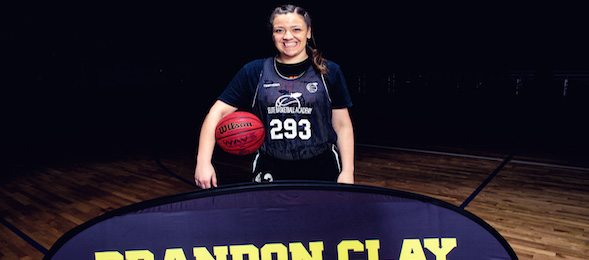 ---
With over 40,000 collective followers on our team's social media outlets, we're in a unique position to assist with both creating awareness of a prospect's skill set and recent on-floor performance. From crisp recruiting updates to updated in-season stats to a potential last-minute change in schedule that needs to be conveyed socially, this package allows the player to control the information available to the public about their game.
Become an #SMPMember for maximum Recruiting Exposure: Click the Logo Below

---
Class of 2018 post of Harlan, Ky., is a serious scoring and rebounding threat on the interior.
Brandon Clay's takeaway – High School Season (Spring 2017): Gross has the size and skill to make positive plays on both ends of the hardwood. She is a capable scorer on the interior averaging 65.7 percent from the field during her school career to date. That is in addition to scoring 1500 plus points and snatching over 800 rebounds with her senior season to play. She is already the leading shot blocker in school history.
Name: Kaylea Gross
Height: 6'1″
HS Grad Year: 2018
Position: PF/C
School / Hometown: Harlan County HS (Harlan, Ky.)
Club Team: Kentucky Premier
---
#BrandonClayScouting Video Evaluation: September 2017
---
Social Media Updates:
#SMPMember🍑 College Recruiting
Powered by @SMPMemberPSB

'18 P Kaylea Gross (KY) of @HCGirlsBball1 has chosen Univ. of Cumberlands.

She stood out at #EBAFallFinale in 2017.

Added multiple schools to her list as a part of our program.

Who will be next?!?

{📷: @TyPhotog} pic.twitter.com/WhTEVK69yh

— Brandon Clay (@BrandonClayPSB) February 20, 2018
#SMPMember Recruiting News

Available '18 P Kaylea Gross (KY) visited Lincoln Memorial.#BrandonClayScouting🍑 PAGE w/@KrisWatkinsPSB Highlight 🎥📽: https://t.co/ZuF821z0Y1

LEARN MORE ABOUT SMP: https://t.co/8GnB3G0viZ pic.twitter.com/4pJeJGedft

— Brandon Clay (@BrandonClayPSB) November 9, 2017
#SMPMember🍑 Recruiting

Available '18 P Kaylea Gross earned @ProspectsNation words with her USC-Upstate offer.

READ https://t.co/5nD0RnBtgh pic.twitter.com/MHVzVEfkwB

— Brandon Clay (@BrandonClayPSB) October 26, 2017
THIS JUST IN

On a USC-Upstate visit, '18 Kaylea Gross gets an offer

Upstate saw her at #EBAFallFinalehttps://t.co/ZuF821z0Y1 pic.twitter.com/nMrztH7MuJ

— Brandon Clay (@BrandonClayPSB) October 14, 2017
#SMPMember🍑 Recruiting

'18 P Kaylea Gross (KY) had USC-Upstate in to see her. She plans to visit campus soon.

MORE https://t.co/ZuF821z0Y1 pic.twitter.com/ltG9ehO8ev

— Brandon Clay (@BrandonClayPSB) October 12, 2017
#SMPMember🍑 Recruiting

Arkansas State & Radford showed interest in Available '18 P Kaylea Gross at #EBAFallFinale:https://t.co/ZuF821z0Y1 pic.twitter.com/gYWyfvOAxA

— Brandon Clay (@BrandonClayPSB) September 28, 2017
#SMPMember🍑 Recruiting

1500+ points
800+ rebounds
65% from the field

🎥📹💻 Available '18 P Kaylea Gross (KY) HERE: https://t.co/ZuF821z0Y1 pic.twitter.com/kRRNEfZC9J

— Brandon Clay (@BrandonClayPSB) September 8, 2017
#SMPMember Recruiting

'18 P Kaylea Gross (KY)

3.8 GPA
Scores on interior

Full 🎥 Breakdown from @BrandonClayPSB ⬇https://t.co/SPyjejUPqQ pic.twitter.com/GtaXdA9Vk5

— Kris Watkins (@KrisWatkinsPSB) September 1, 2017
#BrandonClayScouting🍑 #SMPMember

THIS JUST IN

Available '18 @kayleagross42 adds a Cumberlands offer.@KrisWatkinsPSB video drops Friday. https://t.co/rfiHeOMWP0

— Brandon Clay (@BrandonClayPSB) August 30, 2017
#SMPMember🍑 @ #EBAFallFinale Showcase

9/23-24

'18 P Kaylea Gross (KY) reps @HCGirlsBball1 & @GreenDebbie32

JOIN: https://t.co/QCCx96kZvc pic.twitter.com/CbAK725HZc

— Brandon Clay (@BrandonClayPSB) August 24, 2017
#SMPMember Recruiting

'18 P Kaylea Gross of Harlan Co. (KY) visited Lincoln Memorial on Saturday.

PAGE: https://t.co/ZuF821z0Y1 @KarliWYMT pic.twitter.com/bKqeMfa9xA

— Brandon Clay (@BrandonClayPSB) August 15, 2017
Just In Time For July Eval

Welcome '18 P Kaylea Gross

HS: @GreenDebbie32
Club: @KentuckyPremier

PAGE: https://t.co/ZuF821z0Y1 pic.twitter.com/BXJGFzhgn1

— Brandon Clay (@BrandonClayPSB) July 6, 2017

Brandon Clay is the owner of the JumpOffPlus.com International Report, Peach State Basketball, Inc., and ProspectsNation.com. The JumpOffPlus.com is picked up by more than 200 colleges and universities nationwide. In addition to serving as ProspectsNation.com WNBA Director of Scouting, Clay serves as the Executive Camp Director for the Elite Basketball Academy Camps. He is a McDonald's All-American Game Selection Committee member. Clay serves on the Naismith Trophy Men's / Women's College Player of the Year Academy and is the National Coordinator of Voting for the Boys / Girls All-American Teams. He has been involved in the community since 2001. You can reach Clay at [email protected]