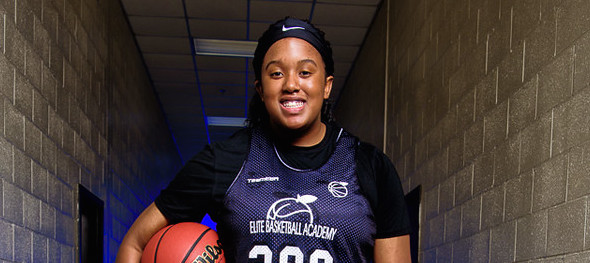 ---
With over 20,000 collective followers on our team's social media outlets, we're in a unique position to assist with both creating awareness of a prospect's skill set and recent on-floor performance. From crisp recruiting updates to updated in-season stats to a potential last-minute change in schedule that needs to be conveyed socially, this package allows the player to control the information available to the public about their game.
Become an #SMPMember: Click the Logo Below

Social Media Updates: Use #SMPMember and follow @SMPMemberPSB
Class of 2018 center Zoe Hardwick of Eden Prairie, Minn., proved that she is one of the premier interior threats inside of the North Star State with her play at the #EBASuper64 Camp in June 2015. Hardwick also showcased her talents in front of BrandonClayScouting.com National Evaluator, Stephen Peck and Brandon Clay himself, at the #EBASuper64 Camp in June 2016.
Brandon Clay's takeaway – EBASuper64 Camp (Sept. 2016): Hardwick is a post player who finishes very well around the bucket. She has soft touch in traffic and can take the bump to finish. Her size allows her to carve out size and gain angles to score on the interior. Impressively she also showed range on her jumper in the mid-range, which gives her the added threat to be a step-out threat when guards drive towards the bucket. The next step for Zoe will be to make her footwork as crisp and decisive as possible. This will ensure that she finishes possessions at the high percentage possible.
Brandon Clay's takeaway: (Lawrenceville, Ga. – June 2016) Hardwick has worked hard to address the conditioning issue mentioned last winter. She's changed her frame and is seeing positive on floor results. Hardwick has strong hands and a good touch on the ball around the basket. During this camp evaluation, she showed her ability to shoot the ball from the perimeter and midrange area
Brandon Clay's takeaway: (Minneapolis, Minn. – December 2015) Hardwick is a legitimate interior option in the middle. She has good hands and feet. Hardwick's conditioning will be a key in her development.
Vitals
Name: Zoe Hardwick
Height: 6'2″
HS Grad Year: 2018
Position: C
School: Minnetonka HS (Minnetonka, Minn.)
Club Team: North Star Hoops #PSBFamily
---
#SMPFilmRoom Breakdown February 2017:
ProspectsNation.com Video Evaluation – September 2015:
Social Media Updates:
#SMPMember🍑 Recruiting Program

THIS JUST IN#CommitmentCentral

'18 P @hardwickzoe32 (MN) to Northern State

PAGE: https://t.co/JLZVRvgL2I pic.twitter.com/VuGsGDSAkJ

— Brandon Clay (@BrandonClayPSB) September 18, 2017
#SMPMember🍑 Recruiting

'18 P @hardwickzoe32 (MN) now has multiple Northern Sun Conference offers.@Jarrett_PRO sent intro emails last fall pic.twitter.com/N9XSYTC0Fk

— Brandon Clay (@BrandonClayPSB) September 6, 2017
#SMPMember Recruiting

HIGH ACADEMIC WATCH

'18 P @hardwickzoe32 of @MtkaGHoops gets it done in the classroom.

MORE https://t.co/JLZVRvgL2I https://t.co/aaC7GglEjQ

— Brandon Clay (@BrandonClayPSB) July 2, 2017
#SMPMember Recruiting Exposure

"@hardwickzoe32 (2018) has good hands & touch at the rim." – @BrandonClayPSB

PAGE: https://t.co/A828DQLfTC https://t.co/SRGVxDZmdc

— SMP Recruit Exposure (@SMPMemberPSB) May 17, 2017
#SMPMember Exposure Program

'18 P @HardwickZoe32 (MN) continues to grow her game.

Progression from 2015 to '17 📽: https://t.co/JLZVRvgL2I pic.twitter.com/KCzVkJSseR

— Brandon Clay (@BrandonClayPSB) February 15, 2017
'18 Post Zoe Hardwick (MN) is getting comfortable w/her Minnetonka team.

LEARN MORE ON @hardwickzoe32: https://t.co/JLZVRvgL2I pic.twitter.com/Rai4nikDUw

— Brandon Clay (@BrandonClayPSB) January 10, 2017
I love how '18 Zoe Hardwick @hardwickzoe32 uses her footwork to seal and score inside

Her pagehttps://t.co/i9JqoTBqcx

🎥⬇️ pic.twitter.com/IWQaHscXbC

— Kris Watkins (@KrisWatkinsPSB) January 2, 2017
'18 Zoe Hardwick (@hardwickzoe32) has new interest from Minnesota Duluth.

PAGE: https://t.co/JLZVRvgL2I pic.twitter.com/IVvaw9qdiD

— Brandon Clay (@BrandonClayPSB) November 11, 2016
'18 Zoe Hardwick (MN) @hardwickzoe32 has a new eval. Read @BrandonClayPSB's takeaway

LINK:https://t.co/otpYP55WhM pic.twitter.com/QPyIDMAHQD

— Rebecca Dyer (@RebeccaDyerPSB) November 9, 2016
Breaking down film of '18 @hardwickzoe32 (MN)

She Continues to improve her scoring ability

Her Page:https://t.co/i9JqoTBqcx pic.twitter.com/CYSuiakbCP

— Kris Watkins (@KrisWatkinsPSB) November 7, 2016
Zoe Hardwick (@hardwickzoe32) continues to shine & improve at EBA Events.

READ: https://t.co/A828DQLfTC pic.twitter.com/vVbtciDFoC

— #SMPMember Program (@SMPMemberPSB) October 5, 2016
'18 P Zoe Hardwick (MN) has a new @TyPhotog profile pic & crisp skill set evaluation posted.

HER PAGE: https://t.co/JLZVRuZ9E8 pic.twitter.com/NpwCdlMlaE

— Brandon Clay (@BrandonClayPSB) October 4, 2016
'18 Zoe Hardwick @hardwickzoe32 stands at 6″2 & operates well in the paint @43HoopsBC https://t.co/otpYP4OkTc pic.twitter.com/V0ahdxoaKM

— Rebecca Dyer (@RebeccaDyerPSB) September 21, 2016
'18 Zoe Hardwick @hardwickzoe32 had a great summer for @43HoopsBC

HERPAGE:https://t.co/otpYP55WhM pic.twitter.com/ATKWxAnrSh

— Rebecca Dyer (@RebeccaDyerPSB) August 10, 2016
'18 Zoe Hardwick (MN) continues to add new dimensions to her game

EVAL:https://t.co/LUvyMf2HU0 pic.twitter.com/m75PyZVi26

— Rebecca Dyer (@RebeccaDyerPSB) July 11, 2016
Zoe Hardwick (@hardwickzoe32) got her invite to #EBAAllAmerican Sept. 3/4

JOIN: https://t.co/HDjwafUwW8 pic.twitter.com/pV1YXt7cC6

— ProspectsNation.com (@ProspectsNation) June 23, 2016
Really impressed w/ '18 Zoe Hardwick @hardwickzoe32 at #EBASuper64

PAGE:https://t.co/otpYP55WhM pic.twitter.com/l5Kr33cfGF

— Rebecca Dyer (@RebeccaDyerPSB) June 9, 2016
#EBASuper64 #SMPMember '18 Zoe Hardwick @hardwickzoe32 performing well in the skills breakdown this morning!

— Rebecca Dyer (@RebeccaDyerPSB) June 5, 2016
'18 Zoe Hardwick of Eden Prairie (MN) in for #EBASuper64 @hardwickzoe32.

JOIN: https://t.co/XWZyztwSq6 pic.twitter.com/qcpR9MWS9d

— Brandon Clay (@BrandonClayPSB) May 14, 2016
I love '18 P @hardwickzoe32's (MN) ability. So does Bret McCormick.

HER PAGE: https://t.co/JLZVRuZ9E8 pic.twitter.com/6IyCM1U0wK

— Brandon Clay (@BrandonClayPSB) April 29, 2016
'18 P Zoe Hardwick (MN) is playing club with @43HoopsBC.

PAGE: https://t.co/JLZVRvgL2I @hardwickzoe32 pic.twitter.com/40G3xQA09x

— Brandon Clay (@BrandonClayPSB) April 20, 2016
'18 C Zoe Hardwick (MN) had a solid HS varsity season for Eden Prairie.

PAGE: https://t.co/JLZVRuZ9E8 pic.twitter.com/JN5EccnkH9

— Brandon Clay (@BrandonClayPSB) March 29, 2016
#SMPMember: '18 Zoe Hardwick (MN) showed her willingness to improve at #EBASuper64.

SMP PAGE: http://t.co/JLZVRuZ9E8 pic.twitter.com/mH9q8f8Svh

— Brandon Clay (@BrandonClayPSB) June 22, 2015
Great day today at the EBA 64 camp pic.twitter.com/hVAlMhy2XZ

— Zoe Hardwick (@hardwickzoe32) June 6, 2015
#Super64Camp: '18 C Zoe Hardwick @hardwickzoe32 (MN) will rep Chris Carr @43HoopsBC on June 7-8. http://t.co/YN5do00y1x

— #TeamEBA (@TeamEBA) May 28, 2014

Brandon Clay is the owner of the JumpOffPlus.com International Report, Peach State Basketball, Inc., and ProspectsNation.com. The JumpOffPlus.com is picked up by more than 200 colleges and universities nationwide. In addition to serving as ProspectsNation.com WNBA Director of Scouting, Clay serves as the Executive Camp Director for the Elite Basketball Academy Camps. He serves on the Naismith Trophy Men's / Women's College Player of the Year Academy and is the HS Boys / Girls All-American Team Board of Selectors Chairperson. Clay has been involved in the community since 2001. You can reach him at [email protected]