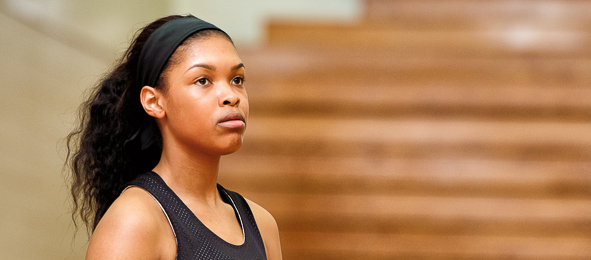 ---
With over 40,000 collective followers on our team's social media outlets, we're in a unique position to assist with both creating awareness of a prospect's skill set and recent on-floor performance. From crisp recruiting updates to updated in-season stats to a potential last-minute change in schedule that needs to be conveyed socially, this package allows the player to control the information available to the public about their game.
Become an #SMPMember for maximum Recruiting Exposure: Click the Logo Below

---
Class of 2018 guard Jaelyn Durrett of Lansdowne, Pa., a solid combo option who can handle and make plays with the ball in her hands.
---
Evaluations:
Jonathan Hemingway's takeaway – #EBASuper64 Showcase (June 2017):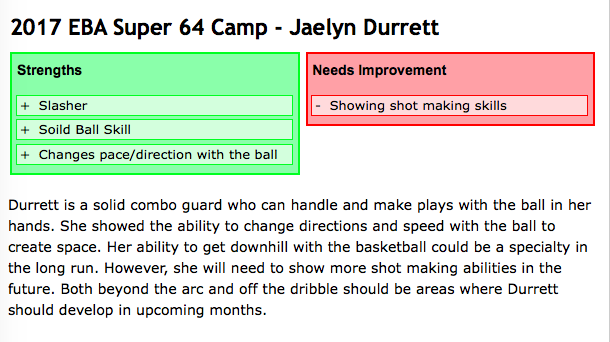 Keil Moore's takeaway – Keil Moore Fall Showcase (Oct. 2016):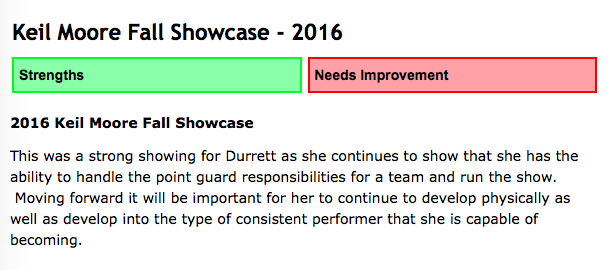 Jonathan Hemingway's takeaway – #EBASuper64 Showcase (June 2016):
---
Vitals:
Name: Jaelyn Durrett
Height: 5'8″
HS Grad Year: 2018
Position: PG / SG
School / Hometown: West Catholic HS (Lansdowne, PA)
Club Team: SMAC Philly
College Choice: Wilmington University
---
Social Media Updates:
#SMPMember🍑 College Recruiting
Fueled by @SMPMemberPSB

Need Exposure? We're here to help.

THIS JUST IN#CommitmentCentral

'18 G Jaelyn Durrett (PA) of @wccoachb @LadyBurrs has chosen Wilmington Univ.

SMP PAGE: https://t.co/uqEqPgCAvt

JOIN SMP: https://t.co/8GnB3G0viZ pic.twitter.com/xl6NEgCArL

— Brandon Clay (@BrandonClayPSB) May 22, 2018
#SMPMember🍑 News
Fueled by @BClayScouting@KeilMoorePSB has been a Jaelyn Durrett (@Iam_Jaelyn10) advocate for years.

The Available '18 G of @LadyBurrs & @SMAC_Phila will be a quality add late. @VinceSmithPSB agrees.

Her #BrandonClayScouting Page: https://t.co/JZAvcZGGzy https://t.co/Rc4fm4FVQB

— SMP Recruit Exposure (@SMPMemberPSB) January 12, 2018
#SMPMember🍑 Program News

Available '18 G Jaelyn Durrett (PA) caught @KeilMoorePSB's attention with her play at his event.

Now she has Wagner's as well. She caught theirs @SheGotGame7.

Her #BrandonClayScouting PAGE: https://t.co/uqEqPgCAvt @LadyBurrs pic.twitter.com/XICg0VrbRr

— Brandon Clay (@BrandonClayPSB) December 15, 2017
#SMPMember🍑 Recruiting

Available '18 G Jaelyn Durrett (PA) @Iam_Jaelyn10 was impressive @KeilMoorePSB's Showcase last month. Solid option capable of playing on or off the ball. @LadyBurrs

Her #BrandonClayScouting PAGE: https://t.co/uqEqPgCAvt @SMAC_Phila https://t.co/gWeuS4OrzK

— Brandon Clay (@BrandonClayPSB) November 21, 2017
#SMPMember🍑 Recruiting

Florida A&M & St. Rose reached out on '18 G Jaelyn Durrett (PA).

PAGE: https://t.co/uqEqPgCAvt @LadyBurrs @wccoachb pic.twitter.com/fb4tEvg1X3

— Brandon Clay (@BrandonClayPSB) October 20, 2017
#SMPMember🍑 Recruiting Program

"Available '18 PG @Iam_Jaelyn10 (PA) is a willing table setter. Likes to get her team involved." @CoachHemi https://t.co/XY9EimnvWM

— SMP Recruit Exposure (@SMPMemberPSB) October 3, 2017
#SMPMember🍑 Recruiting

Charleston is the latest to inquire on Available '18 G Jaelyn Durrett (PA)

She's at #EBAFallFinale Showcase Sat/Sun pic.twitter.com/2ukzCifc5V

— Brandon Clay (@BrandonClayPSB) September 21, 2017
#SMPMember🍑 Recruiting

Available '18 Jaelyn Durrett (PA) is our newest member

She's at #EBAFallFinalehttps://t.co/uqEqPgCAvt @LadyBurrs pic.twitter.com/bvkj12yU4P

— Brandon Clay (@BrandonClayPSB) August 23, 2017
#EBAFallFinale Individual Showcase

Sep. 23-24

Available '18 G Jaelyn Durrett (PA) is in to shine.

JOIN https://t.co/QCCx96CAmK @LadyBurrs pic.twitter.com/P61c8veRwE

— Brandon Clay (@BrandonClayPSB) August 11, 2017
Jaelyn Durrett (PA-18) proved herself at #EBASuper64. Read about her game –> http://t.co/1qiR9aZOb4 ​@​Iam_Jaelyn10 pic.twitter.com/zzgkKKofq0

— ProspectsNation.com (@ProspectsNation) July 20, 2015
#KMFallShowcase – 2018 PG Jaelyn Durrett continues to show the ability to run a team. https://t.co/GWwqW9yAq2 pic.twitter.com/eL1a07kKL1

— Keil Moore (@KeilMoorePSB) November 23, 2016
#EBASuper64 National Showcase

June 3-4

'18 G Jaelyn Durrett (PA) is back to show her growth.

JOIN HER: https://t.co/tJAgOJkP5h pic.twitter.com/97fvcDBHQt

— Brandon Clay (@BrandonClayPSB) May 6, 2017

Brandon Clay is the owner of the JumpOffPlus.com International Report, Peach State Basketball, Inc., and ProspectsNation.com. The JumpOffPlus.com is picked up by more than 200 colleges and universities nationwide. In addition to serving as ProspectsNation.com WNBA Director of Scouting, Clay serves as the Executive Camp Director for the Elite Basketball Academy Camps. He is a McDonald's All-American Game Selection Committee member. Clay serves on the Naismith Trophy Men's / Women's College Player of the Year Academy and is the National Coordinator of Voting for the Boys / Girls All-American Teams. He has been involved in the community since 2001. You can reach Clay at [email protected]