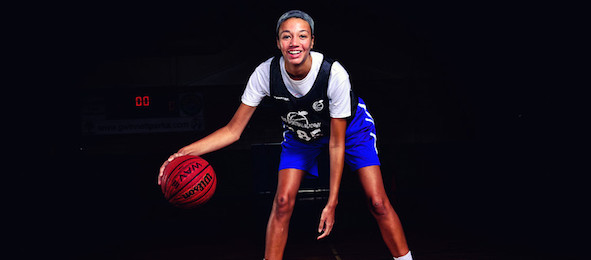 With over 40,000 collective followers on our team's social media outlets, we're in a unique position to assist with both creating awareness of a prospect's skill set and recent on-floor performance. From crisp recruiting updates to updated in-season stats to a potential last-minute change in schedule that needs to be conveyed socially, this package allows the player to control the information available to the public about their game.
Become an #SMPMember for maximum Recruiting Exposure: Click the Logo Below

---
Class of 2018 post Hannah Sadler of Lilburn, Ga., has shown herself as a versatile option in the post capable of running the floor in transition.
Brandon Clay's takeaway – #EBASuper64 Showcase (June 2017): For a post prospect who is still relatively new to the game, Sadler's skill and understanding of what she sees is impressive. Her physical strength and overall offensive completion rate will continue to improve at the collegiate level as she sees more and more game speed repetitions. Sadler's foundation is solid as is her performance in the classroom. Keep an eye on her going forward.
Jonathan Hemingway's takeaway – #EBASuper64 Showcase (June 2017): Sadler has the tools to be a very effective player at the next level. She has the length to affect the game in the paint on both ends of the court. She can alter shots from opponents defensively, while also being a threat on the offensive glass. She has remarkable versatility in that she can hit perimeter jumpers as a true center. When she has time and space she can hit a high percentage from the elbow and short corner areas. In that way, she is a perfect pick and pop post player. She will need to continue to work on her physical conditioning especially in adding strength in her core. That will allow her to play in physical conditions when teams try to put bodies on her to deter her.
Name: Hannah Sadler
Height: 6'3″
HS Grad Year: 2018
Position: PF / C
GPA / SAT: 3.4 / 960
School / Hometown: Parkview HS (Lilburn, Ga.)
Club Team: Team Elite Hubbard #PSBFamily
Committed College: Old Dominion
---
Social Media Updates:
#SMPMember🍑 Program News
Powered by @SMPMemberPSB

'18 P Hannah Sadler (@Hannah_sadler24) of Parkview & Team Elite joined our program in June.

Multiple offers and a commitment to ODU later, here's what she'll bring to the roster.@ProspectsNation STORY: https://t.co/ZfBuKbLQCg pic.twitter.com/cLG0zYkrBo

— Brandon Clay (@BrandonClayPSB) January 26, 2018
#SMPMember🍑 Program News
Powered by @SMPMemberPSB#CommitmentCentral

'18 P Hannah Sadler (@Hannah_sadler24) of Parkview HS & Team Elite EYBL #PSBFamily is headed to Old Dominion.

Her #BrandonClayScouting Page: https://t.co/H4CSRPXX1s

JOIN SMP TODAY: https://t.co/8GnB3G0viZ pic.twitter.com/2H5s3NvvnK

— Brandon Clay (@BrandonClayPSB) January 22, 2018
#SMPMember🍑 Program News
Powered by @SMPMemberPSB

Available '18 F Hannah Sadler (@Hannah_sadler24) of @parkview_hoops & @niketeamelite1 added an offer from @WinthropWBB this weekend.

Sadler's #BrandonClayScouting Page: https://t.co/H4CSRPXX1s @CoachKevinLynum [📷 @stylistmeg] pic.twitter.com/PvO6byGpT0

— Brandon Clay (@BrandonClayPSB) January 8, 2018
#SMPMember🍑 Program News

UAB & UMass were out this weekend for Available '18 6'3" P Hannah Sadler of @parkview_hoops.

In 2 games, Sadler finished with:

41 pts
27 rbs
11 stls
5 blks

Check @Hannah_sadler24's #BrandonClayScouting Page: https://t.co/H4CSRPXX1s @morganedelman1 pic.twitter.com/2b4DupcLFS

— Brandon Clay (@BrandonClayPSB) December 17, 2017
#SMPMember🍑 Program News

Available '18 P Hannah Sadler (GA) had a big night for Parkview.

22 points
13 rebounds
8 steals
3 blocks

Her #BrandonClayScouting Page {📷 by @theelitepackage}: https://t.co/H4CSRPXX1s @Hannah_sadler24 pic.twitter.com/Y15kytq9te

— Brandon Clay (@BrandonClayPSB) December 16, 2017
#SMPMember🍑 Recruiting

Georgia Southern & UMass talked with 6-3 Available '18 P @Hannah_Sadler24 this week.

MORE: https://t.co/H4CSRPXX1s pic.twitter.com/gaglRmqNJj

— Brandon Clay (@BrandonClayPSB) October 26, 2017
#SMPMember🍑 Recruiting

USC-Aiken saw Available '18 P @Hannah_Sadler24 of @teamelitebball#BrandonClayScouting PAGE https://t.co/H4CSRPXX1s pic.twitter.com/2g2dkMY6dc

— Brandon Clay (@BrandonClayPSB) October 7, 2017
Available 6'3 @Hannah_sadler24
runs the floor for easy buckets and alters shots#SMPMember Pagehttps://t.co/ZaMJsRdTPp pic.twitter.com/2Ln6O6PxO8

— Kris Watkins (@KrisWatkinsPSB) September 23, 2017
#PSBEndOfTheRoad🍑 Tourney

Available 6-3 '18 P @Hannah_Sadler24 reps @TeamElitebball, @HubbardCoach#SMPMember PAGE https://t.co/xpTn4vDcaP pic.twitter.com/RauvZQBj8U

— Brandon Clay (@BrandonClayPSB) September 19, 2017
#SMPMember🍑 6'3 @Hannah_sadler24 proved herself at #PSBElite32🍑

STORY (https://t.co/2VFt1wShwR)#CoachHemiATL 🎥 https://t.co/7txSC35wwi pic.twitter.com/wRhTUC0cM7

— Jonathan Hemingway (@JLHemingwayPSB) September 1, 2017
6'3" 2018 Post @Hannah_Sadler24 earned @KeilMoorePSB's praise.

She's still available. 990 SAT.

INFO: https://t.co/H4CSRPXX1s pic.twitter.com/FmPwq4mEhE

— Brandon Clay (@BrandonClayPSB) August 30, 2017
#CoachHemi Featured Player

Check #SMPMember @Hannah_sadler24 🎥

HEREhttps://t.co/TuGwg5Rq01 https://t.co/ZD8NtNPz5N

— Jonathan Hemingway (@CoachHemi) August 26, 2017
Sadler finished with 6 rebounds, 5 blocks while altering several other shots in a match-up vs 6-5 E. Cunane (NC St) & E. Kitley#SMPMember pic.twitter.com/XbQ5PsqmO7

— Jonathan Hemingway (@JLHemingwayPSB) July 27, 2017
Available '18 P @hannah_sadler24
Has been blocking shots all day!

Her #SMPMember Page https://t.co/ZaMJsRdTPp

Watch ⬇️ pic.twitter.com/3SZhOGvNqS

— Kris Watkins (@KrisWatkinsPSB) July 27, 2017
'18 P @hannah_sadler24 of @hubbardcoach & @TeamElitebball has @KeilMoorePSB's stamp of approval.

PAGE: https://t.co/HNh0vEdzKp https://t.co/gu4akIcOgZ

— SMP Recruit Exposure (@SMPMemberPSB) July 27, 2017
#SMPMember Alert

"2018 Post @Hannah_sadler24 has unlimited potential. She's just scratching the surface." – @CoachHemi

🎥 @ParallelsMedia_ https://t.co/GiHsiowtgh

— SMP Recruit Exposure (@SMPMemberPSB) July 18, 2017
#SMPMember Recruiting Exposure

'18 P @Hannah_Sadler24 (GA) has updated academic info:

GPA: 3.2
SAT: 990

HER PAGE: https://t.co/H4CSRPXX1s pic.twitter.com/3ETwoJUEZI

— Brandon Clay (@BrandonClayPSB) July 16, 2017
'18 P @Hannah_sadler24 (GA) of @HubbardCoach visited @bluehosewbb.

She's a MUST track in July.

MORE: https://t.co/H4CSRPXX1s https://t.co/vByPXYV9Id

— Brandon Clay (@BrandonClayPSB) July 3, 2017
#SMPMember Recruiting Exposure

Welcome '18 P Hannah Sadler (GA)

Club: @TeamElitebball

HER INFO: https://t.co/H4CSRPXX1s @Hannah_sadler24 pic.twitter.com/fkVIaHCZRl

— Brandon Clay (@BrandonClayPSB) June 27, 2017
Hannah Sadler (@Hannah_sadler24) of @HubbardCoach not only offers good defensive presence but can score in multiple ways. pic.twitter.com/syxyndTtS4

— PSB Events (@PeachStateBBall) June 4, 2017
"I need to see '18 Hannah Sadler at #EBAAllAmerican, she's got the right tools." – @AndrayaCarter

JOIN:https://t.co/BLf8mXUUtG pic.twitter.com/UbGEb8bkko

— PSB Events (@PeachStateBBall) June 4, 2017
#EBASuper64 National Showcase

June 3-4

'18 Hannah Sadler (GA) reps Team Elite & Parkview.

JOIN: https://t.co/tJAgOJkP5h @hannah_sadler24 pic.twitter.com/n8WSNoh2ao

— Brandon Clay (@BrandonClayPSB) May 15, 2017
#PSBSpringShowdown @StephenPeckPSB & @BrandonClayPSB impressed with this @TeamElitebball team. Mariah Holder & Hannah Sadler heating up. pic.twitter.com/RdNVl0eXSA

— PSB Events (@PeachStateBBall) March 24, 2017
2018 Hannah Sadler was big for @TeamElitebball earlier. Noticed her ability to catch it in the paint & read her options. pic.twitter.com/PU7PWynrYr

— JD Davis (@JDavisPSB) March 25, 2017
Gogo & Juju Maduka, plus Hannah Sadler seem to be key for @TeamElitebball to beat FBC. They are WORKING down low.

— PSB Events (@PeachStateBBall) March 26, 2017

Brandon Clay is the owner of the JumpOffPlus.com International Report, Peach State Basketball, Inc., and ProspectsNation.com. The JumpOffPlus.com is picked up by more than 200 colleges and universities nationwide. In addition to serving as ProspectsNation.com WNBA Director of Scouting, Clay serves as the Executive Camp Director for the Elite Basketball Academy Camps. He is a McDonald's All-American Game Selection Committee member. Clay serves on the Naismith Trophy Men's / Women's College Player of the Year Academy and is the National Coordinator of Voting for the Boys / Girls All-American Teams. He has been involved in the community since 2001. You can reach Clay at [email protected]