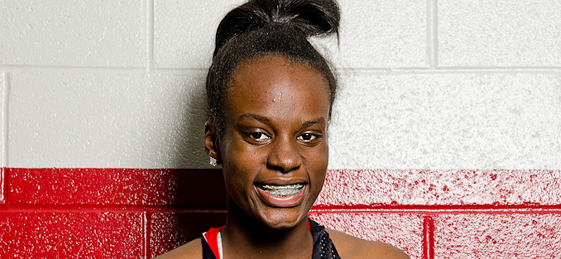 SUWANEE, Ga. — The sixth annual Elite Basketball Academy Fab Five Camp was, once again, a setting for up and coming players to work on skill development and implement those skills in game situations. The talent pool was deep and we were impressed with the progression of a lot of the attendees.  Here's a quick look at a few players that caught our attention over the weekend.
By: Stephen Peck

Brittany Ward — Pike HS (Indianapolis, Ind.) — 2015
 Athletes with good motors always draw our attention, as was the case with Brittany Ward. The 6-foot power forward runs the floor well, often leading the break and creating scoring opportunities for herself or her teammates. The combinations of her length and court awareness are truly assets that add to her effectiveness as a complete player. We were really impressed with her tenacity in attacking defenses off the dribble. As she gets stronger and fine-tunes her skill set, Ward will be a player that all eyes will be on.
Spotlight Players
Cierra Carter — Spring Valley HS (Columbia, S.C.) — 2014
This was a good weekend for the 5-10 power forward from South Carolina. Carter started out slow on the first day, but as camp progressed so did her game. We were really impressed with her footwork around the rim and her ability to finish with either hand. With her attacking dribble-drive, defenses have to be aware of her presence, both inside and out. Her drive and determination were apparent in her pursuit of rebounds, especially on the offensive end. Carter has a scorer's mentality and, as she continues to develop her perimeter shooting, her game will transcend well at the next level.
Kaylee Barnard — University HS (Orlando, Fla.) — 2014
 If I were looking for a player who is going to give me solid, consistent effort on both ends of the floor, I would be well served with 5-8 guard, Kaylee Barnard.  Her poise and basketball I.Q. set her apart from players who may be more athletic.  Barnard has a nice, high release on her jump shot and can knock down the three when she gets her feet set.  She has good size and can score at the rim with contact.  Barnard has had a solid summer and we look for her to continue to improve.
Parting Thoughts
The class of 2016 was represented well this weekend.  Sydnei Archie, Abbe Craine, Sarah Price, Emily Lyttle and Morgan Towells are just a few players that performed well and will compete in their first high school basketball this season.
When kids perform well at an early age, we can't help but want to peer into the crystal ball and see what the future has in store.  Blair Green most definitely peaked the interest of our entire staff this weekend.

Stephen Peck is a National Evaluator for the JumpOffPlus.com. He also serves on the selection committee for the EBA All-American, Fab Five and Super 64 Camps. He has been involved in the community since 2009 as a national evaluator. You can reach him via email at stephen[email protected] and follow him on twitter @scpeck2