BUFORD, Ga., – The Elite Basketball Academy Top 40 Workout is designed to bring some of the nation's top prospects together to compete and showcase their skills in front of BrandonClayScouting.com and OTRHoopsReport.com evaluators.

Kevin Kayongo, Team 7 (Lawrenceville, Ga.), Mountain View HS – 2018

The 6-foot-3 guard showed his skill set well at the EBA Top 40 Workout. He can act as a primary handler or be shooter that can shoot the ball off the move well. With a wiry frame, Kayongo has an athletic ceiling that could allow him to reach greater heights in future years. He logged big minutes this year for the coach BJ Roy's Mountain View High School team as just a freshman. All of these facts combined point to future success.
Miles Long, Team 8 (Lawrenceville, Ga.), Mountain View HS – 2018

Like the aforementioned Kayongo, Long also played significant minutes for the Bears at Mountain View this year as a freshman. Standing at 5-10, Long is a scat-back type guard who can push the tempo in transition. He is effective at splitting defenders to get to the lane and finish on the move. Long has many of the tools that will be necessary to become a successful high school point guard for years to come.
Anthony Showell, Team 5 (Suwanee, Ga.), Duluth HS – 2016

Showell is an EBA veteran that has attended multiple events in the past twelve months. In every viewing the 6′ guard gives consistent effort and is always among one of the top play-makers in the building. This showing was no different as Showell showed his patented ability to make defenders lean the wrong way, which allows him to create space. He definitely has the ability to score the ball in multiple ways. However, if can continue to expand his skills to set up his teammates for easy shots his value as a lead guard will sky rocket heading into the spring and summer viewing periods.
Click below for the EBA Top 40 Broadcasts powered by the SUVtv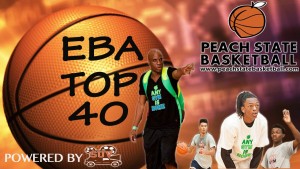 Elite Basketball Academy Series
***Designed for evaluation purposes, these are great opportunities for upperclassmen and underclassmen alike to get valuable game broadcasts that can be sent to college coaches with a single email message. For underclassmen, it also serves as the gateway for prospects with remaining high school eligibility to play in front of our National Evaluators.

Jonathan Hemingway is a National Evaluator for the OTRHoopsReport. Hemingway serves on the Board of Selectors for the Naismith Trophy. also He is also the publisher of CoachHemi.com. He has been involved in the community since 1996 as a coach, camp director and evaluator. You can reach him via email at [email protected] and follow him on  twitter @JLHemingwayPSB