BUFORD, Ga., – The Elite Basketball Academy Top 40 Workout is designed to bring some of the nation's top prospects together to compete and showcase their skills in front of BrandonClayScouting.com and OTRHoopsReport.com evaluators.

Kwei Lartey Team 8 (Suwanee, Ga.), Archer HS – 2015
We became familiar with Lartey's game while watching him play with the Archer Tigers over the past two seasons. The 6-foot-5 wing forward brings a blue collar mentality each time he hits the floor. Even in this showcase setting, he was a willing screener and defender. These are the type of things that may not make a highlight reel, but they are what coaches value the most when it comes time to win a game. Lartey's skill set is versatile as he can hit the open perimeter jumper while having strength and athleticism to affect the game on the interior. His future college coach will be delighted to coach Lartey in future years.
Darrion Taylor Team 6 (Grayson, Ga.), Archer HS – 2016
When picking a point guard to lead your team, there are certain characteristics that every coach wants to see from their leader. Some of those traits include decision making, leadership and play-making ability. The 5-8 Taylor has proved over time that he possesses all of those characteristics. Taylor led the Archer Tigers to a Sweet 16 birth this year in the GHSA State Tournament and followed that up with a terrific performance at the EBA Top 40 Camp. He is fast end to end with the ball in his hands. Taylor is one of those lead guards that will make plays, but not at the expense of turning the ball over at a high rate.
Alphonso Willis Team 3 (Grayson, Ga.), Grayson HS – 2016
At 6-4 Willis was one of the most athletic wings in the building. He has the ability to elevate to finish in traffic off the dribble. However, he uses that lift to rebound the ball as well. Playing the small forward position, Willis' value becomes even pronounced because he can act like a third front line player on the glass. This immediately puts an opposing team who tries to play three guards at a disadvantage, because he can defend the arc and gain rebound the offensive glass. We project Willis as one of the top wings returning in Gwinnett County next season.
Click below for the EBA Top 40 Broadcasts powered by the SUVtv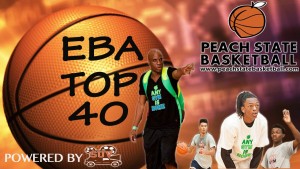 Elite Basketball Academy Series
***Designed for evaluation purposes, these are great opportunities for upperclassmen and underclassmen alike to get valuable game broadcasts that can be sent to college coaches with a single email message. For underclassmen, it also serves as the gateway for prospects with remaining high school eligibility to play in front of our National Evaluators.

Jonathan Hemingway is a National Evaluator for the OTRHoopsReport. Hemingway serves on the Board of Selectors for the Naismith Trophy. also He is also the publisher of CoachHemi.com. He has been involved in the community since 1996 as a coach, camp director and evaluator. You can reach him via email at [email protected] and follow him on  twitter @JLHemingwayPSB