BUFORD, Ga., – The Elite Basketball Academy Top 40 Workout is designed to bring some of the nation's top prospects together to compete and showcase their skills in front of BrandonClayScouting.com and OTRHoopsReport.com evaluators.

Noah Allen Team 2 (Concord, N.C.), North Murray HS – 2017

Allen is a great teammate on the floor. In this camp setting he was unselfish with his play as he was willing to make the extra pass and set screens away from the ball. Defensively he showed a high IQ being able to see ball and man away from the basketball. Although this was a limited viewing of Allen's skill set, he will need to continue to polish his game to develop a particular specialty to impact the game at a high level. His base of skills are solid, but we expect for him to grow in future years.
Elijah Jenkins Team 5 (Marietta, Ga.), Riverwood HS – 2017

Jenkins is maturing his game much as like his maturing physically. Standing now at 6-3 he has the length to be able to defend the wing, but is developing his ball handling skill to become a true combo guard. His specialty still centers around his ability to hit the jumper from beyond the arc. However, what is impressing us is his confidence with his ball handling which allows him to be a true dual threat back court player.
Kohl Roberts Team 7 (Sandy Springs, Ga.), Riverwood HS – 2017

Roberts is a player that you want on your team regardless of the situation. He is a high energy rebounder and defender who will make his team better each time he steps on the floor. Moreover Roberts is a great teammate as he is a vocal presence and always a positive influence on the court. You can tell that Roberts passion for the game extends past just the game as he showed true that same energy in drills and in 3 on 3 work. Standing at 6-6, there is a big reason why Roberts will draw the attention of several schools throughout the Southeast.
Click below for the EBA Top 40 Broadcasts powered by the SUVtv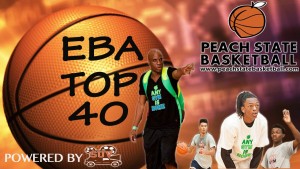 Elite Basketball Academy Series
***Designed for evaluation purposes, these are great opportunities for upperclassmen and underclassmen alike to get valuable game broadcasts that can be sent to college coaches with a single email message. For underclassmen, it also serves as the gateway for prospects with remaining high school eligibility to play in front of our National Evaluators.

Jonathan Hemingway is a National Evaluator for the OTRHoopsReport. Hemingway serves on the Board of Selectors for the Naismith Trophy. also He is also the publisher of CoachHemi.com. He has been involved in the community since 1996 as a coach, camp director and evaluator. You can reach him via email at [email protected] and follow him on  twitter @JLHemingwayPSB