BUFORD, Ga., – The Elite Basketball Academy Top 40 Workout is designed to bring some of the nation's top prospects together to compete and showcase their skills in front of BrandonClayScouting.com and OTRHoopsReport.com evaluators.

Kyvon Davenport Team 3 (Gainesville, Ga.), East Hall HS – 2015

Davenport finished a remarkable senior year where he helped coach Joe Dix's team to a 24-6 record and and an ELITE 8 appearance in the GHSA State Tournament. He garnered several post season awards which included being recognized by the Atlanta Tip-Off Club as an All-Metro Team member.  Watching the 6-foot-6 forward at the camp it was easy to see why he was as successful as he was. Davenport has the capability to change the game on both ends of the floor. His ability to get off of the floor quickly allows him to block shots defensively or tip-dunk missed shots on the offensive end. It is that type of presence that makes Davenport one of the best unsigned big men in the state of Georgia.
Josh Randolph Team 3 (Flowery Branch, Ga.), Lakeview Academy – 2017

In a gym full of talented guards, Randolph showed potential as the next up and coming guards from the North Georgia area. The sophomore is a built sturdily and can take the bump when driving into the lane. He showed the capacity to take the bump and finish through contact at the Top 40 Workout. He has bounce in his legs that allow him to be an effective driver with the ball in his hands. The challenge for Randolph in months to come will be to find ways to make an impact on the court even when the ball is not his hands. That type of presence on the floor comes through experience and we expect to see him grow in that area in years to come.
Will Springer Team 8 (Buford, Ga.), Buford HS – 2016

When evaluating forwards like Springer, they usually end up being classified into one of two categories: rebounders or shooters. The unique thing about the 6-6 Springer is that he earns check marks in both boxes. As he showed at the Top 40 Workout, he proved that he can be deadly from the 'trail 3' spot where he can knock down jumpers on the reversal. However, it was his aggressiveness and strength that turned our staff's heads. Springer is a shooter by nature, but he has improved his athleticism in the past year to make him a dual threat player.
Click below for the EBA Top 40 Broadcasts powered by the SUVtv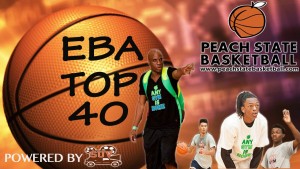 Elite Basketball Academy Series
***Designed for evaluation purposes, these are great opportunities for upperclassmen and underclassmen alike to get valuable game broadcasts that can be sent to college coaches with a single email message. For underclassmen, it also serves as the gateway for prospects with remaining high school eligibility to play in front of our National Evaluators.

Jonathan Hemingway is a National Evaluator for the OTRHoopsReport. Hemingway serves on the Board of Selectors for the Naismith Trophy. also He is also the publisher of CoachHemi.com. He has been involved in the community since 1996 as a coach, camp director and evaluator. You can reach him via email at JonathanHemingway@PeachStateBasketball.com and follow him on  twitter @JLHemingwayPSB