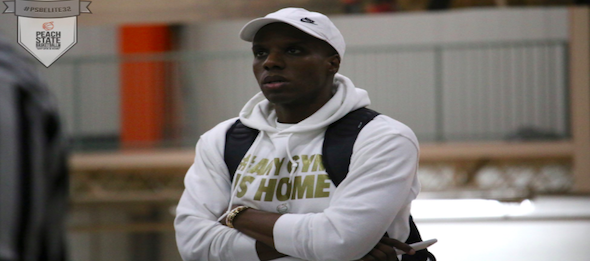 Hosted by ProspectsNation.com Managing Editor, Chris Hansen, #CheckMeOutNATION Seattle has been the West Coast premier individual event for the past five years and running. Current college stars including 2017 Naismith Trophy Watch List prospects Oregon standout Sabrina Ionescu and Texas Tech scoring machine Recee' Caldwell took center stage as preps. The 2017 edition should be no different.

Here's a look at who to keep an eye on this weekend:
---
With over 40,000 collective followers on our team's social media outlets, we're in a unique position to assist with both creating awareness of a prospect's skill set and recent on-floor performance. From crisp recruiting updates to updated in-season stats to a potential last-minute change in schedule that needs to be conveyed socially, this package allows the player to control the information available to the public about their game.
Become an #SMPMember for maximum Recruiting Exposure: Click the Logo Below

---
Ali Bamberger | 2019 | PF/C | Cal Stars | Concord, CA
This will be my first time watching Bamberger play live. The talented frontcourt prospect caught the ProspectsNation.com's staff attention with her play at the EliteIsEARNED Shootout in April.
#CheckMeOutNATION National Showcase#Seattle Aug. 19-20

Happy @ali_bamberger will be w/ us
Was bracket MVP at EIE!https://t.co/q74wG2OXcX pic.twitter.com/ZN8GAKNEgD

— Chris Hansen (@ChrisHansenPSB) June 20, 2017
Allison Corral | 2020 | PG | Northwest Stars | Vancouver, WA
Corral is a potential floor leader at the college level in due time. She's been a part of the CheckMeOut Showcase circuit for years already. A consistent worker in both drills and gameplay, I'm looking forward to getting a new evaluation on her game this weekend.
#CheckMeOutNATION#Seattle | Aug 19-20

Allison Corral (2020) is back again repping Prairie and @NW_Stars https://t.co/q74wG2OXcX pic.twitter.com/DZusaqetqx

— Chris Hansen (@ChrisHansenPSB) July 5, 2017
Azsha Michael | 2018 | SF | Tayler Hill Elite | Brooklyn Park, MN
Michael caught my eye with her production at the Elite Basketball Academy Super 64 Showcase in June. BrandonClayScouting.com Domestic Evaluation Director, Jonathan Hemingway, had this to say about Michael's game, "Michael is a strong framed perimeter option who produced inside and outside at the camp. She was aggressive on the weakside glass grabbing rebounds and scoring on the interior. She was equally effective at hitting long range jumpers. She hit threes and pull-ups in transition proving her perimeter skill is as impactful as her will on the glass." Michael will attend the EBAAllAmerican Showcase over Labor Day Weekend.
#EBAAllAmerican Showcase

Sept. 2-3

After shining at #EBASuper64, '18 G Azsha Michael (MN) is in.

JOIN: https://t.co/2zO9ALNuQC @AMKASHAY pic.twitter.com/ADNVX6LmkF

— Brandon Clay (@BrandonClayPSB) July 6, 2017
Destinee Oberg | 2019 | PF/C | Minnesota Stars | Burnsville, MN
Oberg has really turned the corner since we started working with her three years ago now. She's using this trip two-fold as both an opportunity to grow her game against the best as well as a recruiting weekend. She'll visit both Oregon State and Washington while on the Left Coast. Look for her to be on hand for the Elite Basketball Academy Fall Finale Showcase on Sept. 23-24.
#SMPMember Recruiting Exposure

'19 P Destinee Oberg (MN) scored her 1,000th point this school season.

MORE INFO: https://t.co/TKyCEZMBRV pic.twitter.com/eHHevT4lXE

— Brandon Clay (@BrandonClayPSB) June 20, 2017

Brandon Clay is the owner of the JumpOffPlus.com International Report, Peach State Basketball, Inc., and ProspectsNation.com. The JumpOffPlus.com is picked up by more than 200 colleges and universities nationwide. In addition to serving as ProspectsNation.com WNBA Director of Scouting, Clay serves as the Executive Camp Director for the Elite Basketball Academy Camps. He is a McDonald's All-American Game Selection Committee member. Clay serves on the Naismith Trophy Men's / Women's College Player of the Year Academy and is the National Coordinator of Voting for the Boys / Girls All-American Teams. He has been involved in the community since 2001. You can reach Clay at [email protected]