LAWRENCEVILLE, Ga., – The July viewing period started with a bang at Central Gwinnett High School. 40 teams played in front 75 college coaches. ProspectsNation.com provided the premier media coverage for girl's grassroots basketball for teams and individuals. Day one provided the platform for stars and stock-risers to shine. Here is a recap of the day's highlights.
Click here for the @ProspectsNation twitter feed or use the #PSBSummerKickoff hashtag to see all coverage from the event.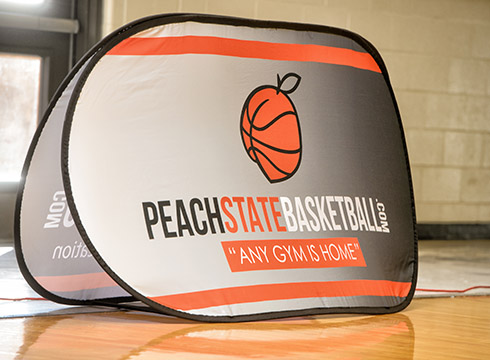 MORNING STANDOUTS
Ariel Young of Tallahassee, Fla., has grown up since the first time we saw her at the EBA Rising Stars Camp in 2011. The raw talent that she had as a middle schooler has blossomed into a polished skill set that should draw interest from coaches from both coasts by the time July is over.
One of the best new names of the event is 2020 Allison Campbell of Altoona, Penn. At 5-9 she has length and ball skill that will be interesting to watch in future years.
PSB Family Carolina All-Stars 2017 have plenty of ammunition in the clip. Jaylin Powell, Zairya West and Tariah Johnson are all mainstays for coach Brian Norwood. Guard Kelly Fitzgerald continues to draw praise for her shot making and ball handling ability.
Point guard Cabria Lee of Team Breakdown was a bright spot today. She slashed to the rim and hardly any defender was able to contain her. The class of 2017 prospect emerged as a stock riser following the event.
The high-low game for coach William Avery's Georgia Sting team is deadly on their opponents. Posts Alana Davis and Sydney Grayden do a great job of feeding each other the ball to finish around the bucket.
The Team Elite/North Georgia Lady Vols have a blossoming prospect in Queen Scott of Flowery Branch, Ga. The left handed guard is very good at getting downhill to attack the defense.
South Carolina commit Elisia Grissett of Durham, N.C., has polished her skill set very nicely in recent months. The forward plays comfortably facing the basket. However, her ability to defend both inside and out makes her a big asset at the next level. She is currently ranked No. 34 in the class of 2017.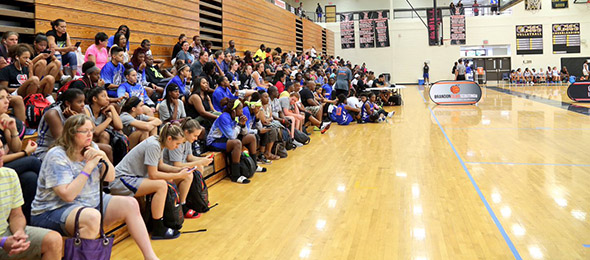 EVENING STANDOUTS
Class of 2018 guard Ashley Foster of McDonough, Ga., is a player who continues to progress. Consistent showings at the Elite Basketball Academy this spring to producing with PSB Family EOTO Black make her a prospect on the rise.
Carolina Flames guard Kai Crutchfield is a play-maker. She is tough to contain in the open court and can make plays at the rim. Coach Wes Moore at North Carolina State has to be excited he locked up a Crutchfield commitment last year.
Coach Jason Hively knows how to coach talent and he has plenty of it with the Miami Suns Larkins. Class of 2018 wing Natalia Pineda of Miami, Fla., brings true value to the floor. Her craftiness on the offensive end allows her to make plays for her team.
We love shooters at PSB events. Therefore Skyler Curran of Clemmons, N.C., is automatically in the conversation as one of our favorite prospects with the Winston-Salem Stealers Lyons. At 6-foot she has a height and an easy release from beyond the arc.
Central Florida Elite EYBL found a spark plug off the bench today in class of 2017 Tiffany Tolbert of Orlando, Fla. The high energy floor general should play big minutes for Al Honor's squad on the EYBL circuit.
Class of 2018 wing Lauren Carter of High Point, N.C., is a prospect to circle in the book for Carolina Dynasty. Her size and athleticism plus her slashing ability make her a player with a high ceiling.

Jonathan Hemingway is the Assistant Director of Scouting for the JumpOffPlus.com International Scouting Report, is on the Naismith Trophy Board of Selectors and owns CoachHemi.com, the go-to source for coaches for X's and O's.  He is the floor director of #TeamEBA camps, a site director for #TeamPSB tournaments and can be reached at [email protected].