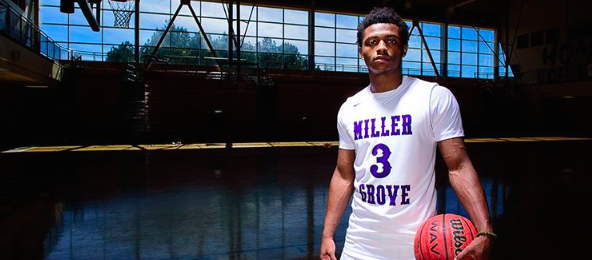 COMMERCE, Ga. – As East Jackson HS hosted nationally ranked Miller Grove to start the season, all eyes were on senior point guard Alterique Gilbert of Lithonia, Ga. The future UConn Husky will be in the mix as a potential 2016 McDonald's All-American next March in Chicago. Here's our take on his play:

Date: November 11, 2015
Evaluator: Brandon Clay
Location: HS Season vs. East Jackson (Commerce, Ga.)
Gilbert is a multi-faceted point guard who showed here how to dominate a game against a quality opponent. From the opening tip, the newly minted five-star prospect was on his A Game. With East Jackson in the midst of making a run, Gilbert hit a timely 3-pointer in front of the opposing student section and (politely) smiled. A few possessions later, the floor general made his presence felt on the defensive end of the floor slapping a shot off of the backboard. Every time East Jackson got some positive momentum, there was Gilbert finding a way to swing the pendulum back in Miller Grove's favor. He has a super smooth blend of skill, basketball intelligence and athleticism. We'll keep an eye on his game all season long.
Game Broadcast: East Jackson vs Miller Grove
Date: November 11, 2015
Analysts: Brandon Clay and Marques Burnett

Brandon Clay is the owner of Peach State Basketball, Inc., and BrandonClayScouting.com. He serves as the Executive Camp Director for the Elite Basketball Academy Camps. Clay is a McDonald's All-American Game Selection Committee member. He also votes on the Naismith Trophy Men's / Women's College Player of the Year Academy and is the HS Boys / Girls All-American Team Board of Selectors Chairperson. He has been involved in the community since 2001. You can reach Clay at BrandonClay@PeachStateBasketball.com