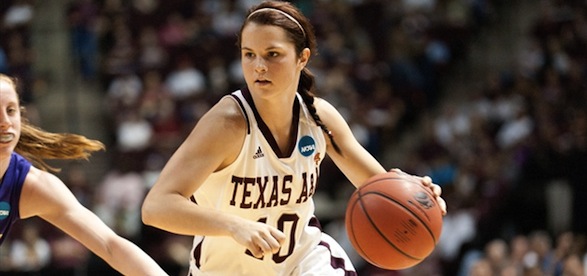 May 2009 – Philadelphia, Penn. – Stop number four on the Nike Regional Skills Academy circuit took place in the northern suburbs of Philadelphia. Riverwinds Community Center played host to 40 of the top underclassmen that the northeast had to offer. As has been the case with the first three groups, trainers Ganon Baker and Dee Brown put the group through the paces over the two-day session.
By: Brandon Clay
Follow @BrandonClayPSB

The Academy was good although it did not have the same "star power" as the previous three as the roster was missing two players (Willingboro, NJ talent Briyona Canty and Virginia Beach, VA's own Elizabeth Williams – the nation's number one player in the Class of 2011) scheduled to attend that have been selected to the U16 Trials in Colorado Springs May 28-31. Below are some of the top performers from the Academy:
Brianna Butler – Penn Charter (PA) School
Butler missed the Saturday afternoon session due to her older pay money to write essay sister's graduation. She came right back in Sunday and looked like she had been there the whole time. The 5-foot-10 freshman guard hit a three-pointer, a reverse layup and mid-range jumper in a the Sunday games. She's a left-handed wing, strong and is a solid athlete.

Lubridia Gordon – AB Davis Middle (New York, NY)

Gordon – who is just an eighth grader – already has real height at 6-4 and also has real size. She ran the floor well given her size and age although conditioning will surely be a point of emphasis in her development. With solid hands and feet, finding ways to score with her back to the basket should be on the agenda. Her club team [Exodus] has a history of producing good post players.

Brittany Hyrnko – Penn English and Science Magnet (PA)
The 5-8 sophomore point guard displayed a smooth jumper to go along with a good sense of court vision and ability to handle the ball. She will benefit from getting stronger in the off-season but Hymko has a good skill set that should only get better with consistent gym work.
my dog does my homework kenn nesbitt Brianna Kiesel – Proctor High (NY)
The slender 5-7 floor general played on and off the ball this weekend though she's at home playing the point. The sophomore has a nice jumper and shot the ball well on Sunday even hitting a couple of tough pull-up jumpers in traffic. Kiesel could really use time in the weight room to get stronger as her frame is such where she might not get much bigger until her metabolism slows down. Also, tightening her handle will help her slide up in the rankings.

Betnijah Laney – Smyrna (DE) High
Laney's stock probably rose more than any player in attendance as she looked like a potential Top 15 player in the Class of 2011. The 5-11 power wing player does most of her damage inside fifteen feet. She'll have to expand her shooting range in order to be a complete 3/4 player. There is no doubt that her motor runs all of the time. She is a warrior in the paint and should compete for a spot on the U16 team in a couple of weeks.

Bria Smith – Christ the King School my brother essay in english (Queens, NY)
Smith is the latest standout in a long list of players from the New York school including Chamique Holdsclaw, Sue Bird and Tina Charles. Smith might not be on that level but the 5-8 shooting guard showed why she received an invite to Colorado with her skill to attack the rim and make plays scoring the ball. Adding a consistent dribble drive to her left would only make her a tougher assignment for defenders.

Alexia Standish – Colleyville (Texas) High
Standish – a 5-7 point guard who was also invited to the U16 trials – would have missed her natural region's Academy while she was in Colorado so Nike Grassroots Director Mary Thompson allowed her to attend this session. She was the best guard in the gym all weekend. Her ability to hit the three pointer and finish around the rim makes her fun to watch. If she can add a runner in the lane as well as ability to create plays with just a couple of dribbles, she'll firmly entrench herself as one of the top two or three point guards in the Class of 2011.
Here's a Standish workout from the fall of 2010:

Breanna Stewart – Cicero North High (NY)
A long 6-4 freshman, Stewart is a different type of power forward than most. Her unassuming body build and presence can lead you to believe that she's not a player. Don't be fooled as her length – she appears to have a wingspan of a 6-7 player – creates real problems for opposing players trying to attack the rim. On the offensive end, she can finish around the basket with either hand and slaps the glass easily as she does it. The next step for Stewart will be showing consistency on her jumper out to 18 feet.

Tyonna Williams – Holy Cross (MD)
Williams stood out with her willingness to attack the basket during the half court and full court game situations. She's a good athlete and at 5-6 has decent height for a point. She will have to display that she can go left and create for her teammates on consecutive possessions to move into the next cut of point guards in the Class of 2011.