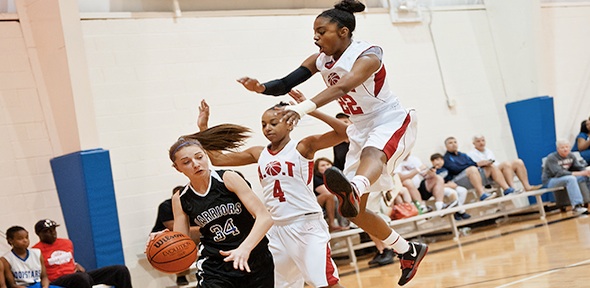 MARIETTA, Ga. – The PeachStateBasketball.com Spring Showdown has become an annual gathering of some of the region's top travel programs to start off the club season. This year was no different as 72 teams playing on six courts as they competed in the first major tournament of 2012. Between All-Tournament Players Park and Etowah High School, there was plenty of competition to recap. Over the next two weeks, our JumpOffPlus.com National Scouting Report staff will do just that.
2012 Division Winners
Black – A.O.T. Juniors
my best friend essay for kids Futures – Central Florida Elite 2016
Gray – Central Florida Elite 2014
JumpOffPlus – Team Elite Pointer
Orange – Knoxville Lady Panthers Black
Peach State – Tennessee XTreme Fr.
TeamEBA – Alabama Tar Heels
TeamPSB – Georgia Pistols Williams Soph.
White – Knoxville Lady Panthers Gold

Featured Game
Black Division Championship
A.O.T. Juniors vs Central Florida Elite 2013
Both teams entered the game after getting off to great starts in their first two games. With 18 Division One graded players on the floor according to our JumpOffPlus.com staff, there was no shortage of talent. Led by Diamond DeShields of Norcross, Ga., A.O.T. rent or buy a house essay jumped out to an early lead and never looked back. DeShields is the No. 3 ranked junior nationally by ESPNHoopGurlz and has scholarship offers from multiple elite level programs ESPN HoopGurlz Week In Review. CFE countered with No. 12 ranked junior Ronni Williams from Daytona Beach, Fla., who is being recruited heavily as well. Though A.O.T. came away with the early season victory, our staff is almost certain that these to teams will run into each other again down the road perhaps at the PeachStateBasketball.com Elite 32 Summer Jam in late July.
Here is the full game: A.O.T. in red (DeShields is #22), CFE in narrative essay prompts 6th grade white (Williams is #1)


Brandon Clay is the publisher of the JumpOffPlus.com and the owner of Peach State Basketball, Inc. The service is picked up by more than 150 colleges and universities nationwide. He serves as the Executive Camp Director for the EBA All-American, Fab Five and Super 64 Camps. In addition, he serves as a national recruiting analyst for ESPNHoopgurlz and a contributor to SLAM Magazine. Clay has been involved in the community since 2001 as an evaluator, event operator and trainer. You can reach him at [email protected] or follow him on Twitter @BrandonClayPSB