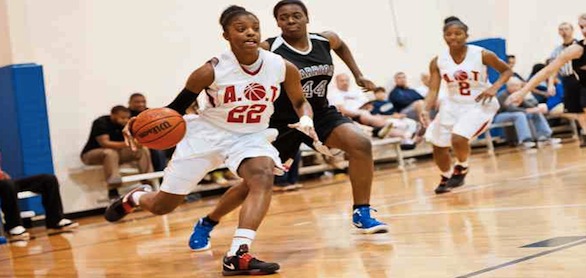 Marietta, Ga. – Diamond Deshields was one of the many standouts from the PeachStateBasketball.com Spring Showdown. The talented class of 2013 wing came back from the GACA All-Star Game on Saturday to lead her team to a big victory in the Black Division title game.
By: Stephen Peck
Follow @SCPeck2


Featured Player

Diamond DeShields, A.O.T. Lady Rebels (Norcross, Ga.)
The sky is the limit for the highly athletic DeShields. We believe that her arsenal of basketball weaponry has yet to be fully unleashed. It is always amazing to write my research paper write my paper see her when her game elevates when competition increases. That was evident for the 6-foot-2 junior wing in the Black Division championship game of the Spring Showdown. The days of her as a diamond in the rough as a middle schooler are gone as she evolves into a sparkling gem amongst the nation's elite prospects. With continued hard work and dedication, DeShields has a chance to be one of the names we talk about in women's basketball for years to come.
Here's a recent ESPN article we wrote on DeShields recruiting here: Decision 2013 – Top five prospects talk schools
Spotlight Players

Morgan William, Alabama Tar Heels (Birmingham, Ala.)
Speed, quickness, and my assignment help uk agility are a few terms that come to mind when we watch William on the hardwood. The sophomore point guard pushes the ball up the court with authority and is faster with the basketball than most players without. Standing at 5-5, she's small but her cat like reflexes and tenacity on defense helped her Alabama Tar Heels reign supreme in the TeamEBA division. William showed signs of being able to knock down shots off the bounce which will enhance her stock on the offensive end.

Meredith Schulte, Atlanta Cagers Storms (Braselton, Ga.)
Schulte caught our attention with her solid play on both ends of the floor. A class of 2015 prospect, she has good legitimate paper writing services instincts, solid fundamentals, and a scorers' mentality. At 5-11, she handles the ball well in the open court and can take the ball aggressively to the basket and finish. She's most definitely a player that can be counted on to give you 100 percent whenever she is on the floor.
Parting Thoughts
The pool of quality young talent was very apparent at the Peach State Basketball Spring Showdown from point guards to real size post players. Some clubs of note were FBC Georgia, Central Fl. Elite, Atl. Cagers Storm, Blazers Exposure, Georgia Hoopstars, TN Xtreme and Georgia Red Storm just to name a few. We look forward to seeing more of the teams in upcoming events.

Ashlee Mitchell of Bristol, Tenn. is a talented class of 2013 point guard. The 5-6 floor general was impressive for the Knoxville Lady Panthers with her hard nose style of play. There is no obstacle to large for her to challenge. Mitchell led the Lady Panthers to the championship of the White Division over a strong Georgia Hoopstars Black team.

Stephen Peck is a National Evaluator for the JumpOffPlus.com. He also serves on the selection committee for the EBA All-American, Fab Five and Super 64 Camps. He has been involved in the community since 2009 as a national evaluator. You can reach him via email at [email protected] and follow him on twitter @scpeck2