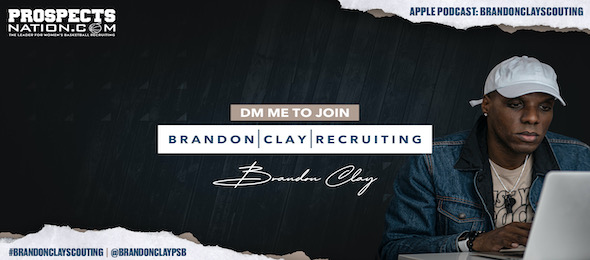 This program is designed for young men and women aiming to not only obtain college basketball scholarships but garner all of the accolades and name recognition that their play warrants. In addition to gaining college exposure, there are numerous in-season and post-season (local and national) awards that require an awareness of both college coaches and media personnel alike. Our "College Recruiting Profile" package allows players to work hand-in-hand with our team of international evaluators spearheaded directly by Brandon Clay to keep our vast following up-to-date with what's going on at a given point in time in the players high school career.
Social Media Hashtag: #BClayRecruiting
---
---
With over 60,000 collective followers on our team's social media outlets, we're in a unique position to assist with both creating awareness of a prospect's skill set and recent on-floor performance. In addition, our monthly social updates will enhance the branding of players even if they have already made their college choice.
---
---
Below is a testimonial from Class of 2016 member Caroline Patrick's father, Brandon:
"Your Brandon Clay College Recruiting Program was very instrumental in her commitment. The information you posted with the video was sent to colleges nationwide. Caroline heard back from over 120 schools, and received several offers. Her main goal was to go to school on the beach, and PBA was an awesome fit. We are really happy with where she is going, and she is excited to play for Coach Carlos Palacio. Coach Palacio told me that you spoke highly of Caroline to him, and I appreciate you putting in a good word. She received a full scholarship there. The scholarship is worth $40,000-45,000 annually." – Brandon Patrick
---
---
Latest Program College Commitments:
March 24, 2023
Cameron Rust: Class of 2024 – Worchester Academy (MA)
College Choice: Penn State
March 22, 2023
Grace Harriman: Class of 2023 – Bishop McGuinness (NC)
College Choice: Virginia Wesleyan
February 24, 2023
Izzy Proffitt: Class of 2024 – CAK (TN)
College Choice: Anderson
February 11, 2023
Mckenzie Swanson: Class of 2024 – Marian (MI)
College Choice: Butler
February 4, 2023
Amaya Gallegos: Class of 2023 – Garden City (KS)
College Choice: Rogers State

January 19, 2023
Toni Warren: Class of 2024 – Cherokee (GA)
College Choice: Wofford
November 19, 2022
Chloe Kitts: Class of 2023 – Faith Christian (FL)
College Choice: South Carolina
November 15, 2022
Gracie Barnes: Class of 2023 – Cincinnati Country Day (OH)
College Choice: USC-Upstate
October 10, 2022
Mary Ashley Groot: Class of 2023 – Dalton School (NY)
College Choice: Purdue
September 22, 2022
Lily Pereira: Class of 2023 – Wesleyan Christian (NC)
College Choice: Florida Southern
September 18, 2022
Gabbie Grooms: Class of 2024 – Landmark Christian (GA)
College Choice: Georgia Tech
September 15, 2022
Diana Collins: Class of 2023 – Brookwood (GA)
College Choice: Ohio State
Latest Program Recruiting Updates via ProspectsNation.com: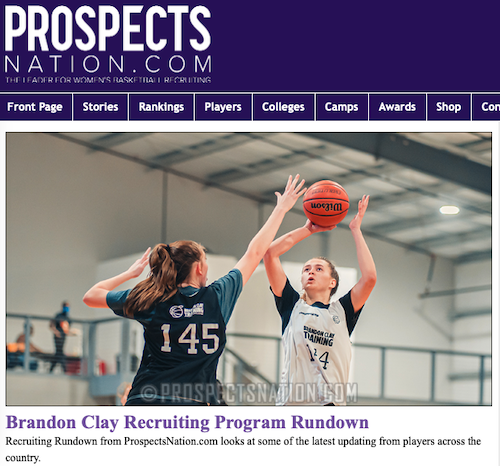 LATEST RECRUITING STORIES: https://prospectsnation.com/storyarchive
Lifetime Membership Pricing and Structure:
****All packages lasts from date of purchase until the prospect finishes high school.
Benefits & Pricing
Lifetime membership (rising 8th graders through HS seniors) prospects: $1499 – The enrollment fee will remain the same no matter when the prospect joins. The earlier a prospect enrolls, the easier it is to build out their book of accomplishments over time.
– At least 12 posts per year for an average of one monthly update over sent out directly through either Brandon Clay's personal Twitter account and/or the Brandon Clay College Recruiting account. Select pieces of news, performance, and/or recruiting updates will be posted on social media as the following month's update.
– A single video embed from YouTube (game film or highlight provided by the prospect) per calendar year.
***Any video purchased directly from the Brandon Clay College Recruiting staff (or including members of the staff at Brandon Clay's discretion will not be counted against that number).
– Annual progress phone calls & personal consultation directly with Brandon Clay to connect on potential fits and college placement.
---
---
Brandon Clay College Recruiting Profile #BClayRecruiting Family:
---
---
Class of 2023
Committed Prospects
Lauren Bailey (TN) – Class of 2023: Committed College – Gardner Webb CLICK HERE FOR LAUREN'S PROFILE
Gracie Barnes (OH) – Class of 2023: Committed College – USC-Upstate CLICK HERE FOR GRACIE'S PROFILE
Bella Barrett (AZ) – Class of 2023: Committed College – UC-Santa Barbara CLICK HERE FOR BELLA'S PROFILE
Aubrey Blankenship (TN) – Class of 2023: Committed College – Samford CLICK HERE FOR AUBREY'S PROFILE
Elle Blatchford (GA) – Class of 2023: Committed College – Southern Mississippi CLICK HERE FOR ELLE'S PROFILE
Macy Brown (MI) – Class of 2023: Committed College – Michigan CLICK HERE FOR MACY'S PROFILE
Hannah Cail (GA) – Class of 2023: Committed College – Georgia College CLICK HERE FOR HANNAH'S PROFILE
Josie Cancro (CT) – Class of 2023: Committed College – St. Lawrence CLICK HERE FOR JOSIE'S PROFILE
Parker Childress (NC) – Class of 2023: Committed College – Roanoke College CLICK HERE FOR PARKER'S PROFILE
Jada Clarkson (MT) – Class of 2023: Committed College – CLICK HERE FOR JADA'S PAGE
Diana Collins (GA) – Class of 2023: Committed College – Ohio State CLICK HERE FOR DIANA'S PROFILE
Anna Conza (GA) – Class of 2023: Committed College – Oglethorpe CLICK HERE FOR ANNA'S PROFILE
Kelsey DuBois (IN) – Class of 2023: Committed College – NYU CLICK HERE FOR KELSEY'S PROFILE
Reid Ducharme (MA) – Class of 2023: Committed College – Xavier CLICK HERE FOR REID'S PROFILE
Kendall Emener (GA) – Class of 2023: Committed College – North Georgia CLICK HERE FOR KENDALL'S PROFILE
McKenna Ferguson (MI) – Class of 2023: Committed College – Wayne State CLICK HERE FOR MCKENNA'S PAGE
Peyton Freiermuth (TX) – Class of 2023: Committed College – Colorado School of Mines CLICK HERE FOR PEYTON'S PROFILE
Amaya Gallegos (KS) – Class of 2023: Committed College – Rogers State
Amelia Goehring (TN) – Class of 2023: Committed College – Union (TN) *will be playing soccer CLICK HERE FOR AMELIA'S PAGE
Mary Ashley Groot (NY) – Class of 2023: Committed College – Purdue CLICK HERE FOR MARY ASHLEY'S PROFILE
Grace Harriman (NC) – Class of 2023: Committed College – Virginia Wesleyan CLICK HERE FOR GRACE'S PROFILE
Madison Heiss (TX) – Class of 2023: Committed College – Buffalo CLICK HERE FOR MADISON'S PROFILE
Allison Hoffmann (GA) – Class of 2023: Committed College – Oglethorpe CLICK HERE FOR ALLISON'S PROFILE
Jayda Johnson (CT) – Class of 2023: Committed College – Boston College CLICK HERE FOR JAYDA'S PROFILE
Molly Ly (TX) – Class of 2023: Committed College – UT-Dallas CLICK HERE FOR MOLLY'S PAGE
Karson Martin (GA) – Class of 2023: Committed College – Quinnipiac CLICK HERE FOR KARSON'S PAGE
Nicole Melious (NY) – Class of 2023: Committed College – LaSalle CLICK HERE FOR NICOLE'S PAGE
McKayla Miller (KS) – Class of 2023: Committed College – Creighton CLICK HERE FOR MCKAYLA'S PROFILE
Emily Monson (TN) – Class of 2023: Committed College – Purdue CLICK HERE FOR EMILY'S PROFILE
Trevor Mullin (MA) – Class of 2023: Committed College – Yale CLICK HERE FOR TREVOR'S PROFILE
Nylah Nuri (GA) – Class of 2023: Committed College – Georgia College CLICK HERE FOR NYLAH'S PROFILE
Julianna Ouimette (WI) – Class of 2023: Committed College – Lehigh CLICK HERE FOR JULIANNA'S PAGE
Lily Pereira (NC) – Class of 2023: Committed College – Florida Southern CLICK HERE FOR LILY'S PROFILE
Maddie Petroelje (MI) – Class of 2023: Committed College – Loyola Chicago CLICK HERE FOR MADDIE'S PAGE
Allie Pollock (AR) – Class of 2023: Committed College – Arkansas Tech CLICK HERE FOR ALLIE'S PAGE
Ramsey Robledo (TX) – Class of 2023: Committed College – St. Mary's (TX) CLICK HERE FOR RAMSEY'S PROFILE
Pace Rickard (MI) – Class of 2023: Committed College – Rice CLICK HERE FOR PACE'S PAGE
Reese Sellers (AZ) – Class of 2023: Committed College – University of Northwestern CLICK HERE FOR REESE'S PROFILE
Ashlynn Shade (IN) – Class of 2023: Committed College – UConn CLICK HERE FOR ASHLYNN'S PROFILE
Marlo Simms (GA) – Class of 2023: Committed College – Trinity College CLICK HERE FOR MARLO'S PROFILE
Rachel Smith (KY) – Class of 2023: Committed College – Union CLICK HERE FOR RACHEL'S PAGE
Brooke White (TX) – Class of 2023: Committed College – Concordia CLICK HERE FOR BROOKE'S PROFILE
Monica Williams (IN) – Class of 2023: Committed College – Ohio CLICK HERE FOR MONICA'S PROFILE
Available Prospects
Madeline Freeth (IN) – Class of 2023: CLICK HERE FOR MADELINE'S PROFILE
---
---
Class of 2024
Committed Prospects
Gabbie Grooms (GA) – Class of 2024: College Choice – Georgia Tech CLICK HERE FOR GABBIE'S PROFILE
Sydney Mains (TN) – Class of 2024: College Choice – Florida Atlantic CLICK HERE FOR SYDNEY'S PROFILE
Izzy Proffitt (TN) – Class of 2024: College Choice – Anderson CLICK HERE FOR IZZY'S PAGE
Cameron Rust (RI) – Class of 2024: College Choice – Penn State CLICK HERE FOR CAMERON'S PAGE
Mckenzie Swanson (MI) – Class of 2024: College Choice: Butler CLICK HERE FOR MCKENZIE'S PROFILE
Toni Warren (GA) – Class of 2024: College Choice – Wofford CLICK HERE FOR TONI'S PROFILE
Available Prospects
Riley Abney (MI) – Class of 2024: CLICK HERE FOR RILEY'S PROFILE
Lexi Blue (FL) – Class of 2024: CLICK HERE FOR LEXI'S PROFILE
Tatiana Butenko (TX) – Class of 2024: CLICK HERE FOR TATIANA'S PROFILE

Nicole Carreno (FL) – Class of 2024: CLICK HERE FOR NICOLE'S PAGE
Mia Fiore (RI) – Class of 2024: CLICK HERE FOR MIA'S PROFILE
Rian Forestier (TX) – Class of 2024: CLICK HERE FOR RIAN'S PROFILE

Chloey Graham (IN) – Class of 2024: CLICK HERE FOR CHLOEY'S PROFILE
Nadya Gutierrez (AZ) – Class of 2024: CLICK HERE FOR NADYA'S PROFILE
Madison Hart (CT) – Class of 2024: CLICK HERE FOR MADISON'S PROFILE

Beckham Hockley (FL) – Class of 2024: CLICK HERE FOR BECKHAM'S PAGE
Lucy Hood (GA) – Class of 2024: CLICK HERE FOR LUCY'S PROFILE

Shay Ijiwoye (AZ) – Class of 2024: CLICK HERE FOR SHAY'S PROFILE
Izzy Majarucon (AZ) – Class of 2024: CLICK HERE FOR IZZY'S PROFILE
Madison Mckinnon (TX) – Class of 2024: CLICK HERE FOR MADISON'S PROFILE
Ellery Minch (IN) – Class of 2024: CLICK HERE FOR ELLERY'S PAGE
Shawnessy Nordstrom (UT) – Class of 2024: CLICK HERE FOR SHAWNESSY'S PROFILE
Harper Peterson (CA) – Class of 2024: CLICK HERE FOR HARPER'S PROFILE
Grace Ridley (GA) – Class of 2024: CLICK HERE FOR GRACE'S PROFILE
Rylie Rosenberg (NY) – Class of 2024: CLICK HERE FOR RYLIE'S PAGE
Chloe Spreen (IN) – Class of 2024: CLICK HERE FOR CHLOE'S PROFILE
Kendall Sterling (IN) – Class of 2024: CLICK HERE FOR KENDALL'S PROFILE
Tianna Thompson (GA) – Class of 2024: CLICK HERE FOR TIANNA'S PROFILE
---
---
Class of 2025
Available Prospects
Audrey Bilodeau (ME) – Class of 2025: CLICK HERE FOR AUDREY'S PAGE
Danauje Brooks (NC) – Class of 2025: CLICK HERE FOR DANAUJE'S PROFILE
Addie Deal (CA) – Class of 2025: CLICK HERE FOR ADDIE'S PROFILE
Sabrina DeSio (NY) – Class of 2025: CLICK HERE FOR SABRINA'S PROFILE
Skyler Ellison (SC) – Class of 2025: CLICK HERE FOR SKYLER'S PROFILE
Michaela Fairwell (AZ) – Class of 2025: CLICK HERE FOR MICHAELA'S PROFILE
Olivia Frankel (AZ) – Class of 2025: CLICK HERE FOR OLIVIA'S PROFILE
Taliah Gaither (GA) – Class of 2025: CLICK HERE FOR TALIAH'S PROFILE
Adelaide Jernigan (NC) – Class of 2025: CLICK HERE FOR ADELAIDE'S PROFILE
Ananda Jenerson (TX) – Class of 2025: CLICK HERE FOR ANANDA'S PROFILE
Derrica Motley (AL) – Class of 2025: CLICK HERE FOR DERRICA'S PROFILE
Emilee Neese (KY) – Class of 2025: CLICK HERE FOR EMILEE'S PAGE
Megan Ohonde (GA) – Class of 2025: CLICK HERE FOR MEGAN'S PROFILE
Tatum Ott (TX) – Class of 2025: CLICK HERE FOR TATUM'S PAGE
Emma Phelan (NY) – Class of 2025: CLICK HERE FOR EMMA'S PROFILE
Niah Rhodes (KY) – Class of 2025: CLICK HERE FOR NIAH'S PROFILE
Ella Skrzyniarz (CA) – Class of 2025: CLICK HERE FOR ELLA'S PROFILE
Gabby Spink (IN) – Class of 2025: CLICK HERE FOR GABBY'S PROFILE
Hailee Swain (GA) – Class of 2025: CLICK HERE FOR HAILEE'S PROFILE
Olivia VanPatten (RI) – Class of 2025: CLICK HERE FOR OLIVIA'S PROFILE
Class of 2026
Jazlyn Bowman (FL) – Class of 2026: CLICK HERE FOR JAZLYN'S PROFILE
Andrea Flores (TN) – Class of 2026: CLICK HERE FOR ANDREA'S PROFILE
Sophia Florio (MA) – Class of 2026: CLICK HERE FOR SOPHIA'S PROFILE
Peyton Gluesing (GA) – Class of 2026: CLICK HERE FOR PEYTON'S PROFILE
Kennedy Guy (FL) – Class of 2026: CLICK HERE FOR KENNEDY'S PROFILE
Kate Harpring (GA) – Class of 2026: CLICK HERE FOR KATE'S PROFILE
Lexi Hecht (KS) – Class of 2026: CLICK HERE FOR LEXI'S PROFILE
Rylie Hurst (VA) – Class of 2026: CLICK HERE FOR RYLIE'S PROFILE
Maryn King (WA) – Class of 2026: CLICK HERE FOR MARYN'S PROFILE
Naiya Krispin (MI) – Class of 2026: CLICK HERE FOR NAIYA'S PROFILE
Madisen Moten (TX) – Class of 2026: CLICK HERE FOR MADISEN'S PROFILE
Khloe Moye (NC) – Class of 2026: CLICK HERE FOR KHLOE'S PROFILE
Reese Sebok (NJ) – Class of 2026: CLICK HERE FOR REESE'S PROFILE
Taryn Thompson (GA) – Class of 2026: CLICK HERE FOR TARYN'S PROFILE
Class of 2027
Finley Chastain (TX) – Class of 2027: CLICK HERE FOR FINLEY'S PROFILE
Reece Davis (AL) – Class of 2027: CLICK HERE FOR REECE'S PROFILE

Kenzie Koch (IN) – Class of 2027: CLICK HERE FOR KENZIE'S PROFILE
Gabby Middleton (MA) – Class of 2027: CLICK HERE FOR GABBY'S PROFILE
Finley Parker (GA) – Class of 2027: CLICK HERE FOR FINLEY'S PROFILE
Emily Roman (TX) – Class of 2027: CLICK HERE FOR EMILY'S PROFILE
Class of 2028
Boomer Minch (IN) – Class of 2028: CLICK HERE FOR BOOMER'S PROFILE
---
PREVIOUS PROGRAM ALUMS:
Class of 2022
Committed Prospects
Shay Bollin (MA) – Class of 2022: Committed College: Duke CLICK HERE FOR SHAY'S PROFILE

Raeven Boswell (TX)– Class of 2022: Committed College: Georgia Tech CLICK HERE FOR RAEVEN'S PAGE
Tony Carpio (GA) – Class of 2022: Committed College: Citadel CLICK HERE FOR TONY'S PAGE
Miles Fiore (RI) – Class of 2022: Committed College: Endicott CLICK HERE FOR MILES PROFILE
Asia Gant (GA) – Class of 2022: Committed College: Truett McConnell CLICK HERE FOR ASIA'S PROFILE
Jalexicia Hargrove (GA) – Class of 2022: Committed College: Fort Valley State CLICK HERE FOR JALEXICIA'S PROFILE
Seth Hubbard (GA) – Class of 2022: Committed College: Western Michigan CLICK HERE FOR SETH'S PROFILE
Gabby Hudson (GA) – Class of 2022: Committed College: Oglethorpe CLICK HERE FOR GABBY'S PROFILE

Morgan Lee (CT) – Class of 2022: Committed College: Georgetown CLICK HERE FOR MORGAN'S PAGE
Saylor Lewis (TX) – Class of 2022: Committed College: Oklahoma (Academic)
McClain Mahone (WI) – Class of 2022: Committed College: Minnesota (Academic) CLICK HERE FOR MCCLAIN'S PAGE
Ananda Mayhew (GA) – Class of 2022: Committed College: Allen CLICK HERE FOR ANANDA'S PROFILE
Jordan Meulemans (WI) – Class of 2022: Committed College: Butler CLICK HERE FOR JORDAN'S PAGE

Lydia Mordarski (MA) – Class of 2022: Committed College: Colby CLICK HERE FOR LYDIA'S PROFILE
Maya Osborn (IL) – Class of 2022: Committed College: DePauw CLICK HERE FOR MAYA'S PAGE
Nicole Sanfilippo (NY) – Class of 2022: Committed College: Texas-Arlington CLICK HERE FOR NICOLE'S PROFILE
Hannah Schroeder (MI) – Class of 2022: Committed College: Northwood CLICK HERE FOR HANNAH'S PAGE
Joelle Snyder (GA) – Class of 2022: Committed College: Anderson CLICK HERE FOR JOELLE'S PAGE
Alaina Thorne (IN) – Class of 2022: Committed College: Notre Dame (Academic) CLICK HERE FOR ALAINA'S PAGE
Austin Treece (MI) – Class of 2022: Committed College: Nebraska-Kearney CLICK HERE FOR AUSTIN'S PAGE
Makenna Walker (TX) – Class of 2022: College Choice: Southeastern Oklahoma State CLICK HERE FOR MAKENNA'S PAGE
Available Prospects
Timothi Williams (KY) – Class of 2022: CLICK HERE FOR TIMOTHI'S PAGE
---
---
Class of 2021
Committed Prospects
Peyton Andrews (OK) – Class of 2021: Committed College – Oklahoma Christian CLICK HERE FOR PEYTON'S PAGE
Chase Ballard (GA) – Class of 2021: Committed College – Miles CLICK HERE FOR CHASE'S PROFILE
Jillian Brown (MI) – Class of 2021: Committed College – Northwestern CLICK HERE FOR JILLIAN'S PROFILE
Kendal Cheesman (FL) – Class of 2021: Committed College – Vanderbilt CLICK HERE FOR KENDAL'S PROFILE

Ella Fiore (RI) – Class of 2021: Committed College: New Hampshire CLICK HERE FOR ELLA'S PROFILE
Hannah Fuller (SC) – Class of 2021: Committed College: Georgia Southern CLICK HERE FOR HANNAH'S PAGE
Jenna Gallimore (KY) – Class of 2021: Committed College: West Florida CLICK HERE FOR JENNA'S PAGE
Dylan Garrington (GA) – Class of 2021: Committed College: LaGrange CLICK TO VIEW DYLAN'S PAGE

Jordan Gary (GA) – Class of 2021: Committed College: Friend's CLICK HERE FOR JORDAN'S PROFILE
Moira McGinley (IN) – Class of 2021: Committed College: DePauw CLICK HERE FOR MOIRA'S PAGE
Meg Newman (IN) – Class of 2021: Committed College: Arizona State CLICK HERE FOR MEG'S PAGE
Harley Paynter (KY) – Class of 2021: Committed College – Tennessee Tech CLICK HERE FOR HARLEY'S PAGE
Bailey Rucker (WV) – Class of 2021: Committed College – Centre CLICK HERE FOR BAILEY'S PAGE
Ellie Ronan (IL) – Class of 2021: Committed College – Oglethorpe CLICK HERE FOR ELLIE'S PAGE
Shelbi Smith (TN) – Class of 2021: Committed College – Roane State CLICK HERE FOR SHELBI'S PAGE
Haleigh Timmer (SD) – Class of 2021: Committed College – South Dakota State CLICK HERE FOR HALEIGH'S PAGE
Caileigh Walsh (NY) – Class of 2021: Committed College – Northwestern CLICK HERE FOR CAILEIGH'S PROFILE
Mary Wilson (IN) – Class of 2021: Committed College – Denver CLICK HERE FOR MARY'S PAGE
Available Prospects
Matthew Brown (GA) – Class of 2021: CLICK HERE FOR MATT'S PROFILE
Marius "Spyda" Ellis (GA) – Class of 2021: CLICK HERE FOR MARIUS PROFILE
Camryn Jones (GA) – Class of 2021: CLICK HERE FOR CAMRYN'S PAGE
Bradley Newsome (KY) – Class of 2021: CLICK HERE FOR BRADLEY'S PAGE
---
---
Class of 2020
Committed Prospects
Chelsea Aalim (GA) – Class of 2020: Committed College – Palm Beach Atlantic CLICK HERE FOR CHELSEA'S PAGE

Jasmine Atkins (GA) – Class of 2020: Committed College – Albany Tech CLICK HERE FOR JASMINE'S PAGE

Aalia Carlson (IN) – Class of 2020: Committed College – New Orleans CLICK HERE FOR AALIA'S PAGE

Sean Kelly Darks (OH) – Class of 2020: Committed College – North Carolina A&T CLICK HERE FOR SEAN KELLY'S PAGE

Riley Donahue (GA) – Class of 2020: Committed College – Auburn CLICK HERE FOR RILEY'S PAGE

Jae'la Dunn (GA) – Class of 2020: Committed College – USC-Salk CLICK HERE FOR JAELA'S PAGE

Mariyah Fletcher (GA) – Class of 2020: Committed College – Palm Beach Atlantic CLICK HERE FOR MARIYAH'S PAGE

Camryn Foltz (NJ) – Class of 2020: Committed College – Dartmouth CLICK HERE FOR CAMRYN'S PAGE

Alyssa Goehring (TN) – Class of 2020: Committed College – Cumberland CLICK HERE FOR ALYSSA'S PAGE

Abi Oates (GA) – Class of 2020: Committed College – North Greenville CLICK HERE FOR ABI'S PAGE

Maddie Scherr (KY) – Class of 2020: Committed College – Oregon CLICK HERE FOR MADDIE'S PAGE

Jaleah Storr (GA) – Class of 2020: Committed College – Georgia Southwestern CLICK HERE FOR JALEAH'S PAGE

Ashley Tudor (OH) – Class of 2020: Committed College – Radford CLICK HERE FOR ASHLEY'S PAGE
Available Prospects
Carmen Williams (PA) – Class of 2020: CLICK HERE FOR CARMEN'S PAGE
---
---
Class of 2019:
Committed Prospects
Devin Biesbrock (OH) – Class of 2019 – College: Williams: CLICK HERE FOR DEVIN'S PAGE
Jacey Carter (AZ) – Class of 2019 – College: Claremont-McKenna: CLICK HERE FOR JACEY'S PAGE
Shelby Case (IN) – Class of 2019 – College: Illinois-Chicago: CLICK HERE FOR SHELBY'S PAGE
Katherine Fourie (GA) – Class of 2019 – College: Brenau: CLICK HERE FOR KATHERINE'S PAGE
Mya Giusto (FL) – Class of 2019 – College: Tampa: CLICK HERE FOR MYA'S PAGE
Macey Gregg (GA) – Class of 2019 – College: North Georgia: CLICK HERE FOR MACEY'S PAGE

Mattie Hatcher (AR) – Class of 2019 – College: Samford (Equestrian): CLICK HERE FOR MATTIE'S PAGE
McKenna Hofschild (MN) – Class of 2019 – College: Seton Hall: CLICK HERE FOR MCKENNA'S PAGE
Lexie Hultman (MN) – Class of 2019 – College: Daemen: CLICK HERE FOR LEXIE'S PAGE
Dena Jarrells (WV) – Class of 2019 – College: Chattanooga: CLICK HERE FOR DENA'S PAGE
Alysea Jenkins (OH) – Class of 2019 – College: Roosevelt: CLICK HERE FOR ALYSEA'S PAGE
Nia Jordan (PA) – Class of 2019 – College: New Orleans: CLICK HERE FOR NIA'S PAGE
Ansley Kiefer (GA) – Class of 2019 – College: Lawrence Univ.: CLICK HERE FOR ANSLEY'S PAGE
Cayla King (NC) – Class of 2019 – College: Virginia Tech: CLICK HERE FOR CAYLA'S PAGE
Christina Kline (FL) – Class of 2019 – College: LaSalle: CLICK HERE FOR CHRISTINA'S PAGE
LaKya Leslie (KS) – Class of 2019 – College: Cloud County CC: CLICK HERE FOR LAKYA'S PAGE
Jasmine Lilly (IN) – Class of 2019 – College: IU-Kokomo: CLICK HERE FOR JASMINE'S PAGE
Shelby McDaniel (KY) – Class of 2019 – College: University of the Cumberlands: CLICK HERE FOR SHELBY'S PAGE
Lola Mullaney (NJ) – Class of 2019 – College: Harvard: CLICK HERE FOR LOLA'S PAGE
Destinee Oberg (MN) – Class of 2019 – College: Arkansas: CLICK HERE FOR DESTINEE'S PAGE
Quinn Richey (GA) – Class of 2019 – College: James Madison: CLICK HERE FOR QUINN'S PAGE
Celeste Ryman (OH) – Class of 2019 – College Choice: Clarion CLICK HERE FOR CELESTE'S PAGE
Kaley Shipman (AR) – Class of 2019: College Choice: Arkansas Tech CLICK HERE FOR KALEY'S PAGE
Paige Shy (WV) – Class of 2019 – College Choice: Marshall: CLICK HERE FOR PAIGE'S PAGE
Kallie Theisen (MN) – Class of 2019 – College Choice: South Dakota State: CLICK HERE FOR KALLIE'S PAGE
Savannah Wheeler (KY) – Class of 2019 – College Choice: Marshall: CLICK HERE FOR SAVANNAH'S PAGE
---
---
Available Prospects
Tanner Poss (TN) – Class of 2019: CLICK HERE FOR TANNER'S PAGE
Class of 2018
Committed Prospects
Courtney Baker (FL) – Class of 2018 – College: North Central University: CLICK HERE FOR COURTNEY'S PAGE
Hannah Barber (AL) – Class of 2018 – College: Alabama: CLICK HERE FOR HANNAH'S PAGE
Adam Flagler (GA) – Class of 2018 – College: Presbyterian: CLICK HERE FOR ADAM'S PAGE
McKenna Ford (OH) – Class of 2018 – College: Lynn: CLICK HERE FOR MCKENNA'S PAGE
Jaelyn Durrett (PA) – Class of 2018 – College: Wilmington Univ. CLICK HERE FOR JAELYN'S PAGE
Kaylea Gross (KY) – Class of 2018 – College: Cumberlands: CLICK HERE FOR KAYLEA'S PAGE
Alexis Hall (OH) – Class of 2018 – College: North Greenville: CLICK HERE FOR ALEXIS'S PAGE
Zoe Hardwick (MN) – Class of 2018 – College: Northern State CLICK HERE FOR ZOE'S PAGE
Alea Harris (OH) – Class of 2018 – College: Wofford: CLICK HERE FOR ALEA'S PAGE
Izzy Hensley (OH) – Class of 2018 – College: Colorado College: CLICK HERE FOR IZZY'S PAGE
Nick Honor (FL) – Class of 2018 – College: Fordham / Clemson: CLICK HERE FOR NICK'S PAGE
Jasmine Keller (FL) – Class of 2018 – College – Point University: CLICK HERE FOR JASMINE'S PAGE
Jordan Ott (TX) – Class of 2018 – College: Kansas Wesleyan: CLICK HERE FOR JORDAN'S PAGE
Brittney Nitz (IL) – Class of 2018 – College: Missouri Valley: CLICK HERE FOR BRITTNEY'S PAGE
Lexie Pritchard (OR) – Class of 2018 – College: Santa Clara: CLICK HERE FOR LEXIE'S PAGE
Hannah Sadler (GA) – Class of 2018 – College: Old Dominion CLICK HERE FOR HANNAH'S PAGE
Charity Shears (KY) – Class of 2018 – College: West Virginia State: CLICK HERE FOR CHARITY'S PAGE
Payton Shears (KY) – Class of 2018 – College: West Virginia State: CLICK HERE FOR PAYTON'S PAGE
Ty Staten (OH) – Class of 2018 – College: Ohio Northern CLICK HERE FOR TY"S PAGE
Taylor Stelley (FL) – Class of 2018 – College: Belmont Abbey: CLICK HERE FOR TAYLOR'S PAGE
Izzy Strigel (NC) – Class of 2018 – College: Colorado College CLICK HERE FOR IZZY'S PAGE
Abby Voss (OH) – Class of 2018 – College: Florida Atlantic: CLICK HERE FOR ABBY'S PAGE
Lauren Walker (FL) – Class of 2018 – College: Bossier Parish CLICK HERE FOR LAUREN'S PAGE
Available Prospects
Chance Donovan (FL) – Class of 2018: CLICK HERE FOR CHANCE'S PAGE

Maya Goree (MD) – Class of 2018: CLICK HERE FOR MAYA'S PAGE
---
---
Class of 2017
Committed Prospects
Ashtyn Baker (MS) – Class of 2017 – College: Liberty: CLICK HERE FOR ASHTYN'S PAGE

Emily Beard (TN) – Class of 2017 – College: Union: CLICK HERE FOR EMILY'S PAGE

Savannah Dunford (VA) – Class of 2017 – College: Concord: CLICK HERE FOR SAVANNAH'S PAGE
Alayna Ford (GA) – Class of 2017 – College: Clark Atlanta: CLICK HERE FOR ALAYNA'S PAGE
Abi Hall (GA) – Class of 2017 – College: Howard (Academic): CLICK HERE FOR ABI'S PAGE
Taylor Hair (FL) – Class of 2017 – College: Anderson: CLICK HERE FOR TAYLOR'S PAGE
Hailey Higashi (WA) – Class of 2017 – College: Hawaii Pacific CLICK HERE FOR HAILEY'S PAGE
Haeli Howard (KY) – Class of 2017 – College: Eckerd: CLICK HERE FOR HAELI'S PAGE

Anna Jones (TN) – Class of 2017 – College: Middle Tennessee State: CLICK HERE FOR ANNA'S PAGE
Taylor Anne Kelley (GA) – Class of 2017 – College: Piedmont: CLICK HERE FOR TAYLOR ANNE'S PAGE
Lexi Kiser (VA) – Class of 2017 – College: Lincoln Memorial: CLICK HERE FOR LEXI'S PAGE
Skylar Kosek (MN) – Class of 2017 – College: Hamline University: CLICK HERE FOR SKYLAR'S PAGE
Colten Kresl (AZ) – Class of 2017 – Cal State Dominguez Hills: CLICK HERE FOR COLTEN'S PAGE
Kristen Mayo (TN) – Class of 2017 – College: Marshall: CLICK HERE FOR KRISTEN'S PAGE

Rachel McLimore (IN) – Class of 2017 – College: DePaul: CLICK HERE FOR RACHEL'S PAGE
Leah Rice (ONT) – Class of 2017 – College: Spring Arbor Univ.: CLICK HERE FOR LEAH'S PAGE
Sydney Snyder (PA) – Class of 2017 – College: Davis and Elkins: CLICK HERE FOR SYDNEY'S PAGE
Keagan Stromberg (KY) – Class of 2017 – College: Oglethorpe: CLICK HERE FOR KEAGAN'S PAGE
Reid Walker (FL) – Class of 2017 – College: WPI CLICK HERE FOR REID'S PAGE
Grace Wardeberg (TN) – Class of 2017 – College: Washington Univ. in St. Louis: CLICK HERE FOR GRACE'S PAGE

Angeni Worley (FL) – Class of 2017 – College: Eastern Florida State: CLICK HERE FOR ANGENI'S PAGE
Class of 2016
Committed Prospects
Brooklyn Allen (NC) – Class of 2016 – College: Appalachian State: CLICK HERE FOR BROOKLYN'S PAGE

Erin Boley (KY) – Class of 2016 – College: Notre Dame: CLICK HERE FOR ERIN'S PAGE

Kristina Cavey (CO) – Class of 2016: College: Fresno State CLICK HERE FOR KRISTINA'S PAGE

Alyssa Clay (IN) – Class of 2016 – College: Akron: CLICK HERE FOR ALYSSA'S PAGE

Regan Croff (TN) – Class of 2016 – College: Tusculum: CLICK HERE FOR REGAN'S PAGE

Celeste Etter (OH) – Class of 2016 – College: Fairmont State CLICK HERE FOR CELESTE'S PAGE

Ali Fitzgerald (NY) – Class of 2016 – College: Seton Hall CLICK HERE FOR ALI'S PAGE

Garrett Gilkeson (WV) – Class of 2016 – College: VMI: CLICK HERE FOR GARRETT'S PAGE

Maddy Grennes (IN) – Class of 2016 – College: Rockhurst: CLICK HERE FOR MADDY'S PAGE

Kiersten Hunter (GA) – Class of 2016 – College: Trevecca Nazarene: CLICK HERE FOR KIERSTEN'S PAGE

McKenna Lawrence (GA) – Class of 2016 – College: Jacksonville State CLICK HERE FOR McKENNA'S PAGE

Caroline Patrick (TN) – Class of 2016 – College: Palm Beach Atlantic: CLICK HERE FOR CAROLINE'S PAGE

Kelly Post (NC)– Class of 2016 – College: Campbell CLICK HERE FOR KELLY'S PAGE

Haliegh Reinoehl (IN) – Class of 2016 – College: Akron: CLICK HERE FOR HALIEGH'S PAGE

Connor Richey (GA) – Class of 2016 – College: Davidson (Football) CLICK HERE FOR CONNOR'S PAGE

Rachel Titzer (IN) – Class of 2016 – College: St. Joe's: CLICK HERE FOR RACHEL'S PAGE

Jessee Wallis (TN) – Class of 2016 – College: Walters State: CLICK HERE FOR JESSEE'S PAGE

Alexa Willard (MO) – Class of 2016 – College: Missouri State: CLICK HERE FOR ALEXA'S PAGE
Class of 2015
Ty Cockfield (GA) – Class of 2015 – College: Georgia Highlands (JUCO) / Arkansas State: CLICK HERE FOR TY'S PAGE
Maci Morris (KY) – Class of 2015 – College: Kentucky: CLICK HERE FOR MACI'S PAGE