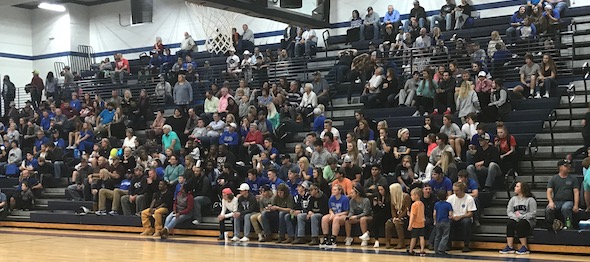 HOMER, Georgia – Banks County and Hart County squared off to open the 2017-18 season. Coming off three straight trips to the Sweet 16, the Banks County crowd was packed and ready to watch the home team get the season rolling. Here are some of the takeaways from opening night:
1) This might be the deepest Banks County team Mike Cleveland has had so far.
From senior Darius Bonds at the guard spot to freshman Dakota Orr, Pierce Martin and Clay Gosnell, this team has depth and firepower two deep at every position. Last night, Wes Ledford, Gatlin Lunsford and Noah Rylee came through in a major way with their contributions in the rotation. Keep an eye out for sophomores Bosko Norman and Sawyer Pace who were out last night with injuries but should be back in time for the start of the calendar year or close to it.
2) Seniors Gabe Martin and Dylan Orr have to bring it every night.
THIS JUST IN

'18 W Gabe Martin of @BanksCoBBall picks Young Harris.

Martin was an #EBAAllAmerican camper.#BrandonClayScouting🍑 EVAL: Martin is a wing with good size & shooting ability. He can contest shots in his area. His footwork is solid on both ends. pic.twitter.com/CR6qbwMi6S

— Brandon Clay (@BrandonClayPSB) November 15, 2017
Martin has already pledged to Young Harris. His scoring ability on the wing and secondary ball handling in the backcourt will be a major key as to whether this group can advance to the Elite Eight and beyond come March. Martin is a silent assassin capable of lighting up any opposing defense for a quick 20 plus point night.
'18 Dylan Orr finishes well above the rim & is a strong inside force

READ HERE: https://t.co/Pdd7tOBHhx pic.twitter.com/bV5aSNmt65

— Brandon Clay (@BrandonClayPSB) December 20, 2016
Orr, who also has a standing scholarship offer from Young Harris, displays flashes of greatness. He is one of the premier available big men in the senior class and is poised to have a banner year. When Orr is locked in, owns the glass and is assertive on offense, Banks County immediately becomes a better team as a result.
3) Carl Cleveland is the real deal.
'20 PF Carl Cleveland has already been a major factor for Banks Co. HS

He's a @JLHemingwayPSB favorite: https://t.co/HIm1w5ShNX pic.twitter.com/whtl5berWl

— Brandon Clay (@BrandonClayPSB) December 15, 2016
Only a sophomore, Cleveland has been on our radar now for over two seasons. He had a solid freshman campaign but already looks more equipped to be a prolific option scoring and rebounding this year. His versatility in both areas makes him a walking double-double. That skill was on display last night as he finished with 26 points and 12 rebounds in the opener.

Brandon Clay is the owner of the JumpOffPlus.com International Report, Peach State Basketball, Inc., and ProspectsNation.com. The JumpOffPlus.com is picked up by more than 200 colleges and universities nationwide. In addition to serving as ProspectsNation.com WNBA Director of Scouting, Clay serves as the Executive Camp Director for the Elite Basketball Academy Camps. He is a McDonald's All-American Game Selection Committee member. Clay serves on the Naismith Trophy Men's / Women's College Player of the Year Academy and is the National Coordinator of Voting for the Boys / Girls All-American Teams. He has been involved in the community since 2001. You can reach Clay at BrandonClay@PeachStateBasketball.com