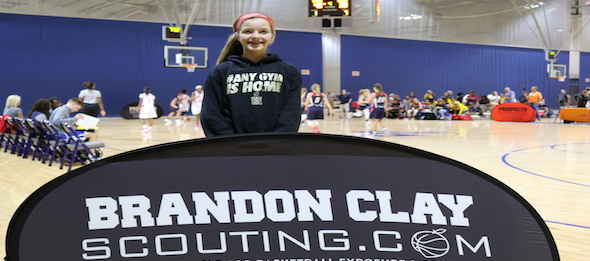 BrandonClayScouting.com Player Information
Name: Jenna Gallimore
Height: 5'10"
HS Grad Year: 2021
Position: PG/SG
School / Hometown: Meade County HS (Brandenburg, Ky.)
Club Team: Kentucky Premier
Game Film: January 2020 – No. 23 in green
#BrandonClayTV Studio Breakdown:
Player Evaluations:
Date: March 2020
Location: EBATop40
Evaluator: Brandon Clay
Gallimore has really grown leaps and bounds both physically and in her production. She's progressed right at the rate I would have expected and her junior year HS stats reflect that:
13 ppg, 37% 3PFGP, 78% FT, 3 apg, 3 rpg
Date: Fall 2017
Location:
Evaluator: Brandon Clay
Gallimore is a guard with a high ceiling and one to track over the coming years. I like her baseline skill set. She can pass it, handle and shoot at an above average clip for a high school freshman. –
Date: Fall 2016
Location:
Evaluator: Jonathan Hemingway
Gallimore is a young guard who has been working hard at the game for some years already. She is a player who works on her craft in drills and gives max effort in games. She is a solid ball handler and does a good job of making shots off the catch and off the dribble. An area she can focus upon immediately is working on getting her shot off more quickly. Understanding that she does not have shoot quick, but instead getting the ball to her shooting pocket faster will help her in the future.
---
BrandonClayScouting.com Social Media Updates:
#SMPMember🍑 College Recruiting
Fueled by #BrandonClayScouting🍑

'21 G Jenna Gallimore (KY) visited Radford for camp last weekend.

SMP PAGE: https://t.co/tS2S7pO43B

JOIN SMP: https://t.co/8GnB3G0viZ

📷 INSTAGRAM https://t.co/FrgtOjFYMg @coachmcguire pic.twitter.com/m6oWzNBkMj

— Brandon Clay (@BrandonClayPSB) August 10, 2018
Watching '21 Jenna Gallimore (@JennaG_hoops23) tonight at @THEMWS4

I told @BrandonClayPSB I believe in her upside because of her fundamentals & work ethic#SMPMember #CoachHemiFinal4 🎥 courtesy @ParallelsMedia_ https://t.co/hvBw2oGL8E

— Jonathan Hemingway (@JLHemingwayPSB) May 27, 2018
#EBASuper64🍑 National Showcase

🗓 June 2-3
📍 ATL

McKenna Monogue (WI) & #SMPMember Jenna Gallimore (KY) trained w/me yesterday. Sky is the limit for both of them.

JOIN US IN JUNE https://t.co/tJAgOJkP5h

INSTAGRAM https://t.co/jSr8AvCdZB

📷: @typhotog
🎥: @parallelsMedia_ pic.twitter.com/ipDHh4B78G

— Brandon Clay (@BrandonClayPSB) April 1, 2018
#SMPMember🍑 College Recruiting
Fueled by @SMPMemberPSB

Excited to train with '21 G Jenna Gallimore (KY) today at the #CoachHemiFinal4 Showcase. She's back to work!

SMP PAGE https://t.co/tS2S7pO43B

JOIN SMP: https://t.co/8GnB3G0viZ

INSTAGRAM https://t.co/jSr8AvCdZB pic.twitter.com/87rQClWO5t

— Brandon Clay (@BrandonClayPSB) March 31, 2018
#CoachHemiFinal4 Exposure
In Alliance w/@peachstatebball🍑

Mar 31
Columbus, Ohio

Excited to work with '21 #SMPMember G Jenna Gallimore of @ladywaves_hoops & @CentralSparx.

🎥: @parallelsMedia_
📝: @bclayscouting

INSTAGRAM https://t.co/jSr8AvCdZB pic.twitter.com/kuJ2f81b9t

— Brandon Clay (@BrandonClayPSB) March 19, 2018
#SMPMember🍑 College Recruiting
Powered by @SMPMemberPSB

We've tabbed '21 G Jenna Gallimore (KY) as a potential college scholarship prep.

She has multiple tools in her arsenal already.

Her @ProspectsNation Player Card: https://t.co/81mAqLPvyy

JOIN SMP: https://t.co/8GnB3G0viZ pic.twitter.com/wf7vUHa0I0

— Brandon Clay (@BrandonClayPSB) February 6, 2018
#CoachHemiFinal4🍑 Showcase
Powered by @CoachHemi

When: March 31

I said last week we've got our eyes on '21 G Jenna Gallimore's (@jennag_hoops23) of @CentralSparx & @LadyWaves_Hoops.

She shined in Cincy. Has an invite to Columbus.

REGISTER: https://t.co/KRUIczj5cn #SMPMember https://t.co/jIwrDG5WKk

— Brandon Clay (@BrandonClayPSB) January 6, 2018
#SMPMember🍑 Program News

'21 G Jenna Gallimore (@JennaG_hoops23) is a player @KrisWatkinsPSB & @JLHemingwayPSB have already deemed one to watch w/ @CentralSparx at #PSBEndOfTheRoad.

She's on varsity as a freshman.

Her #BrandonClayScouting Page: https://t.co/tS2S7pO43B https://t.co/i3qb5l2N1B

— Brandon Clay (@BrandonClayPSB) December 28, 2017
#SMPMember🍑 Recruiting

Eastern Kentucky watched '21 PG Jenna Gallimore (KY) at #PSBEndOfTheRoad.#BrandonClayScouting page is coming soon. pic.twitter.com/u7XwmxTJf3

— Brandon Clay (@BrandonClayPSB) October 3, 2017
Just watched #SMPMember
'21 Jenna Gallimore (KY)

Continues to show her improving skill set and ability to knock down shots pic.twitter.com/lqc0affHEE

— Kris Watkins (@KrisWatkinsPSB) September 23, 2017
#SMPMember🍑 Recruiting Program

Platinum Status

I'll work with '21 G Jenna Gallimore (KY) during her HS career starting at #PSBEndOfTheRoad pic.twitter.com/c0z9yzII6D

— Brandon Clay (@BrandonClayPSB) September 22, 2017
Welcome Jenna Gallimore to #CoachHemi513

Skilled guard who continues to develop

Cincy, OH | Sept. 16https://t.co/YV215HJexQ pic.twitter.com/2qIzh8tFMk

— Jonathan Hemingway (@JLHemingwayPSB) September 14, 2017
---

Brandon Clay is the owner of the JumpOffPlus.com International Report, Peach State Basketball, Inc., and ProspectsNation.com. The JumpOffPlus.com is picked up by more than 200 colleges and universities nationwide. In addition to serving as ProspectsNation.com WNBA Director of Scouting, Clay serves as the Executive Camp Director for the Elite Basketball Academy Camps. He is a McDonald's All-American Game Selection Committee member. Clay serves on the Naismith Trophy Men's / Women's College Player of the Year Academy and is the National Coordinator of Voting for the Boys / Girls All-American Teams. He has been involved in the community since 2001. You can reach Clay at [email protected]